GRDC has embarked on a strategic exploration of innovation through non-traditional sources to stimulate creative solutions to grain growers' constraints.
Although pioneering in its approach, this new investment agenda complements the extensive portfolio of investments with GRDC's traditional partners, such as universities and state departments of agriculture, and will add value to existing and future outcomes from core grains research and development.
GRDC's strategy in this additional area of investment is built on a framework that encourages collaboration and engagement with the ag-tech community, and fosters early stage investment in startup companies and individuals.
Fast-tracking solutions
GRDC's Ron Osmond. Photo: GRDC
GRDC general manager of business development and economics Ron Osmond says GRDC's aim in this space is to identify and accelerate the development and commercialisation of solutions focused on grain industry priorities.
He says a host of innovative technologies are emerging as enablers of advanced farming practices, fuelling what some are calling the fourth agricultural revolution.
"Artificial intelligence, 'Internet of Things' (IoT) technology, digital information and remote sensing are all being explored as tools to maximise profits from finite inputs, tackle seasonal variability and meet the needs of changing consumer preferences," Dr Osmond says.
"Innovation in this space is being driven increasingly by ag-tech startups in Australia and abroad, using these new technologies in applications across the farming system."
New initiatives
To support ag-tech startups, GRDC launched several initiatives during the past 18 months. These include the GrainInnovate investment fund, Growers as Innovators and the GRDC Accelerator Program.
"In developing our innovation strategy, we wanted to extend the range of organisations with which we partner," Dr Osmond says.
"GrainInnovate and our other initiatives have allowed us to do this. We are targeting a diverse range of partners and technologies, which we are confident will deliver transformational value to growers and co-investors."
While the pathway might be different to the way in which GRDC traditionally invests most of its research, development and extension (RD&E) funds, Dr Osmond says the intent and projected outcomes are still aligned with the corporation's 2018-23 RD&E plan.
"For other industries, investing in the startup community has proven to be a complementary channel to drive innovative solutions and, over time, we expect a similar impact in agriculture as well," he says.
GrainInnovate
GRDC's Fernando Felquer. Photo" Sharon Watt
The $50 million GrainInnovate venture capital fund was launched in February 2019 as a partnership between GRDC and Artesian, an Australia-based venture capital fund manager with international connections.
The aim of the fund is to invest in high-growth startups from Australia and overseas that are developing novel services and products that address grains-specific constraints.
GRDC head of business development, Fernando Felquer, says GrainInnovate's mandate is closely aligned with GRDC's 2018-23 RD&E plan and key investment targets.
"The difference is, GrainInnovate offers an investment vehicle that enables GRDC to support startup companies that are developing tools and technologies in the ag-tech space," he says. "This was not easily done with our traditional investment models."
Investment spread
During GrainInnovate's first 12 months, Dr Felquer says nine investments were made across a number of technologies, delivery times, business models and geographical locations.
The startups are based in Queensland, New South Wales, Victoria, South Australia, Western Australia and the United States.
"We have invested in FluroSat, DataFarming, TeleSense, Fleet and Laconik, which already have products and services in the marketplace and required capital to sustain growth," Dr Felquer says.
"We have also invested in companies with longer development and delivery times, such as the microwave weeding technology startup Growave, which aims to offer benefits in the mid-term."
Other GrainInnovate investments are in enabling technologies to create immediate or long-term value by providing the tools or infrastructure for other innovative technologies to thrive. Examples include investment in the micro-satellite and IoT company Fleet, as well as the wireless communications start-up Zetifi.
We're exited to continue our mission to cut herbicide usage in farming with strong backing from @IPGroupplc, @artesianvc, and @uommedia pic.twitter.com/Uwpu0gyLtF

— growave_ag (@growave_ag) October 4, 2019
Tools and infrastructure
Other GrainInnovate investments are in enabling technologies to create immediate or long-term value by providing the tools or infrastructure for other innovative technologies to thrive.
Examples include investment in the micro-satellite and 'Internet of Things' (IoT) company Fleet, as well as wireless communications start-up Zetifi.
Soil carbon startup Soil Carbon Co and Sustinent, a company dedicated to turning farm waste into high-value products, complete the fund's portfolio.
Artesian director Robert Williams says the reaction of the Australian ag-tech community to the fund's launch has been extraordinary.
"The current pipeline of investable opportunities has more than 100 companies. It is diverse in terms of sector, business model and technology type, and continues to grow strongly," he says.
Value delivered
DataFarming managing director Tim Neale says the fund's investment has been fundamental to delivering value to the Australian grains industry.
"The value goes beyond the dollars invested," he says. "We wanted an industry partner who could add significant value to the funds received and open up more paths to market, as well as validating our business model. While this is a new method of investment by GRDC, it demonstrates industry can benefit from alternative investment approaches."
International innovators
Dr Felquer says the fund has already attracted international innovators to Australia. In the case of TeleSense, a United States-based grain quality monitoring company, GrainInnovate helped to facilitate the establishment of operations in Australia.
"In the case of TeleSense, a United States-based grain quality monitoring company, GrainInnovate investment has helped to facilitate the establishment of operations in Australia," he says.
Looking forward to seeing future data from @mytelesense bin sensors pic.twitter.com/CssPyrioFJ

— Jess Daily (@dailyfarms) December 26, 2019
The fund's current portfolio has also attracted co-investment capital from several other investors. Examples include:
IP Group;
Microsoft's M12;
Blackbird Ventures;
CSIRO's Main Sequence;
Finistere;
Rabobank; and
Horizons Ventures.
Co-investment essential
Dr Felquer says co-investment with reputable, knowledgeable, local and global funds providers helps validate and leverage GrainInnovate's investment.
"From a startup's point of view, it also gives exposure to additional markets, networks and expertise and can assist future fundraising activities."
Artesian managing partner, Jeremy Colless, says GrainInnovate has allowed his firm to expand its agrifood investment activities, which includes the $50 million GrainInnovate fund and the $10 million early stage SproutX Fund, through the Artesian Global AgriFood Venture Capital Fund.
"The fund provides institutional investors with access to best-of-breed, global agrifood startups," he says.
Growers as innovators
Chris Murphy, GRDC manager of business development and commercialisation, north, says Australian grain growers are experts in overcoming challenges.
"Growers often devise practical solutions, and we want to encourage them to think about developing their ideas, for the benefit of others across the industry," he says
"To this end, GRDC in 2019 set up two initiatives, Growers as Innovators (workshops and incubator programs) and the GRDC Accelerator Program. Both programs complement GrainInnovate, but operate independently."
Pilot program
Growers as Innovators is a pilot program of short workshops from which growers can apply and progress to focused incubation programs. These are designed to provide early stage skills development and coaching to develop innovative concepts further.
The aim is to build growers' capacity to create their own solutions to challenges from farm to fork.
GRDC is working collaboratively with other RD&E corporations to deliver this series of grower-focused programs.
"The main goal of Growers as Innovators is leveraging growers' expertise and ingenuity for the benefit of the whole grains industry, by enabling them to test and develop their ideas," Mr Murphy says.
Business development
During the Growers as Innovators workshops, participants learn to develop their business cases so innovative products or services can be progressed into an incubator or accelerator stage.
"The Growers as Innovators workshops and incubator programs start at the ideas end of the innovation pipeline, with the pilot run by Farmers2Founders (F2F)," Mr Murphy says.
"F2F supports producers in solving critical industry challenges by developing entrepreneurship and technology capacities. For GRDC, this means supporting innovative Australian grain growers to develop new ideas, technologies and capacity to solve real industry and consumer problems."
Growth resources
To date, GRDC has sponsored two F2F Bootcamp participants. The Bootcamp is a three-month business support program for grower-led ag-tech, food-tech or food innovation businesses looking for resources and support to grow quickly.
Meanwhile, the GRDC Accelerator Program is a longer-term opportunity where growers and other innovators are given additional support to take their ideas to the next level.
Mr Murphy says the GRDC Accelerator Program is intensive and supports innovators advancing products and services that have commercial potential.
"The aim is for participants to be well-placed to attract further private equity investment from those looking to grow and transform the Australian grains industry," he says.
"As there are numerous accelerator programs in Australia, GRDC will interact on a non-exclusive, case-by-case basis. Rather than relying on any one accelerator or program, collaborative arrangements with suitable accelerators will be explored."
To date, GRDC is collaborating with SproutX and SparkLabs Cultiv8 to support the placement of grains-focused innovations from start-ups into their established accelerator programs.
More Information: Fernando Felquer, 0413 511 412, Fernando.felquer@grdc.com.au
Innovative growers and app developers hone their skills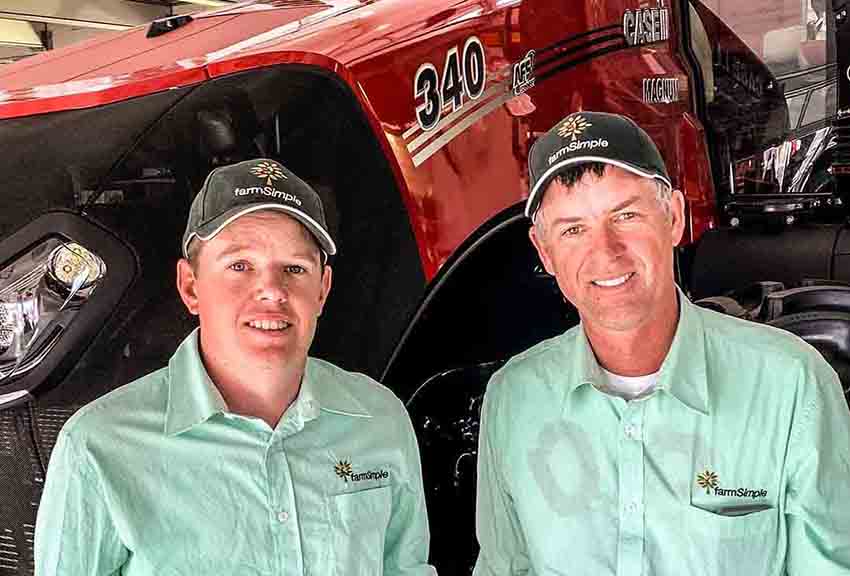 Croppa Creek, NSW, growers Lee Coleman and Matthew Higham participated in a GRDC Growers as Innovators workshop to gather ideas to take their record-keeping program farmSimple to the next level.
At the workshop, they heard a F2F Bootcamp was looking for participants. Keen to develop their app, and learn how to attract investment, Lee and Matthew applied and were accepted.
The cloud-based database farmSimple, accessible through computers and devices, has been available for more than three years, but Lee and his business partner Matthew - who is also a software engineer - wanted to know how to grow their customer base.
What a great week in Sydney @Farmers2Founder BOOTCAMP. Our Farm Management #farmSimple App and Web Console has been challenged, refined and inspired! Our thanks to @agthentic@theGRDC@SproutX_ @Farmers2Founder & @unesmartri for believing in our #agtech#startupspic.twitter.com/x58ZF0upeO

— FarmSimple by CroppaCo (@CroppaCo) November 29, 2019
"We had a feel for what our customers want, but soon discovered we needed to explore and measure these needs in more detail," Lee says.
"We are growers and software engineers, not marketers or customer service experts, so we wanted to bring in those other skills to make our app successful for our clients."
Going forward, Lee says plans are under way to reach out to broadacre dryland and irrigated farmers to understand what they need to benefit their businesses.
Also on the drawing board is a value proposition to demonstrate how farmSimple can help farmers achieve business success.
Servicing software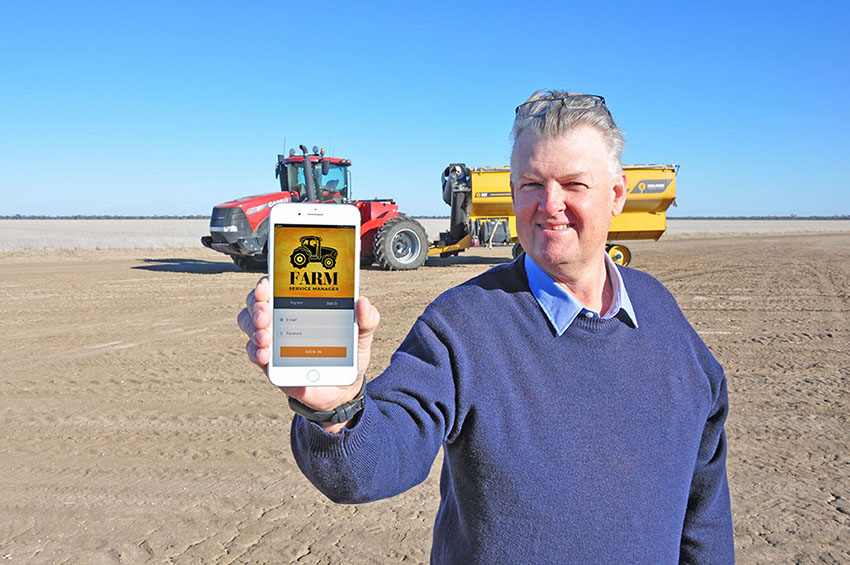 When Collarenebri, NSW, grain and cotton grower David Ricardo attended a half-day Growers as Innovators workshop in Moree, he heard about the F2F Bootcamp.
Keen to grow the customer base for his Farm Service Manager app domestically and internationally, he applied to participate and was accepted.
David's app is a digital log book to record when machinery is serviced.
He says data from the app can be used to maximise machinery resale value and assist with insurance, warranty, and occupational health and safety claims.
"Notifications can be set on the app for the next machinery service to ensure filters and oils are available," he says.
"In a team environment, the app keeps everybody on the same page."
Farm Service Manager founder, David Ricardo at @Farmers2Founder Bootcamp. pic.twitter.com/xhlggC3MVj

— Farm Service Manager (@FarmServiceApp) November 28, 2019
David says the Bootcamp highlighted his need to better understand what customers want, and how his app can help solve their problems.
He says it also gave him a bigger insight into how to use social media for feedback and to grow his client base.
"The Bootcamp gave me a whole new way of thinking through issues and some ideas on how I can lift the profile of the app without spending a lot of money," he says.
"It has also helped me better understand my business model and how I make it work."
More information: Chris Murphy, 0422 772 070, chris.murphy@grdc.com.au; Lee Coleman, 0407 861 547, lee@croppaco.com; David Ricardo, 0428 562 317, david@farmservicemanager.com