Finding a solution to increasing crop production in changing climates and with increasing enterprise size requires new tools and management practices – and just a bit of vision.
Chasing soil moisture and sowing earlier is one such inventive approach and long coleoptile cereal varieties might be the tool growers need.
The coleoptile is the protective sheath enclosing the emerging shoot and first leaves, and the longer it is, the greater the emergence potential when deep sowing. Wheats with this trait can be sown at depths of more than 10 centimetres.
After decades of research and development, the long coleoptile wheat research of Dr Greg Rebetzke's team at CSIRO has come of age and is now set to be ground-truthed for growers in regional cropping systems. The trials will also include new long coleoptile wheat lines from commercial breeding companies.
To ensure wheat growers can take advantage of new varieties with this trait when they become available, GRDC is investing in on-farm trials over two years with growers in the northern and western regions to deliver agronomic and farming systems guidelines.
West investment
Mike Lamond and Craig Brown from SLR Research and Development, part of Synergy Consulting, lead the western region project.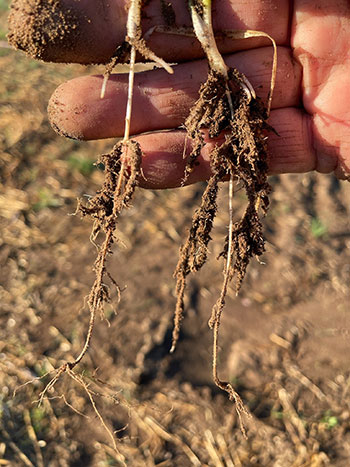 Long coleoptile wheat showing its potential to chase moisture at the York, WA site. It was sown on 19 March at 110 millimetres with plenty of hot days following (photographed 44 days after sowing 1 May). Photo: SLR Research and Extension
"The long coleoptile trait stands to become an important risk-management strategy for western region growers to deal with changing climate and increasing enterprise size," Mr Lamond says.
"Growers will be able to chase moisture deeper in soil profiles from summer rains prior to normal sowing windows in medium to low-rainfall zones. By sowing into moisture with a variety with correct genes for a planting date, a spring flowering window is more certain than with dry sowing."
The small-plot trials are on a range of soil types at Holt Rock, Hines Hill, Bunjil, York, Beacon and Latham. Sowing started as early as 19 March and continued to late April.
"The trait has application for main-season sowing as well as early sowing. With a decent seasonal break, sowing can continue rather than stop when the moisture is thought to be too far down for the crop to emerge.
"Crops being able to emerge through furrow fill and pre-emergent herbicide damage from wind events will be another benefit from the trait when available in main season varieties."
North investment
Darren Aisthorpe, a senior regional research agronomist with the Queensland Department of Agriculture and Fisheries based in Emerald, leads the northern region project.
"Demonstration sites are being run in central and southern Queensland. In these regions, growers are not strangers to sowing deep, thanks to chickpeas, but are reluctant to do so with wheat, as previous experiences may not have been positive," Mr Aisthorpe says.
"Typically, growers waited too long for rain before attempting to sow late in the season, which exposed wheat crops to a short growing season as heat stress kicks in at the end of the season. Potential yield loss can be significant, even at a standard depth, but with a suboptimal establishment due to depth added into the mix, the desire to repeat the exercise can be pretty low."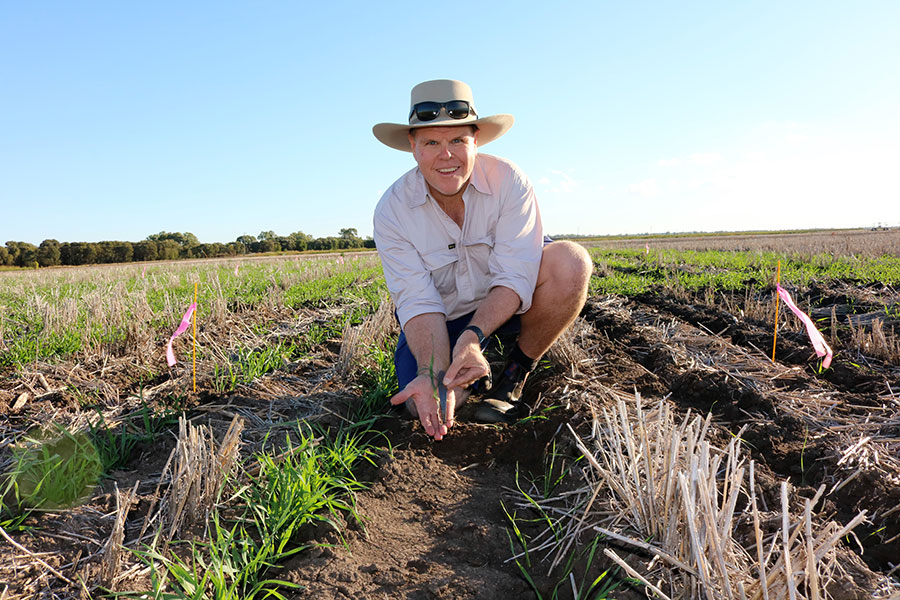 In these regions there has been more-intermittent wheat production due to the environmental constraints, so long coleoptile wheat types are being evaluated as a tool to develop a more-reliable platform for wheat production, leveraging stored water in profiles rather than waiting for autumn planting rains.
"Times of sowing started as early as mid-April this year, with a view to look at a mid to late March plant in 2022.
"We need to consider how soil temperature will affect coleoptile growth from depth, as temperature is a major challenge with these times of sowing."
To this end, the trial sites have been established with TinyTags and will be carefully monitored. Higher temperatures are known to reduce cell size and, therefore, coleoptile length.
Growers are encouraged to follow the trials and get involved in the Twitter conversation in the West @SlrAgriculture or North @DarrenAis.
More information: Mike Lamond, 0408 056 662, michael.lamond@slragriculture.com.au; Darren Aisthorpe, 0427 015 600, darren.aisthorpe@daf.qld.gov.au
Read: Are long coleoptile wheats an early sowing game-changer? And Grower driven to search for new wheat genetics.