A switch to dual-purpose wheat has lifted profit per hectare on Stuart Tait's family farm near Mandurama in central New South Wales.
The 29-year-old, who produces beef and grain with his parents John and Jo, started growing EGA Wedgetail (PBR) wheat for grazing and grain in 2015.
He says the move has allowed the family to significantly increase their gross margin per hectare over the past five years to between $1100 and $1200, depending on grain yields and prices.
"Grazing our cattle on pastures alone during winter returned about $800/ha," Stuart says.
The Tait family's business is based across three farms totalling 2000ha with two blocks near Mandurama and a third 50 kilometres west near Canowindra, where they grow wheat, canola and vetch across 260ha. The family's primary enterprise is beef cattle, comprising 550 Angus breeding cows and 300 to 1000 trade steers.
Winter wheat switch
When Stuart joined the family business in late 2014, his parents grew a small amount of oats and wheat for grain only.
After exploring farming systems around the world through a Nuffield Scholarship with investment from Meat & Livestock Australia, Stuart says that in the field of dual-purpose wheat crops, the level of knowledge available in Australia is second-to-none.
When seeking to grow EGA Wedgetail (PBR) wheat for the first time in 2015, Stuart turned to a GRDC publication called Grazing Cropped Land.
One of the lessons he learned was the importance of timeliness and correcting subsoil constraints.
"To grow high-yielding grain and graze crops, we went back to basics to correct a significant soil acidity problem," he says.
"Soil pH on our Mandurama farms ranges from 4.3 to 5.5 measured in calcium chloride, which is our biggest handbrake to growing productive crops."
This year, close to 500 tonnes/ha of lime and dolomite was applied, with up to 4t/ha of lime and 1t/ha of dolomite put on country with the lowest pH.
With research highlighting the importance of lime incorporation, Stuart mixes the ameliorant through the soil with two cultivations before sowing.
His chosen tools have been a Grizzly offset disc followed by a John Shearer scarifier with leaf harrows.
However, recently, Stuart investigated the performance of two machines - the Great Plains Max-Chisel and the Horsch Tiger MT - to reduce the number of passes required to just one. Both machines use two rows of coulter discs followed by two rows of chisel plough-type tynes and a roller to level the soil.
Stuart says he wants to reduce the number of passes to one to conserve moisture and look after soil structure.
Calendar sowing
Stuart takes a sow-by-the calendar approach and likes to start sowing LRPB Kittyhawk (PBR) wheat by 10 March whether it has rained or not. In 2019, 120ha was sown at the Mandurama farm.
"A rainfall event as little as 10 millimetres is usually enough to germinate seed already in the ground, yet would not be enough to germinate seed planted after rain," Stuart says.
"A tactic that has proven successful to loosen a compacted seedbed which has come out of perennial pasture is a shallow cultivation before sowing to improve the germination of the wheat crop on a light rainfall event, compared to direct drilling into a hard, dry seedbed."
Stuart uses a nine-metre Horwood Bagshaw Scaribar to sow the LRPB Kittyhawk (PBR) wheat at 95kg/ha.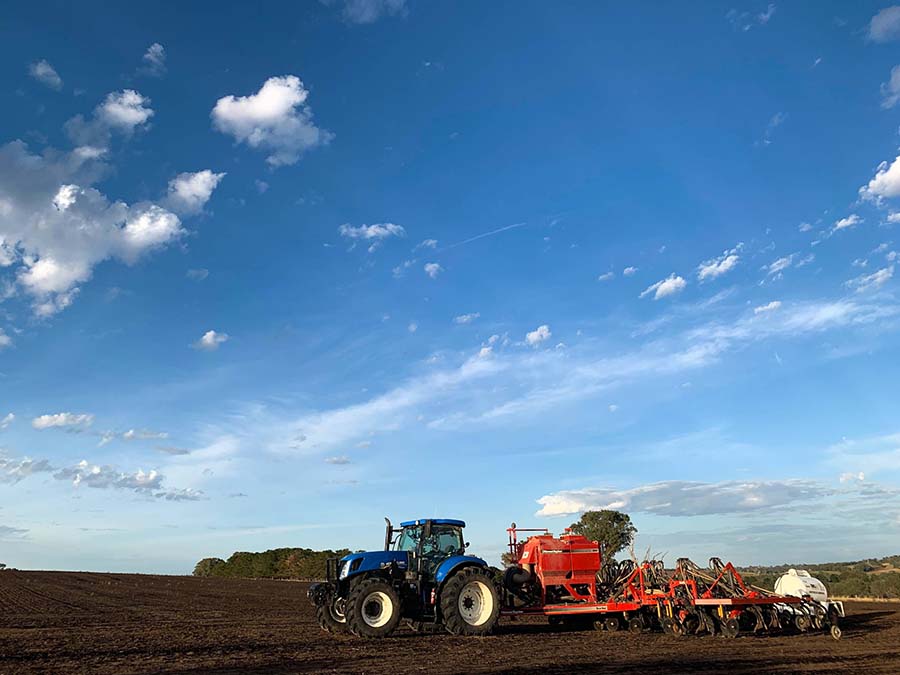 Anhydrous ammonia is mid-row-banded at 80kg of nitrogen/ha to avoid seed burn. Also applied is 120kg/ha of Starter 15 fertiliser and 60kg/ha of potashcoated with fungicide.
"We need to apply high nitrogen rates because we're grazing the crop as well as targeting grain yields of four to 5t/ha," he says. "Upfront nitrogen also means we don't have to apply extra nutrient after we lock up wheat."
By sowing in March, Stuart says the LRPB Kittyhawk (PBR) wheat is ready to graze from 15 to 20 May.
"We buy weaner steers from March to June and graze them on the wheat when it's ready," he says. "In 2019 we ran just over 1000 steers."
Stuart says cultivating paddocks before sowing can be a handicap in a wet winter because the steers tend to pug the soil and tread many plants into the ground.
"There's no easy way to deal with a wet winter when grazing crops, however we remove stock from high-risk paddocks ahead of forecast rainfall," he says.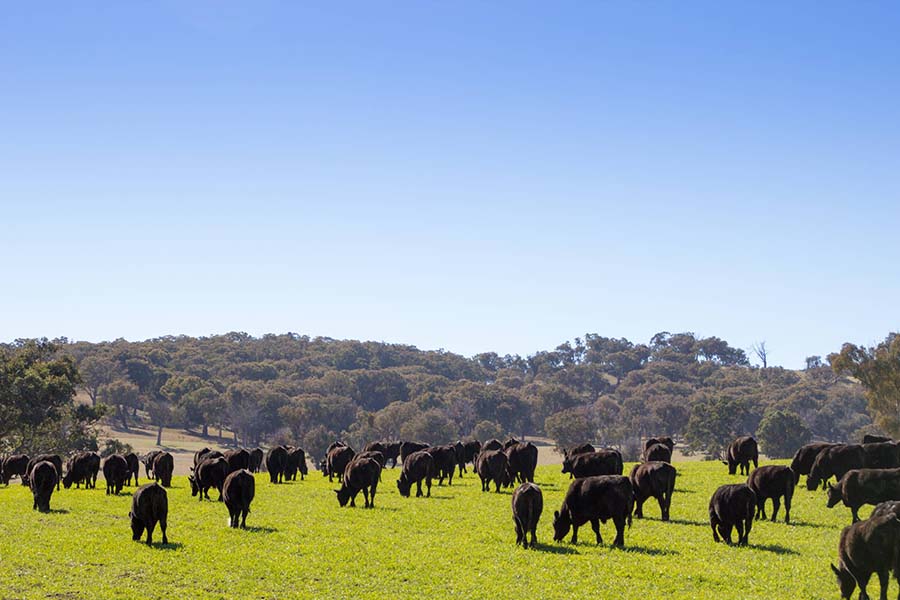 The cattle are grazed at about 22 dry sheep equivalents/ha on a rotational basis around the LRPB Kittyhawk (PBR) wheat paddocks until 5 to 12 August, depending on the crop growth.
Once removed from the wheat, Stuart collects leaf samples for testing to ensure the crop has all the nutrients needed to thrive. A broadleaf weed spray, fungicide and insecticide is applied as needed.
Stubble and rotation
With 5t/ha wheat crops the target at the family's Mandurama farm, sowing into heavy residues is often a challenge.
"Our seeder can handle a reasonable amount of stubble, so some of our management options include grazing, windrow burning and baling," he says.
After dual-purpose wheat, paddocks are sown to Italian ryegrass/forage brassica and tillage radish/dual-purpose wheat/Italian ryegrass.
On the Canowindra block, the rotation comprises wheat/triazine-tolerant canola and vetch for hay.
Perennial wheat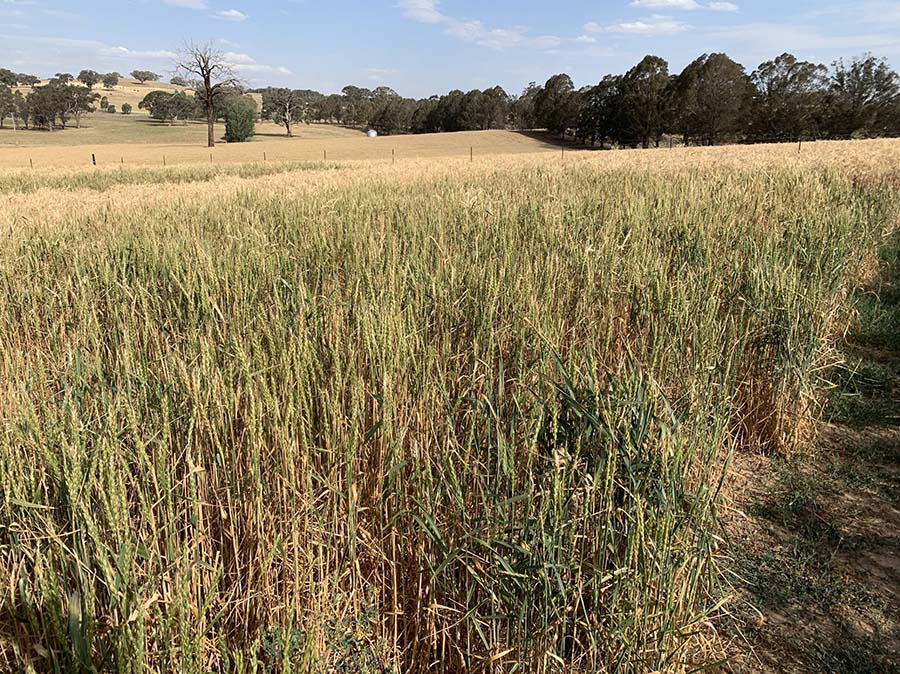 Stuart is also hosting a perennial wheat trial on the family farm run by researchers at the NSW Department of Primary Industries.
The trial is exploring how perennial wheat fits into a grain and graze system when grown in a monoculture and also with different densities of lucerne.
"The grain yields at this stage are not comparable with annual wheat, but it's early days in a long-term research project," he says.
GRDC Research Codes SFS000028, DAN00191
More information: Stuart Tait, 0447 770 475, taitpastoral@gmail.com