Although a range of new pre and post-emergent herbicides will be available in coming seasons - helping to broaden weed control options - non-chemical tools remain vital to counter the herbicide resistance threat.
Speaking at the northern GRDC Grains Research Update events, Greg Condon, from Grassroots Agronomy and WeedSmart, said new chemistry creates opportunities for targeting resistant weeds or managing resistance through alternative use patterns.
He said, in recent years, manufacturers had expanded the range of pre-emergent herbicides - complementing no-till farming systems across a diverse range of soil types and seeding configurations.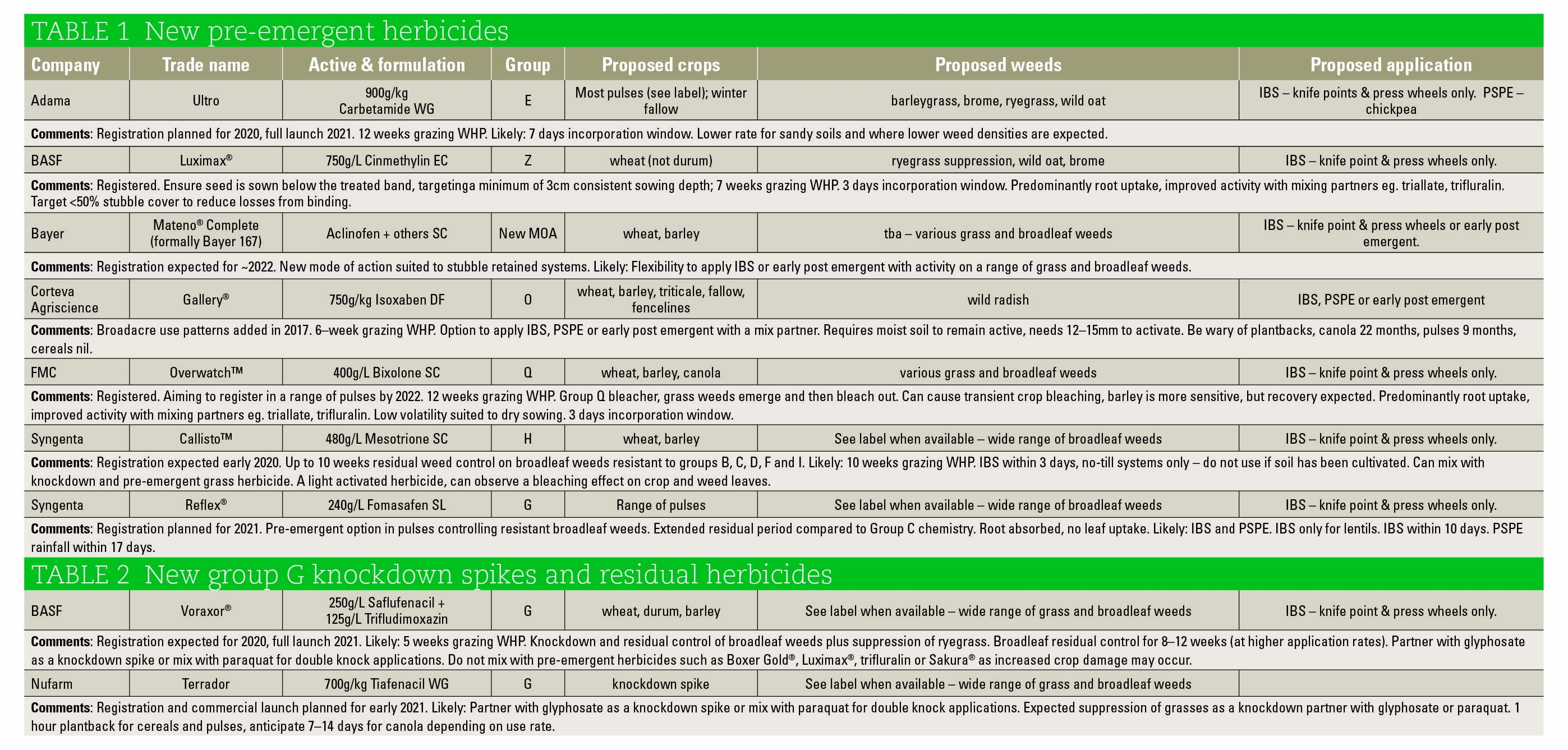 Older products, such as trifluralin and triallate, had provided early season weed control when applied in no-till seeding systems prior to sowing.
But newer-generation herbicides, such as prosulfocarb + S-metolachlor (Boxer Gold®) or pyroxasulfone (Sakura®), are demonstrating greater flexibility. This includes longer incorporation times prior to sowing and improved crop safety.
Other new herbicides will also provide further diversity in weed control options at various stages of the crop growth cycle.
These include knockdown and fallow spikes, as well as pre-emergent broadleaf and grass weed herbicides in pulses.
These will also reduce pressure on herbicide-resistant populations when used in combination with non-chemical tools, such as harvest weed seed control and increased crop competition.
Before using new herbicides, Mr Condon said, it was a good idea to test the resistance (or susceptibility) status of your weed populations.
"This a logical first step when planning a weed control program," he said.
That data can be used to develop an understanding of what works and what does not.
Resistance testing services are available nationally through three providers:
Peter Boutsalis, Plant Science Consulting, Adelaide;
John Broster, Charles Sturt University, Wagga Wagga; and
Roberto Busi, AHRI, The University of Western Australia, Perth.
Rotation
The expanded range of herbicides created opportunities for rotating herbicide modes of action and mixing new chemistry with existing chemistry.
Modelling work by AHRI's Roberto Busi and The University of Western Australia's Michael Renton has shown that these options bring benefits in ryegrass control.
Their work highlighted that rotating groups alone does not work. Instead, herbicide resistance evolution needs to be managed through herbicide mixing and rotating, along with non-chemical tools to keep seedbanks low.
"The mix-and-rotate strategy will not only provide improved weed control. But, more importantly, aids in resistance management where unpredictable patterns of cross-resistance are evolving," Mr Condon said.
"Even the best pre-emergent herbicides can be broken by resistance if not managed wisely."
Pre-emergent breakdown
Populations of ryegrass from the Eyre Peninsula in South Australia have recently been confirmed as resistant to all the pre-emergent herbicides - triallate (Avadex®), prosulfocarb (Arcade®), trifluralin, propyzamide and pyroxasulfone (Sakura®).
Mr Condon said these findings by the University of Adelaide have huge implications for an industry now heavily dependent on using pre-emergent herbicides in no-till systems. It shows they can quickly break down in the face of metabolic cross-resistance.
Metabolic cross-resistance is often called non-target site resistance.
Instead of changes at the target site, mechanisms such as reduced herbicide uptake or reduced translocation or herbicide activation allow an individual plant to survive a herbicide application.
Repeated applications of the same herbicides in simple canola/wheat rotations had allowed ryegrass to develop metabolic cross-resistance.
This is in the absence of alternative tactics such as croptopping, hay, harvest weed seed control or diverse rotations - which all create opportunities to run down the weed seedbank.
Risk minimisation
Mr Condon reiterated the importance of chemical and non-chemical weed control options being used to keep seedbanks low and minimise the risk of resistance.
"Crop protection companies invest significant capital into the research and development of new or reformulated herbicides," he said.
"To protect this investment, the industry needs to continue working together to ensure farming practices include all options."
Mr Condon also says to protect the chemistry, the 'Big 6' tactics promoted by WeedSmart should be used. This recommends:
Rotate crops and pastures
Double-knock to preserve glyphosate
Mix and rotate herbicides
Stop weed seed set
Increase crop competition
Adopt harvest weed seed control.
Tactics such as harvest weed seed control, crop competition, hay and diverse rotations complement herbicide options - including mix and rotate, double-knock, pre-emergent herbicides and late season crop-topping.
Site-specific applications using optical spray technology enhance double-knocks in fallow, reducing herbicide inputs by increasing options to introduce diverse chemistry.
Growers have succeeded in reducing seedbanks and staying profitable through stacking WeedSmart 'Big 6' tactics over an extended period of time.
"For example, a diverse rotation with pulses, competitive barley and hybrid canola - combined with robust pre-emergents, croptopping and chaff decks - is an achievable system where five of the WeedSmart 'Big 6' tactics are stacked together."
More information: Greg Condon, 0428 477 348, greg@grassrootsag.com.au