Key points
Sorghum, cotton, barley, chickpeas and soybeans have been identified as alternative hosts for Fusarium wilt in mungbeans, but as sorghum is only a poor host it may be a suitable break crop
Brown leafhopper was confirmed as a vector of phytoplasma to peanuts and pigeon peas
Research into summer crop diseases in the northern region has shed new light on Fusarium wilt in mungbeans and phytoplasma infection in grain legumes.
The GRDC-invested research improves the knowledge of summer crop diseases and their management while providing essential pathology support for other GRDC programs. It has been led by the University of Southern Queensland in collaboration with the Queensland Department of Agriculture and Fisheries (DAF).
Fusarium wilt in mungbeans
Fusarium wilt has become an increasing challenge for mungbean growers and can cause substantial losses when associated with other stresses such as waterlogging.
While mungbean is the only crop that demonstrates typical Fusarium wilt symptoms, researchers have now identified a much broader potential host range.
They have isolated Fusarium pathogens from the roots of asymptomatic hosts – sorghum, cotton, barley, chickpeas and soybeans – indicating that these crops may contribute to survival of the pathogens between mungbean crops.
Of the crops tested, sorghum may offer a more suitable crop rotation choice in paddocks with a history of the disease, as pathogens were only isolated from 20 per cent of sorghum plants in pot trials compared with 60 per cent or more in other crops tested.
Potential interaction between mungbean Fusarium wilt pathogens and the root lesion nematode, Pratylenchus thornei, was also characterised in controlled glasshouse experiments. While both cause disease by themselves, the symptoms of wilt were more severe in the presence of P. thornei. The dry weight of mungbeans and pod numbers decreased as the rate of Fusarium and P. thornei inoculum increased.
As both P. thornei and Fusarium are widespread, a PREDICTA® B test may help growers to weigh up disease risk prior to sowing.
For more information on managing fusarium wilt in mungbeans listen to our podcast.
Phytoplasma
The research also confirmed the causal agent of phytoplasma disease in grain legumes and identified a new vector.
Phytoplasma infection in grain legumes, such as puffy pod in mungbeans and peanut kernel shrivel in peanut, has caused sporadic but serious yield losses in recent years. Leafhoppers are commonly reported vectors of phytoplasma, but no species had been confirmed previously as capable of transmitting phytoplasma to grain legumes in Australia.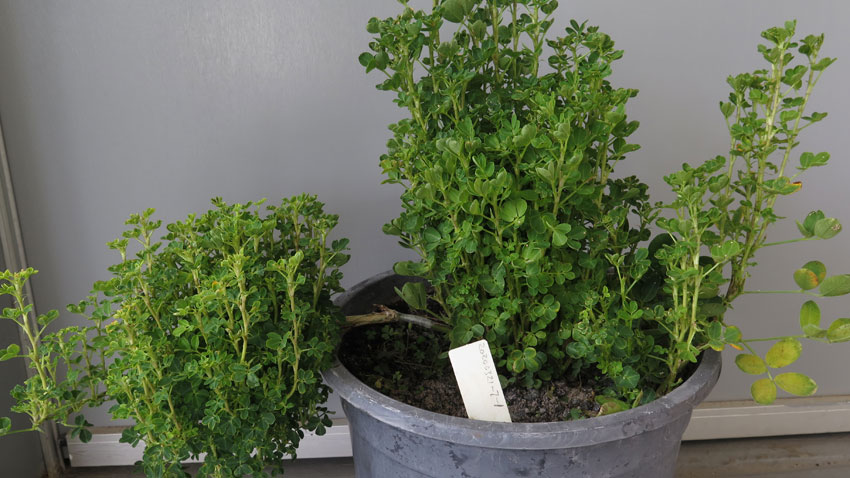 A real-time polymerase chain reaction (rt-PCR) was developed to provide rapid identification of phytoplasma species infecting plants and insects. This allows researchers to amplify segments of DNA, making them easier to detect.
For the first time, brown leafhopper (Orosius orientalis) was confirmed as a vector of phytoplasma to peanut and pigeon peas. The rt-PCR technique was able to detect phytoplasma directly from infected brown leafhoppers in a manner that may enable potential vector species to be inferred without the need for time-consuming transmission tests.
When plant tissue infected with phytoplasma was grafted on to infection-free peanut plants, about 66 per cent developed typical little-leaf symptoms. In infected plants, 62 per cent of kernels developed kernel shrivel compared with none in healthy plants.
Growers should monitor weeds and surrounding crops for phytoplasma infection and outbreaks of leafhoppers and maintain good farm hygiene to minimise the risk of infected weeds acting as a source of infection to nearby crops.
More information: Dr Dante Adorada, 07 4631 1262, [email protected]