A recent study has shed light on the wholegrain consumption behaviours of Australians, with researchers from the University of Wollongong and the Grains & Legumes Nutrition Council (GLNC) analysing data on more than 700 people.
Results showed that Australians are still not reaching the recommended targets of wholegrain consumption for good health. Although the majority of participants reported eating grain foods (93 per cent), more than half of participants were unable to recall the recommended daily wholegrain serves. Despite this, the research revealed some decidedly positive outcomes.
Encouragingly, most participants (96 per cent) had not only heard of wholegrains, believing them to be less processed and higher in dietary fibre, 70 per cent were also aware of the health benefits of consuming the recommended intake. Respondents understood the role of wholegrains in helping them to feel full for longer, lowering the risk of bowel cancer and effectively managing weight.
Many participants (93 per cent) also understood how to identify wholegrain foods, reporting that they frequently looked for wholegrain claims on foods such as bread, noodles, crackers, rice and pasta, more so than claims such as 'high in fibre' or 'low GI'.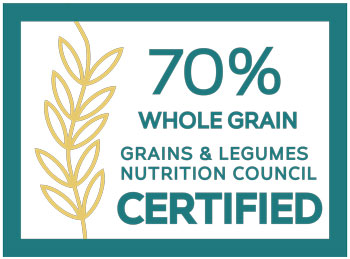 The new GLNC certified logo aims to increase consumer identification of wholegrain foods.
Despite low overall consumption, the data also revealed some positive purchasing habits, with respondents commonly buying wholegrain or wholemeal bread and wraps over white varieties. Interestingly, the reverse is true when it comes to rice and pasta, with Australians choosing brown or wholemeal varieties less frequently, suggesting this particular outcome may be down to an issue of taste.
Although many commented that they understood some benefits of wholegrain products, three-quarters of respondents would be more likely to make the switch to wholegrain options if their full benefits were communicated more effectively. In line with this, a large majority (59 per cent) noted that, during a consultation, their healthcare professional had never recommended consuming wholegrains for good health.
These findings lead to the question of what else industry should be doing to increase the intake of wholegrains, with data indicating many consumers not only understand how to identify wholegrain foods, but also appreciate their health benefits.
Outcomes from this study suggest that overall education and wholegrain endorsement is lacking. A clear path to increasing consumption in Australia requires more consumer education and clearer communication at all industry levels.
As a result, the GLNC has launched a new certified logo for wholegrain products with more than eight grams of wholegrain per manufacturer serve and more than 25 per cent wholegrain, in line with new regulations.
More information: www.glnc.org.au; contactus@glnc.org.au