The move to narrower row spacings and, ultimately, the ability to seed crops with higher plant populations have secured a trifecta of farm business benefits for South Australian grower Richard Konzag.
Richard says sowing crops on 19-centimetre row spacings, instead of 30cm ones, has led to higher yield potential, reduced in-crop weed pressure and increased plant biomass.
To facilitate these objectives, Richard and his family invested in a disc seeding machine for planting cereal, pulse and oilseed crops across their 2500-hectare property at Mallala in SA's Lower North region.
A new John Deere 1890 single-disc seeding machine, with 19cm row spacings, replaced their Conserva Pak knife-point seeder with 30cm row spacings.
This machinery exchange decision was informed by a paddock test that showed wheat planted on 30cm row spacings produced 306 grain heads per square metre, compared with 432 heads/m² on 19cm row spacings.
"We found 40 per cent more heads in the rows where the disc seeder planted the crop on narrower spacings," Richard says. But he adds that the early season indication of higher yield potential translated into a yield difference of just one to two per cent at harvest.
He says the ability to establish higher plant populations on narrower row spacings across paddocks has also "dramatically increased the crop's ability to outcompete weeds". The reduced weed pressure has, in turn, reduced the family's reliance on herbicide spraying and chemical resistance risk.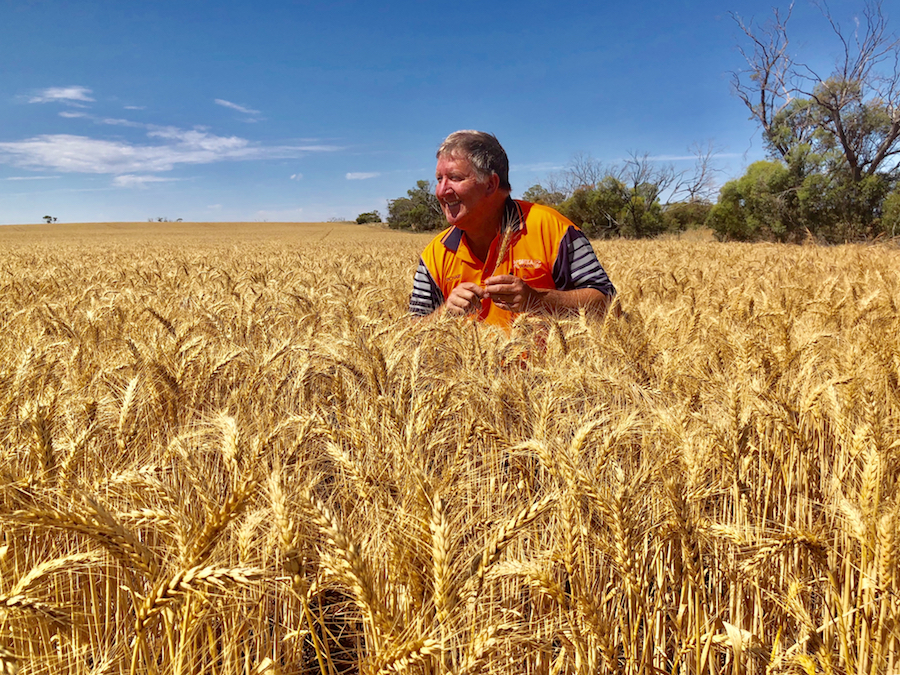 Increased plant biomass is another important benefit of the shift to narrower row spacings, which means frost-damaged or drought-affected crops can be cut for straw or hay.
For instance, the team at Konzag Grains cut about 1200ha of frost-damaged wheat for straw in 2019. The wheat paddock yielded two to 2.5 tonnes per hectare of straw, which attracted a market price of $140/t. Last year, they also cut about 700ha of barley for straw, mainly to provide farm business cash flow after a dry and frosty season.
"On wider 30cm row spacings, we were seeing intra-row crop competition that resulted in lower crop biomass. In drought-affected years, we didn't have enough plant biomass to produce a hay crop on wide row spacings."
However, Richard says the decision to bale crops as an "opportunity enterprise" is carefully measured against the overall benefit that long-term stubble retention provides for their grains-focused operation.
The family generally seeks to maintain its impressive stubble bank, with crop residue accumulated on the surface of paddocks for almost 40 years following early adoption of no-till practices in the mid-1980s.
Richard says the transition to narrow row spacings using a disc seeding machine also presented some challenges. For example, their knife-point seeder had created high furrow ridges on the wider row spacings that affected seeding depth when discs were first used to sow crops on narrow row spacings.
"Initially, we had some variation in seeding depth, which probably reduced plant vigour in some crop rows," he says.
The Konzag Grains team uses a harvester stripper front, as well as a disc seeder, as part of a 'disc-stripper system' that aims to optimise the biological soil health and moisture conservation benefits of stubble retention.
More information: Richard Konzag, 0417 830 406, richard.konzag@gmail.com