The basaltic plain, shaped by volcano activity where the Venning family farms 1100 hectares near Hamilton in south-west Victoria, is a place of big skies and wide, open vistas.
It is also a place of big picture 'blue sky' thinking for the Venning brothers – Todd and Brad – who have pushed the mechanised boundaries of subsoil amelioration to new depths on their mixed farm.
Driving what has been a relentless effort are the duplex brown chromosol soils that are a major constraint to crop productivity on farms across the western volcanic plain, including the Vennings' property.
Duplex brown soils, consisting of clay loam topsoil over heavy clay subsoil, restrict root growth and soil water drainage resulting in waterlogging and serious yield losses.
"The water-holding capacity of our soil is only 150 to 180 millimetres, which means winter-dominant rainfall causes waterlogging in eight out of 10 years," Todd says.
As a consequence, the Vennings' cropping program – wheat, barley, canola, faba beans and oats – is restricted to just 15 per cent of the farm that is less prone to waterlogging, although still not immune to its effects in wet winters.
The Vennings run about 10,000 Merinos on the remainder of the farm, which Todd describes as waterlogging tableland country.
"Poorly structured clay subsoils constrain crop productivity across 95 per cent of our property," he says.
But helping to overcome this perennial constraint to productivity and cropping scale is the Vennings' development of a novel subsoil manuring machine.
Todd says the machine was purpose-built from 2019 to 2021 to improve the structure of their duplex brown soils, particularly the heavy clay subsoil that is the main cause of waterlogging. The prototype machine aims to remediate the soil structure with two particular functions – deep ripping and deep placement of nutrient rich organic matter.
Todd says the tractor-towed machine can place manure deeper in the soil profile than other commercial machines.
The new machine is set apart from other subsoil manuring machines by its system for distributing manure via five extra-long, heavy-duty tynes that deep rip and apply nutrients to the clay subsoil at a depth of 70 centimetres, he says. Its ability to apply manure at this depth is an important design feature since the targeted clay layer generally starts at a soil depth of 45 to 50cm.
Todd says the machine is part of a long-term strategy that has potential to improve subsoil drainage, reduce waterlogging losses, lift crop yields and increase the farm's cropping area.
To secure these gains, they plan to use the machine to apply a blend of chicken and duck litter at a rate of 20t/ha, across their entire property in the next 10 years. "We're planning to remediate soils on 10 per cent of the farm, year-on-year, until 2031," Todd says.
Using this staged approach to reduce crop losses from waterlogging could allow the Vennings to expand their cropping program from 15 to 50 per cent of the farm area.
He says the yield gain expected to flow from subsoil manuring is twofold: it stems from reduced crop losses due to waterlogging, as well as the deep placement of nutrients available to plants in the subsoil, especially immobile nutrients such as phosphorus.
"We're aiming to lift our average yield for cereals to above nine tonnes per hectare," he says. The family's long-term average yield for cereals – wheat and barley – is currently 5 to 6t/ha.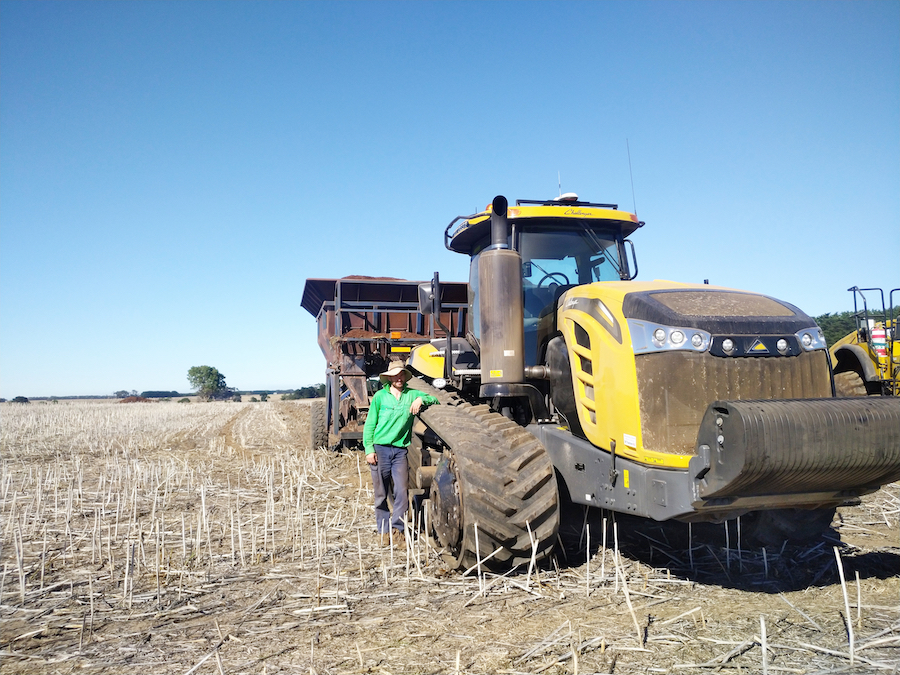 On-farm paddock test
The Vennings used a subsoil manuring machine developed by Agriculture Victoria's Dr Renick Peries, borrowed from Southern Farming Systems, to deep rip and apply cow manure and chicken litter at a soil depth of 30 to 35cm across a 9ha paddock.
But they found this application depth was too shallow – it was 15 to 20cm short of the targeted clay subsoil. "We couldn't apply the manure into our heavy clay layer because the tynes were not long enough to reach it,' he says.
Nevertheless, the paddock test in which cow manure was applied to the soil at a rate of 30 tonnes per hectare still increased the yield of the subsequent SQP Revenue wheat crop by 20 per cent.
In contrast with the cow manure, chicken litter applied at a rate of 20t/ha reduced the yield of the following wheat crop by 10 per cent. Todd says the yield penalty resulted from the chicken litter's high concentration of organic nutrients derived from its rice hull base.
Learning from this, they plan to use sawdust or woodchip-based chicken and duck litter for manure applications using the new machine. The cow manure sourced from a local feedlot is no longer available.
Todd says the experimental amelioration works – manuring and deep ripping – have also contributed to an overall, long-term lift in the paddock's performance over the past seven years.
"It has changed the soil structure, so we've seen a significant reduction in waterlogging and increased yields because the applied manure has been utilised by subsequent crops," he says.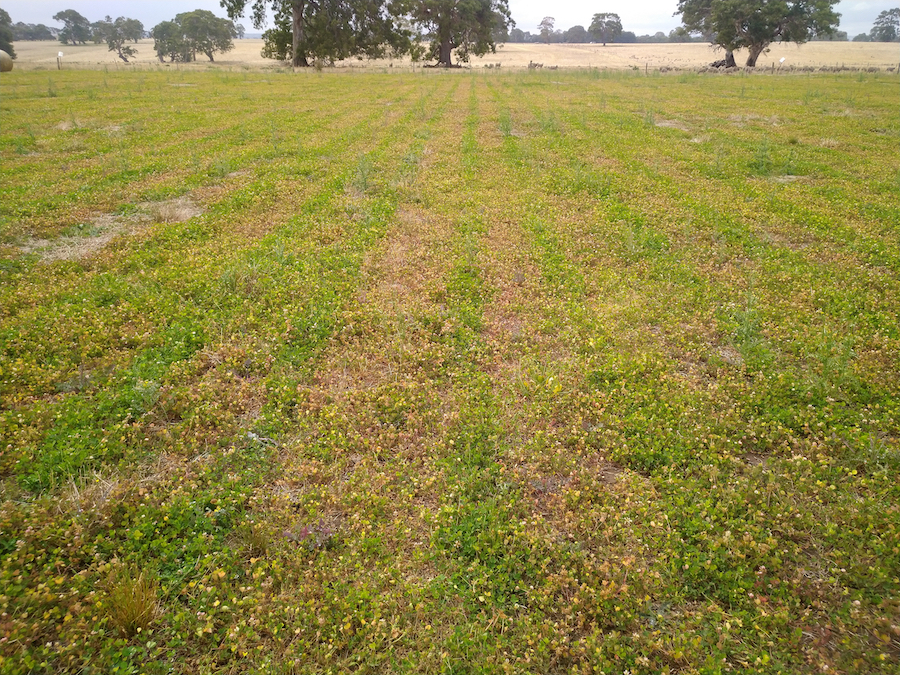 The 9ha-paddock, sown to pasture, where the Vennings applied cow and chicken manure to the soil at a depth of of 30 to 35cm in 2014. Photo: Todd Venning
Custom-built machine
Of the machine's design, Todd says its heavy-duty tynes are key components which took two years to research and source.
They eventually found suitable tynes manufactured by agricultural machinery firm, Gallard Services at Berri, South Australia, which had adapted a US design for deep ripping almond and orange orchards.
A series of design modifications were also made to reinforce the machine's framework, given the considerable force needed to pull tynes at depth.
For example, the Vennings tested the performance of the tractor-towed machine, with only three of its five tynes attached, on 3ha last year. While their 330-horsepower Deutz-Fahr tractor was towing the machine, the tractor's drawbar pin sheared into three parts, Todd says.
Further paddock testing showed almost twice the towing power was required for all five tynes. They have since invested in a 600hp Challenger tractor, modified to include a new drawbar assembly, to pull the machine.
In addition to the family's capital investment, the machine is also the product of community collaboration drawing on large donations of expert skill and knowledge from the grains industry, Todd says.
Horsham-based Hicks Machinery, for example, has contributed countless unpaid hours to advance the machine's design, he says.
The Vennings plan to use the machine to apply a mix of chicken and duck litter to the subsoil at a rate of 20t/ha before seeding crops this year, but modifications to fine-tune its efficiency and efficacy are ongoing.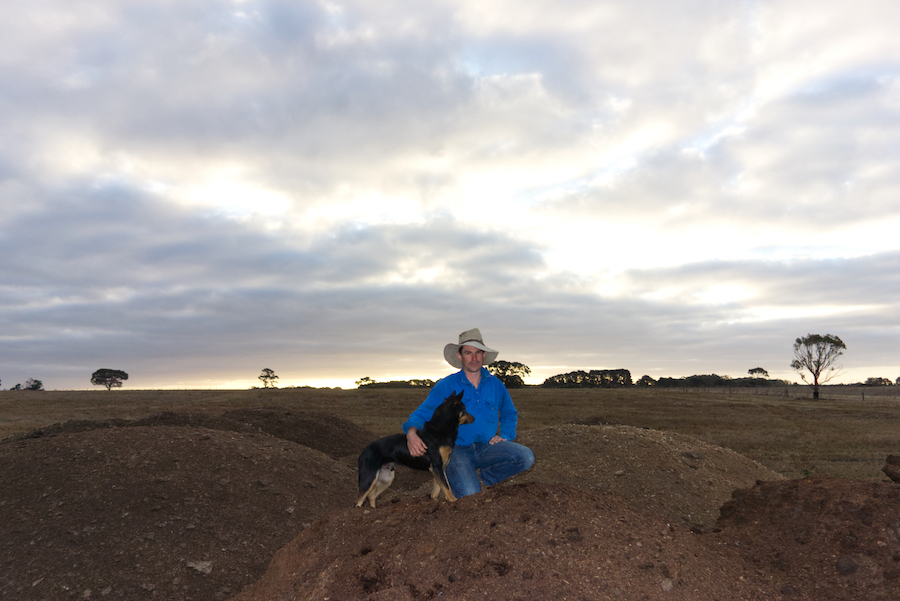 More information: Todd Venning, 0428 109 245, todd@venning.net