Although 30 per cent of Breil Jackson's irrigated mungbean crop was destroyed by an unseasonal frost in April, the grain that was harvested still delivered a solid return for his business near Nyngan, New South Wales.
Breil, who crops 4500 hectares with his wife Bernadette, reports his Opal-AU mungbeans yielded two tonnes per hectare and sold for more than $1200 a tonne.
"We sold the crop for seed, securing a premium above the open-market price," Breil says.
Opal-AU – developed through the National Mungbean Improvement Program with investment from the Queensland Department of Agriculture and Fisheries (DAF) and GRDC – is said to be 12 per cent higher-yielding than Jade-AU.
Breil first learned about Opal-AU in May 2020 after DAF's Col Douglas shared the results of seven years of trials, which, at that time, demonstrated the variety could yield up to 28 per cent more than other cultivars. On learning this, Breil ordered seed for trial across 280ha.
He watched a GRDC webinar on mungbean agronomy and water use efficiency to gather the latest know-how. "I learned mungbeans can put a root down 60 centimetres in the first 10 days after emergence," Breil says.
Before sowing on an irrigated paddock, he added 5cm of water to wet the soil to 100cm. On 10 January, he sowed rhizobia-inoculated Opal-AU seed into wheat residue targeting 35 to 40 plants per square metre. Also applied was 120 kilograms/ha of monoammonium phosphate plus zinc.
Breil runs a 12-metre controlled-traffic farming system, incorporating a Tobin disc seeder with 25cm paired seeding rows set on 75cm spacings. His custom-built lateral irrigators run on the same tram tracks to minimise soil compaction.
Although mice were baited before sowing, Breil says a thicker layer of residue and grain left on small patches of the block provided mice with refuges. These were areas where the harvester had stopped in the preceding wheat crop and the sieves unloaded.
"We struggled to control mice in a few areas. They damaged the strike by about five per cent," he says.
Despite the setback, Breil harvested 2t/ha of seed during May. He says the excellent performance of Opal-AU was helped by a mild summer, with only two days hotter than 40°C during the vegetative growth stage and valuable falls of summer rain.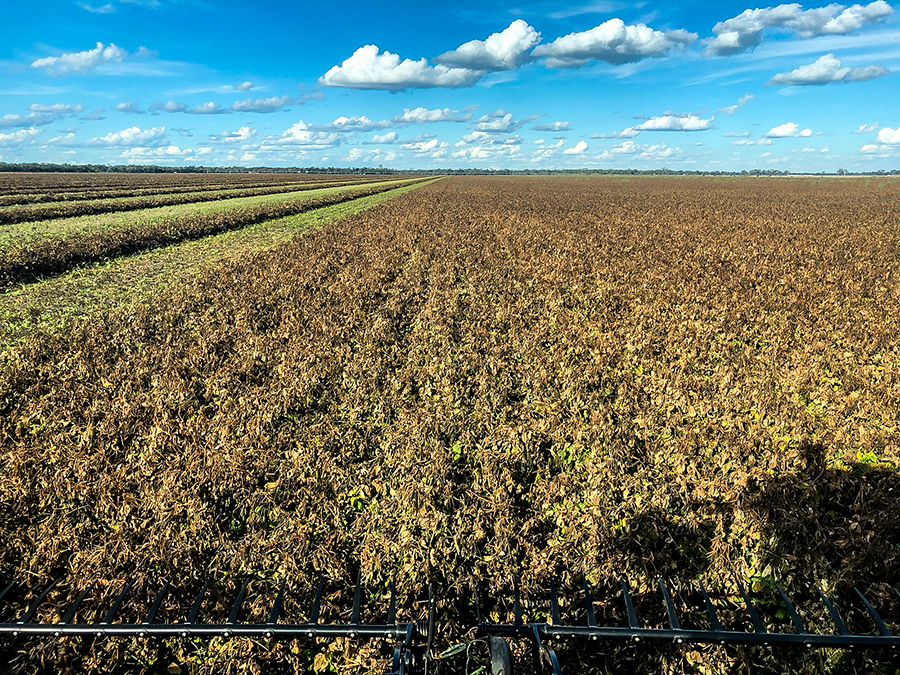 Breil says only 1.5 megalitres/ha of irrigation water had to be added. In drought years, more than 5ML/ha would be required.
A heartbreaking consequence of not being able to keep all mice in check after two doses of bait was the destruction of the following canola crop.
"I probably should have ploughed the paddock," he says. "I expected to control the mice and didn't want to disturb the no-till seedbed because cultivation affects the instantaneous infiltration rate when irrigating."
Wheat was subsequently planted into the block during June.