Key points
Resistance to commonly used Modes of Action (MoA) is on the increase
Reducing the weed seedbank is a vital part of a managing resistant weeds
A concerning trend is the increasing number of weeds with resistance to glyphosate, particularly in fallows. It is a very important herbicide that is hard to replace in many of its uses. While resistance to the imidazolinone herbicides is making Clearfield® crop cultivars less useful and weed management more difficult.
Pre-emergent herbicides have been a key to annual ryegrass management, and resistance is starting to threaten their usefulness. Phenoxy herbicides are effective and inexpensive, and mix well with other products; however, resistance to these herbicides has been increasing in broadleaf weeds.
Resistance has occurred most rapidly in weed species that are widespread, occur in high populations, have high genetic diversity, have short-lived weed seedbanks and produce high seed numbers.
Practices that reduce seed-set or remove that weed seed can dramatically reduce the size of future weed populations. - University of Adelaide's Dr Chris Preston
The introduction of herbicide-resistant crops has seen the additional use of some herbicides, such as imidazolinones and glyphosate, resulting in the acceleration of resistance to these herbicides.
Management strategies
Resistance management strategies have been developed for most herbicide Modes of Action (MoA). These strategies, developed by CropLife Australia in consultation with herbicide resistance researchers, are available on the CropLife Australia website.
The key planks of all the strategies are rotation of herbicides and employment of integrated weed management (IWM) tactics.
For most weeds, selection for resistance occurs at the field level, although hygiene is important to stop new weeds or new resistance types invading. Resistance tends to occur first in small patches, so patch management can be an effective tool to manage resistance in its early stages.
Crop rotations can be useful in managing resistance by allowing the use of additional tactics. Crop rotations dominated by cereals will tend to have grass weed problems, whereas rotations with high frequencies of broadleaf crops will have problems with broadleaf weeds.
Seedbank
Seed production is a vulnerable part of the weed life cycle. Seed-set this year becomes next year's resistance problem. Practices that reduce seed-set or remove that weed seed can dramatically reduce the size of future weed populations.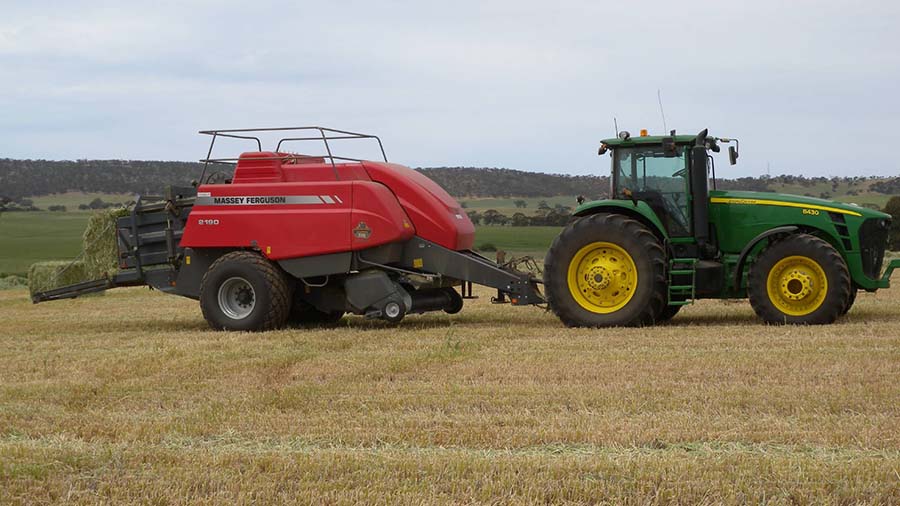 There are numerous practices that can reduce weed seed carryover. Growing hay or green/brown manure crops with control of survivors can reduce weed seed-set by 100 per cent and weed seedbanks by more than 80 per cent.
Crop-topping practices are registered for many crops and, when applied at the correct time, can reduce weed seed-set by up to 95 per cent.
Crop competition can also be helpful in reducing weed seed-set and can reduce weed seed production by up to 50 per cent.
Harvest weed seed management can reduce the weed seedbank substantially. These practices include use of chaff carts, narrow windrow burning and seed destructors.
IWM is needed over multiple years, and understanding the weed seedbank lifetime is helpful in working out the time required to reduce weed populations. For example, two years of effective control are usually sufficient for brome grass. For annual ryegrass, three years is better; and for wild radish, more years of control are required.
IWM requires the stacking of tactics to drive down weed seedbanks. The best results occur when three weed-control tactics are used against the problem weeds in each year.
Resistance testing
Herbicide-resistance testing should be used, particularly for resistance to herbicides that are planned for use over the next few years to ensure they remain effective.
Growers often test for the herbicide that has failed, which can be valuable if it is not clear whether resistance is the problem. However, resistance is usually the issue and testing should target alternative herbicides to ensure they will work.
Testing more than one rate of herbicide is useful for some herbicides, such as glyphosate and clethodim.
Both the seed test and quick test are suitable for post-emergent herbicides, but the seed test is preferred for most pre-emergent herbicides.
Typically, the results will be provided as survival percentage. Information on how vigorous the survivors are may also be provided. Where there are low levels of survivors with low vigour, the herbicide may still be effective, particularly if combined with other IWM practices.
However, low levels of resistance with high-vigour survivors, indicates resistance is imminent and a failure is likely.
GRDC Research Codes UA00158, UWA00171, UCS00020, US00084
More information: Dr Chris Preston, University of Adelaide, 0883137237, christopher.preston@adelaide.edu.au