A collaboration between Australia's major plant industries - including grains - is set to deliver rapid and accurate monitoring and reporting of airborne pests and diseases to growers across the country.
According to researchers, this technology has the potential to provide growers with valuable information which will allow them to quickly and proactively manage airborne pests and diseases on-farm.
Launched at the Hart Field Day in South Australia in September, the iMapPESTS Sentinel is a mobile surveillance unit designed to offer optimal sampling of airborne fungal spores and insects.
It is the first of several units aimed at enhancing pest and disease surveillance and management, which are being developed as part of an RD&E initiative called iMapPESTS.
iMapPESTS is a $21 million partnership that aims to deliver a national cross-industry plant surveillance network to monitor and report the presence of pests and diseases that threaten major agricultural sectors across Australia including the grains, cotton, sugar, horticulture, wine and forestry industries.
The South Australian Research and Development Institute (SARDI) will build and deploy up to eight Sentinels that combine specialised trapping technology for airborne pests and diseases with cutting-edge detection and molecular diagnostics systems.
Future Sentinels will operate similarly but might look different. We will be picking the most effective insect and spore samplers for target capture but also cost and power management. - SARDI research scientist Dr Rohan Kimber
The Sentinels will be optimised for new and established high-throughput molecular techniques developed at SARDI to identify and measure abundance of high-priority pests and diseases under surveillance. This research will expand the capacity of current airborne surveillance technology and diagnostic tools.
Enhanced decision-making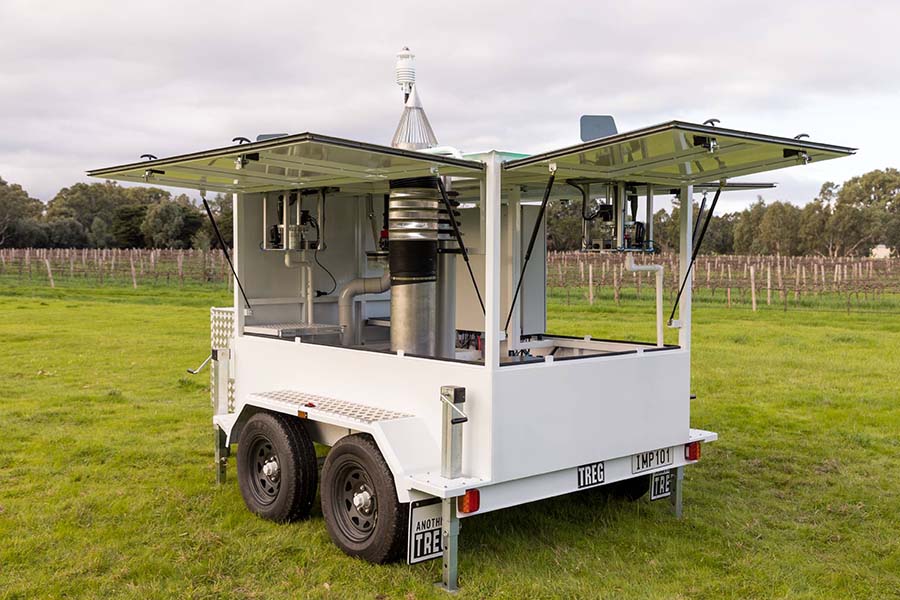 The overall aim of iMapPESTS is to lay the foundations of a national surveillance system to support enhanced pest management decision-making by providing timely information on high-priority, cross-sectoral pest and disease abundance and spread.
Such information could be used by industry stakeholders to guide the direction or intensity of scouting efforts and pest control actions.
The system could also facilitate a coordinated response to biosecurity efforts during exotic pest and disease incursions, including use in delimiting surveys and proof-of-freedom claims.
SARDI research scientist Dr Rohan Kimber says a key feature of the Sentinel is its ability to provide localised information that impacts on a specific region, which might not apply to growing regions in other parts of the country.
"The iMapPESTS team will be conducting surveillance activities at the Hart field site until early November," he says.
"During this time, we will be detecting pests and pathogens present in the region and reporting this information to stakeholders in the grain industry.
"Specific pathogens we will be looking for at Hart include blackleg, blackspot, Septoria tritici blotch and botrytis grey mould, while specific insect pests we will be monitoring for include green peach aphid, oat aphid and Russian wheat aphid.
"The iMapPESTS team will work with growers and industry representatives to understand the best way to communicate and visualise the dynamic pest information for end users, potentially via tablet or phone, sharing which pests or diseases the Sentinel is detecting in an area at a particular time.
"Growers and agronomists are encouraged to visit the iMapPESTS website for more information on surveillance outcomes."
The Sentinel is a specialised trailer equipped with several airborne samplers, power supply, a climate sensor, telemetry and an industrial computer to remotely control and monitor the unit, including automated robotics to change pots on the samplers according to the day or capture criteria.
The Sentinel features four different air samplers:
two spore samplers, which are high-volume air samplers specifically designed to collect airborne spores;
a two-metre insect suction trap to monitor localised insect dynamics;
a six-metre insect suction trap, ideally suited to monitor for long-distance migratory insect flights; and
a Bioscout system, a near-real-time monitoring technology of fungal spores.
After the Sentinel captures airborne spores and insects - including many long-distance dispersal insects such as aphids and thrips - the samples will be dispatched to SARDI laboratories for inspection and diagnosis.
Aside from the Australia-wide partnership, the iMapPESTS project has also brought in international expertise from Rothamsted Research in the UK.
Traps for Australian conditions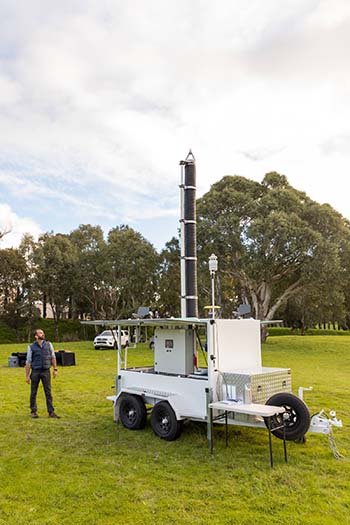 Dr Kimber has been working with aerobiologist Professor Jon West for an extended period developing new spore traps for application in Australian conditions, in partnership with UK-based Burkard Agri Limited for the design and manufacture of these new semi-automated air and insect samplers for Australian conditions.
"The other part of the linkage to Rothamsted is the Rothamsted Insect Survey group," Dr Kimber says.
"That survey has been running very similar tall traps - similar to the six-metre insect suction trap on the Sentinel - for 50 years in the UK and more broadly in Europe.
"That trapping network is the 'gold standard' and is internationally recognised for area-wide monitoring of migratory insect pests in the UK.
"The six-metre insect suction trap is a new type of trap that the Rothamsted Insect Survey has developed over the past few years and they have given us permission to replicate it on the Sentinel.
"The international partnership with Rothamsted, Professor West and Burkard Agri Limited has been invaluable. We are constantly comparing notes and exchanging ideas on new systems."
Dr Kimber says the prototype Sentinel operation over the next few months will be a learning phase to optimise how it works and make improvements.
"This hasn't been done before, so inevitably there is a lot of optimisation and learning as you go to improve the concept," he says.
"Future Sentinels will operate similarly but might look different. We will be picking the most effective insect and spore samplers for target capture but also cost and power management."
Cutting-edge diagnostic capability
Aside from the Sentinels, the project includes the development of cutting-edge diagnostic capability using next-generation sequencing (NGS) by Agriculture Victoria through the Victorian Department of Jobs, Precincts and Regions (DJPR).
NGS technologies can be used for the detection of known pests and diseases, which will be particularly useful in mixed population samples captured by the Sentinels.
NGS sequencing means there will be high-throughput capacity for pest and pathogen diagnostics.
This research will establish an NGS pipeline - samples collected in-field through to analysis - that will be made available to industry, as well as state and federal governments, on a fee-for-service basis that is affordable and sustainable.
iMapPESTS is supported by Hort Innovation, through funding from the Australian Government Department of Agriculture as part of its Rural R&D for Profit Program and AgriFutures Australia, GRDC, AUSVEG, CSIRO, Cotton Research and Development Corporation, Forest & Wood Products Australia, Nursery & Garden Industry Australia, Plant & Food Research, Rothamsted Research, PIRSA-SARDI, Sugar Research Australia, DJPR, the WA Department of Primary Industries and Regional Development, Wine Australia and Burkard Agri Limited.
More information: Jessica Holliday, Hort Innovation, 0437 549 046, Jessica.Holliday@horticulture.com.au
iMapPESTS website, www.imappests.com.au