Eyespot is a significant threat to cereal crop yields, particularly in the medium and high-rainfall areas of the southern region of Australia.
But new screening techniques developed by South Australian researchers could help accelerate the development of eyespot-resistant germplasm to go into potential new cereal varieties. This could reduce some of the risk of yield loss.
Research into screening for eyespot resistance has been one focus of a strategic partnership between GRDC and the South Australian Research and Development Institute (SARDI).
Eyespot (Oculimacula yallundae) is a stubble-borne fungal disease that thrives at the plant base in cool, humid conditions.
SARDI senior research scientist, Margaret Evans, says eyespot symptoms often do not appear until after canopy closure - making the disease difficult to study and treat.
"Eyespot lesions will not be evident until well into stem elongation, at about Growth Stage 33, by which time sprayed fungicide will not always penetrate to the plant base effectively," Dr Evans says.
Yield losses likely
Dr Evans' studies of SA crops have shown that - from this point - yield losses of 19 to 35 per cent (0.6 to 1.3 tonnes per hectare) are the likely outcome.
Yield losses can be even higher and harvesting can be very difficult if lodging occurs due to stem weakness caused by the lesions.
Dr Evans says the best protection against eyespot is detection of inoculum before sowing, using PREDICTA® B analysis of soil samples.
"Once the risk of yield loss from eyespot in a paddock has been identified, management strategies can be implemented," she says.
"Planting a less-susceptible cereal variety, applying a fungicide to susceptible cereal varieties or having a break from cereals to reduce the inoculum levels will all assist in managing the threat.
"The most desirable eyespot management option is varietal resistance, but the problem has been that it is not simple to screen for eyespot resistance.
"It cannot be done within the National Variety Trials (NVT) program because it is not practical to apply inoculum in a paddock, and any paddock that does have an eyespot problem is not going to be an NVT site.
"Even where inoculum is present, the weather has to be conducive to eyespot developing."
The most desirable eyespot management option is varietal resistance, but the problem has been that it is not simple to screen for eyespot resistance. - SARDI senior research scientist Dr Margaret Evans
Dr Evans says her research has focused on being able to reliably produce eyespot symptoms in a controlled environment so that new breeders' lines and commercial cultivars can be efficiently screened for eyespot resistance.
Despite the threat eyespot poses to crops in the field, she says applying inoculum and getting it to infect plants under controlled conditions has been challenging.
"We thought we would be able to collect isolates from the field and produce spores for application to the plants, but as a back-up we also looked at using field-collected stems as an inoculum source," she says.
Screening method developed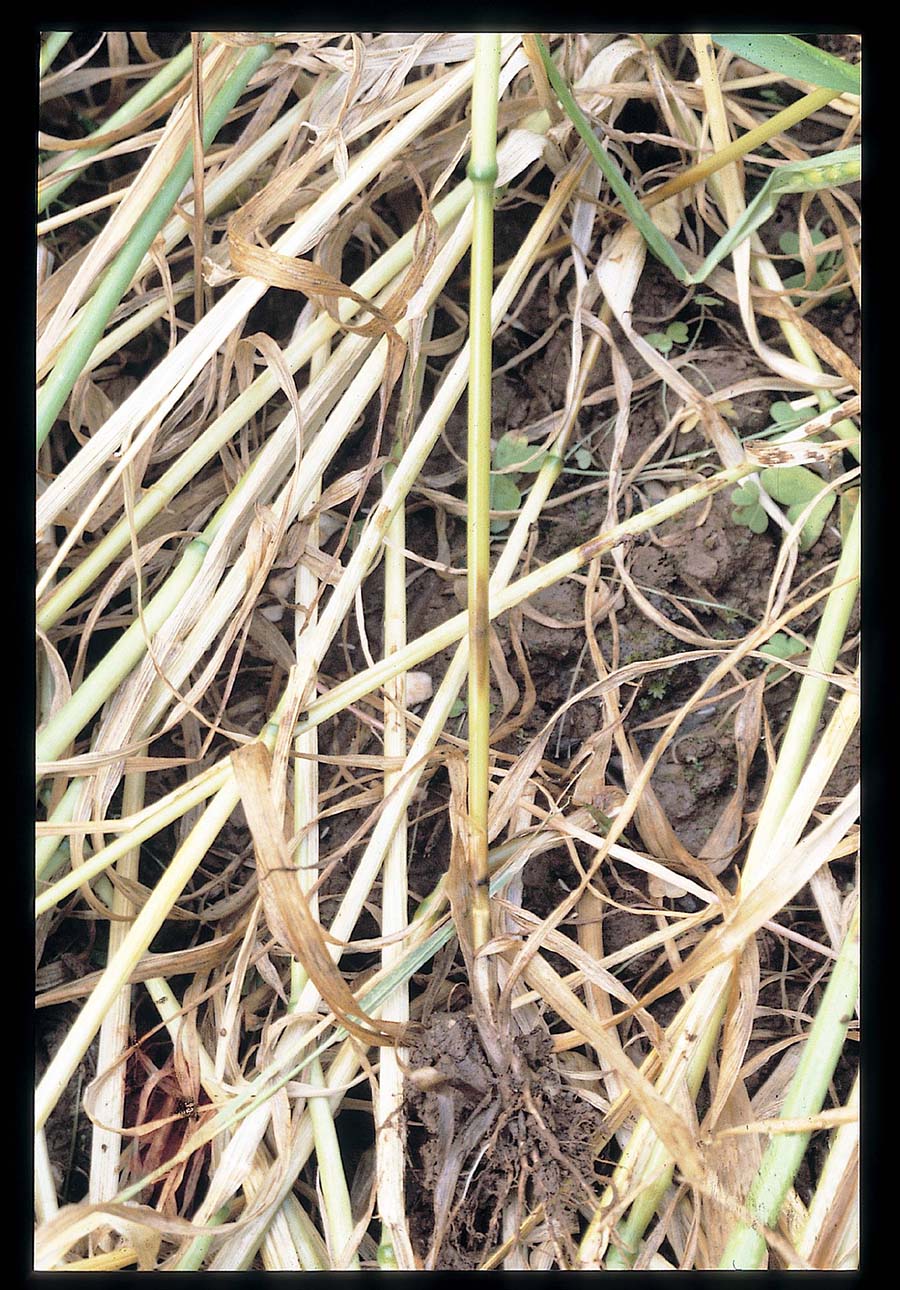 A screening method based on field-collected stems has now been developed.
"We grow a group of 25 plants per replicate for each variety and, once they have a second leaf emerging, we introduce three field-collected infected stems as the eyespot inoculum source for each group," Dr Evans says.
When the plants reach early tillering, the research team applies overhead irrigation to simulate rainfall.
Overhead misting is then used to maintain humidity levels and create ideal conditions for eyespot spores to develop, so plant infection will occur.
"The infected plants are left until mid-grain fill, when we pull them out and score the eyespot damage on the stem base," Dr Evans says.
"While developing this screening method, we have also been successful in developing methods for generating eyespot isolates.
"It took a lot of time to establish an effective collection method, but we are now able to undertake targeted acquisition of eyespot spores for use in our screening program at the University of Adelaide's Waite Campus."
Developing these methods for screening and for isolate collection has already added to the weight of knowledge about eyespot.
For example, the researchers now know how to identify spore clusters on field-collected stems and that those clusters develop four to seven days after stems are placed in a humid chamber at about 16°C.
Dr Evans says that timeframe is valuable new knowledge which means the team can reliably collect single spores for inoculum production.
"Now we know how to get single spore eyespot isolates, we are hoping we can sterilise plant fragments, or grain, and colonise those with eyespot to act as an inoculum source," she says.
"That will mean we can produce an effective disease source in the lab, so we won't have to go into the field and collect inoculum. It will make the screening program much more efficient."
Wheat varieties screened
This season, the research team will screen selected wheat varieties and retentions from the current NVT program, along with 'check' varieties - such as LRPB Trojan (PBR, rated moderately susceptible to eyespot) - which have already been screened in the field and have known eyespot resistance ratings.
"This year is about confirming that we can actually screen for eyespot resistance using field-collected stems as an inoculum source," Dr Evans says.
"We then need to make sure our results are representative of what happens in the field.
"Once we have proven the effectiveness of our program, we will be ready to offer the service to plant breeders and, ultimately, help potentially deliver better eyespot resistance to growers."
The outcomes of this project are being delivered through the strategic research partnership between GRDC and SARDI - in collaboration with the University of Adelaide.
The GRDC and SARDI partnership has facilitated a range of projects that provide innovative research outcomes relevant to SA's cropping zones.
GRDC Research Code DAS1807-005BLX
More information: Margaret Evans, 0427 604 168, marg.evans@sa.gov.au