Loose smut (Ustilago spp.) in barley is an infectious, unsightly fungus common in higher-rainfall zones.
While the disease can often be visually alarming in affected crops, Western Australian Department of Primary Industries and Regional Development (DPIRD) research officer Andrea Hills says growers can overestimate the extent of the problem because the loose smut usually looks worse than it is.
We have had growers estimate levels of 20 per cent loose smut when further assessment has shown it has actually only been around 2 to 2.5 per cent, Ms Hills says.
Nevertheless, she says growers have expressed concerns about the prevalence of the disease, particularly in southern WA.
Research targets barley fungus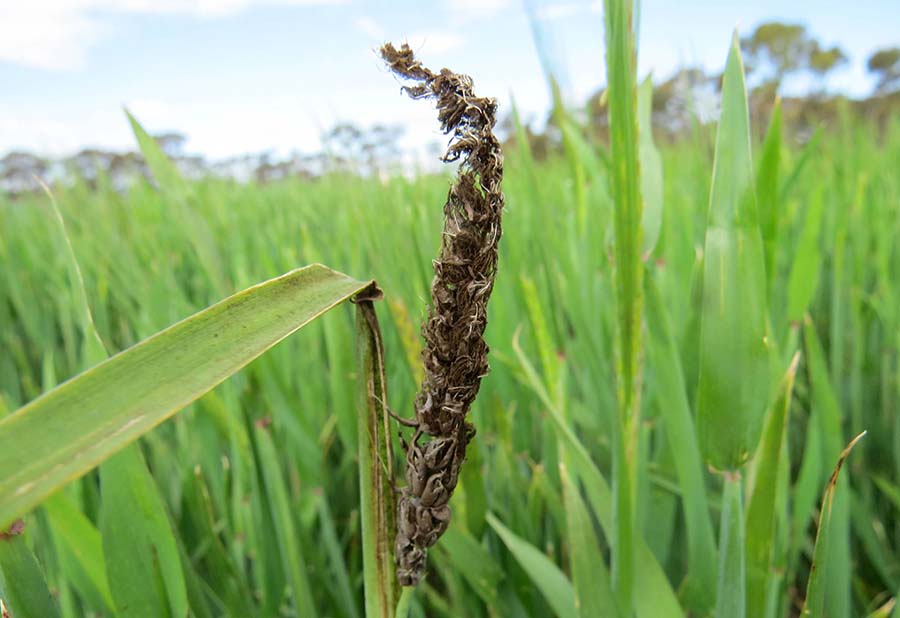 GRDC-invested trials at Gibson, Katanning, Wongan Hills and South Perth, in WA, in 2018 investigated the potential of different management strategies to reduce the expression of loose smut in barley crops.
These were based on the fact that infected plants are already under stress.
The trials considered the impact of seed dressings, seed size, sowing rate and varietal susceptibility on loose smut infection levels.
Variety
Small plot trials in Gibson (Esperance Downs Research Station) and South Perth (WA DPIRD site) compared the susceptibility of the varieties Baudin (PBR), Bass (PBR), Compass (PBR), Fathom (PBR), Flinders (PBR), Granger (PBR), Hindmarsh (PBR), La Trobe (PBR), LG Maltstar (PBR), RGT Planet (PBR), Rosalind (PBR) and Spartacus CL (PBR).
Ms Hills says the results clearly demonstrated any barley variety that has Dash or Hindmarsh (PBR) parentage such as La Trobe (PBR), Spartacus CL (PBR) and Rosalind (PBR) is more susceptible to loose smut than other varieties.
These varieties had two to three times more infection than other varieties.
Varieties such as RGT Planet (PBR), Fathom (PBR) and Flinders (PBR) had relatively low levels of loose smut, Ms Hills says.
Other varieties fell between these two groups."
Seed dressing
Seed-dressing trials at Gibson, Wongan Hills and Katanning compared the efficacy of products including Baytan® T, EverGol® Energy, Rancona® Dimension, Raxil® T, Systiva®, Vibrance® fungicide and Vitaflo® C.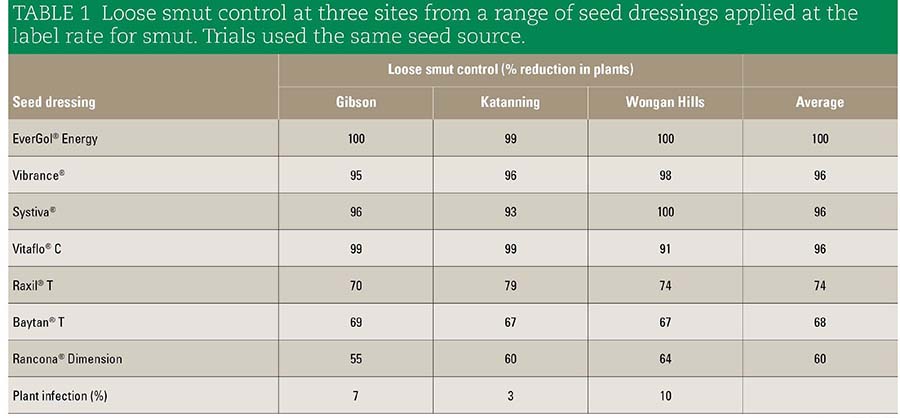 Trials results showed all seed dressing were effective, with the best results (almost 100 per cent efficacy) achieved using EverGol® Energy, Vibrance®, Systiva® and Vitaflo® C (see Table 1). These results supported outcomes from 2013 trials.
If loose smut is a problem in your area, the most important management strategy is to seed dress before sowing, Ms Hills says.
Ms Hills says growers could buy in new seed under grower-to-grower trading schemes in an attempt to break the cycle of loose smut.
But she says there is no guarantee new seed will be free of the disease because seed has no visual symptoms of loose smut infection. If new seed is purchased, she says, a seed test for loose smut infection would be useful.
We encourage growers to dress all seed, every year, because the disease pressure is high given that La Trobe (PBR) and Spartacus CL (PBR) are popular varieties in WA, she says.
Control is critically dependent on good application of the seed dressing every seed needs to be treated.
There is also evidence that soil moisture conditions at germination play a role in the ability of the germinating seed to take up enough fungicide for effective control.
In six trials in 2018, the impact of loose smut on yield was lower than expected. On average, a crop with a heavy infection, where 5 per cent of plants are smutted, would suffer a yield penalty of 5 per cent.
Seed size
The small plot trials in Gibson and South Perth considered seed size in relation to loose smut susceptibility.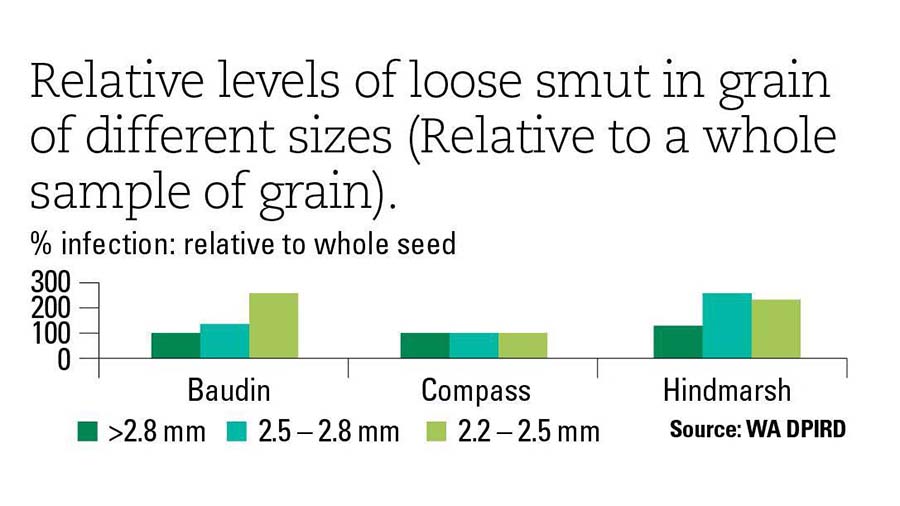 Four seed sizes (small, medium, large and whole seed) were tested using the three varieties Baudin (PBR), Compass (PBR) and La Trobe (PBR) (see Figure 1).
Ms Hills says the results demonstrated that in heavily infected grain, large seed tended to have lower levels of infection than small seed. Hard grading of seed over a 2.5-millimetre screen could potentially remove more infected seed.
It appears seeding rate may also affect a crops expression of loose smut.
Smutted plants have fewer tillers, suggesting that infected plants are under stress, Ms Hills says.
We wanted to investigate whether the management strategy of a higher sowing rate would push these smutted plants too hard for them to survive, allowing the healthy plants to take over.
She says a plot trial demonstrated that higher seeding rates reduced the overall loose smut level in a barley crop.
Although, significant decreases could only be seen with a large increase in seeding rate.
Tolerance
Grower concerns over apparent poor performance of fungicide seed dressings generally, and the awareness that resistance to carboxin fungicide had occurred in Europe and Canada in the 1980s, led to field trials to test whether loose smut samples from different areas of WA reacted differently to carboxin.
This active ingredient is historically one of the more effective seed dressing fungicides for loose smut control.
Small-plot and row trials at Gibson and South Perth investigated the rate sensitivity of seed infected with different loose smut pathotypes to carboxin.
The results showed reduced effectiveness at lower than current label rates in only one infected seed lot.
Ms Hills says this does not mean the use of carboxin-based seed dressings is compromised.
If you use the full registered rate of carboxin seed dressing, we dont believe you will have a problem with control, she says.
Further studies
Further research is being carried out on the potential of a preventive fungicide spray to break the disease cycle and reduce the infection of plants during flowering in spring.
GRDC Research Code: DAW00229
More information: Andrea Hills, andrea.hills@dpird.wa.gov.au