This year, GRDC will celebrate 30 years of successful research focusing on the things that matter to Australian grain growers. This includes big challenges, such as:
higher crop yields;
better crop varieties;
crop nutrition;
overcoming soil constraints; and
managing pests and diseases.
Yet, with the current rate of technological change, there has never been a more exciting time to tackle the big 'hairy' problems impacting on the grains industry and to generate enduring profit for growers.
Right now, an incredible boom in the development of new sensing and information technologies is enabling the creation of vast pools of useful data.
The parallel growth in computing and analytical power has unlocked new opportunities for profit - with key industries such as health, mining, finance and energy taking the lead.
The grains industry is no stranger to innovation. Numerous ag-tech companies are now delivering new technology products or software-based services for growers, and GRDC also has some great mechanisms to foster this type of innovation through GrainInnovate and Farmers2Founders.
But there are some key gaps in our knowledge that will not be filled by the commercial sector alone.
Big solutions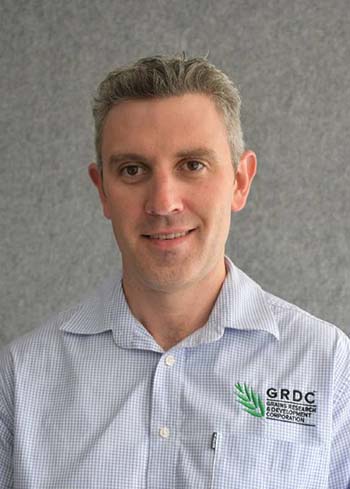 GRDC senior manager enabling technologies, Tom Giles. Photo: GRDC
Complex problems are difficult and expensive to solve and often require the sort of public-private partnerships that GRDC is perfectly placed to broker.
Finding genetic solutions to maintain yield and reduce costs in the face of crop stressors, such as disease, is a perfect example.
Commercial companies are an integral part of the process of breeding resistant varieties. But their success has been significantly enhanced by GRDC's investment in the underpinning genetic science, tools and essential pre-breeding.
Now is the time for GRDC to invest in the 'enabling technologies' that will drive a transformational change in how we do business.
These technologies, such as crop and soil sensors and new analysis techniques, such as machine learning, provide an unprecedented opportunity to take the productivity of the Australian grains industry to the next level.
New opportunities
While these tools have been used by our research partners before, we are taking a carefully planned yet bold new approach to learn more from our data and deliver bigger and better benefits to growers in faster timeframes.
We have established a new 'enabling technologies' team at GRDC to cut through the hype and integrate these tools into our existing programs by creating better linkages with the best data scientists and analytical experts both locally and internationally.
We are also building connections with the commercial sector and growers from the start to ensure the benefits are realised on-farm.
These investments will integrate fresh thinking from outside agriculture and we are very excited to share some of these opportunities with you in the upcoming May-June 2020 GroundCover™ Supplement.
We have focused on helping growers to tackle some of their biggest challenges, including:
variety selection;
nitrogen nutrition;
yield forecasting;
soil constraints;
soil water;
frost;
heat and more.
We are also leveraging the best available technology and processes worldwide to make our research more efficient and effective, as well as making it easier for growers and advisers to find and use information.
Over the next 30 years these techniques and the next generation of enabling technologies will deliver new insights and more efficient research for the grains industry.
We also look forward to the day when growers and advisers will be able to easily incorporate the vast quantity of data that is now being collected on-farm into their decision-making.
More information: Tom Giles, 0417 889 860, tom.giles@grdc.com.au