Growers will soon have access to second-generation barley varieties that can tolerate acid soils well and do not express an undesirable blue pigment in the grain.
Called 'blue aleurone', this quality defect sporadically affected Litmus, a first-generation acid tolerant variety, when planted in soils affected by acidity.
The result is an acid soil tolerant barley variety with no risk of expressing the blue aleurone grain colour defect. - Murdoch University Professor Chengdao Li
The advance is the product of pre-breeding work performed by Professor Chengdao Li, the director of the Western Barley Genetics Alliance at Murdoch University in Western Australia.
Previously, Professor Li found that his acid soil tolerant trait could lift yields 30 to 90 per cent in WA.
Delivery of this trait to growers was expected to boost WA's economy by $30 million annually given the prevalence of acidic soils and their long-standing constraint to barley yields and quality.
Out of the blue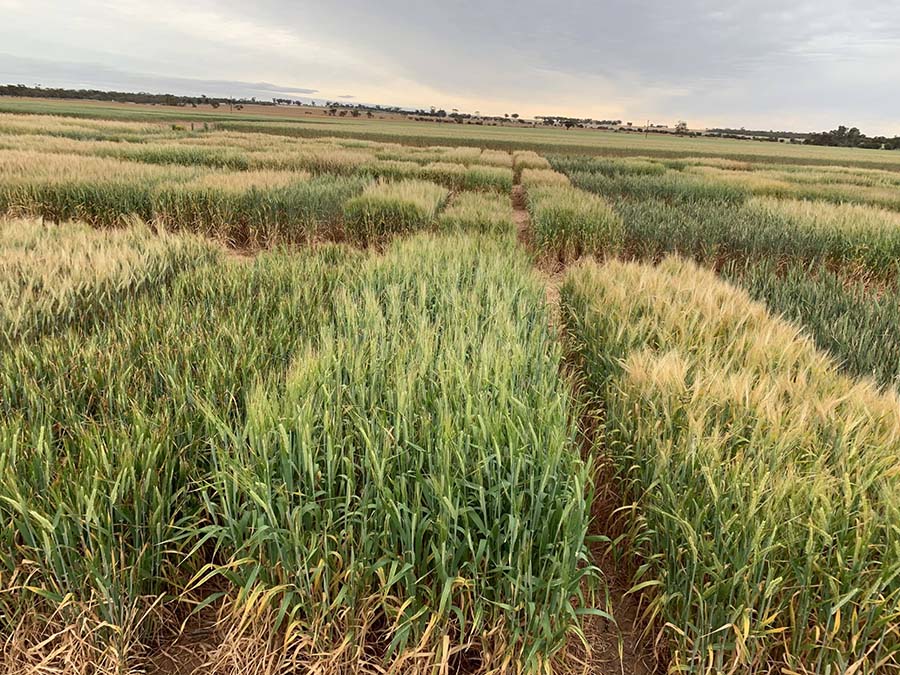 Subsequent to the variety's release, however, Litmus was found to produce grain with a harmless blue discolouration under some growing conditions.
The problem is due to the expression of a gene encoding a blue pigment that is co-inherited with acid tolerance.
Despite not affecting grain quality, blue aleurone was subject to zero-tolerance levels for malting purposes, while feedlots set a limit of 1 per cent.
The combined market restrictions made Litmus too risky a proposition to be grown commercially.
"Australian malting barley receives a premium price for its bright golden colour, which is why industry is very reluctant to change their quality standards," Professor Li says.
In order to rescue the yield advantage associated with the acid tolerance trait, Professor Li undertook additional pre-breeding work that culminated in the removal of the blue pigment gene from the acid tolerant breeding lines.
That germplasm has now been released to commercial breeders, removing the last hurdle to higher yields in acid soils.
"The result is an acid soil tolerant barley variety with no risk of expressing the blue aleurone grain colour defect," Professor Li says.
Tricky linkages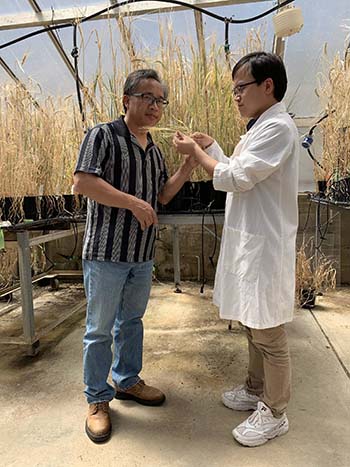 What made Professor Li's breeding work especially remarkable is that the genes for acid tolerance and blue aleurone are physically in close proximity (linked) in the genome.
Normally it is fairly simple to separate out an unwanted gene. The trick is to harness the shuffling of DNA fragments (the genetic recombination) that occurs during sexual reproduction.
During recombination, pairs of like chromosomes will pair up to exchange DNA, which can swap out an unwanted gene from breeding material.
The likelihood of this happening decreases, however, when the unwanted gene is in very close proximity to the desired gene; and that's the hurdle that Professor Li had to overcome.
"There were just two strategies we could formulate to achieve our pre-breeding objective," he says.
"We attempted to 'mask' blue aleurone by inhibiting the expression of the blue pigment gene, but that did not work to the 100 per cent suppression required by markets.
"That's when we shifted to separating blue aleurone from acid tolerance using genetic recombination."
Further complicating this pre-breeding work was the erratic manner in which blue aleurone is expressed by plants, which makes screening using field trials exceptionally unreliable.
Between the rarity of the desired recombination event and the difficulty in screening for the desired outcome, Professor Li found himself between a rock and a hard place.
In response, he did what he is renowned for: he developed diagnostic DNA markers that allowed thousands of progeny to be easily and rapidly screened for the desired genotype.
Breeding tools put into practice
Professor Li attributes GRDC investment in mapping the barley genome for accelerating DNA marker development, a project (DAW00233) that he headed.
"Using markers, we detected the desired recombination event once among several thousand progeny," he says.
"That's how challenging this breeding work was and it would have been impossible if we had to rely on field trials to screen this material given the unstable expression of blue aleurone.
"It is the DNA markers that made it possible to detect that one desirable recombinant."
With the blue pigment gene gone and the availability of diagnostic markers, commercial breeders need no longer fear blue aleurone.
In 2019, white acid tolerant lines (lacking blue aleurone) and the diagnostic markers for both traits (acid tolerance and blue pigment) were passed on to all commercial breeding companies, including Intergrain and AGT.
The advanced lines also underwent field trials in Merredin's acid paddock during 2019 and Professor Li says the lines look very promising.
"There is a very clear yield advantage with the new acid tolerant genotype compared to current varieties and we are not seeing any blue colour," he says.
"Overall, I am confidant growers will see new acid tolerant barley varieties reaching seed markets soon."
There is a very clear yield advantage with the new acid tolerant genotype compared to current varieties and we are not seeing any blue colour. - Murdoch University Professor Chengdao Li
The blue menace
During efforts to characterise blue aleurone and analyse the underlining genetics, Professor Li made an additional discovery of concern to the barley industry more generally.
He found that there may be other, hidden, blue aleurone genes in Australian barley varieties Baudin, Fleet, Commander and Scope, even though these cultivars produce a white aleurone.
To test this hypothesis, Professor Li crossed Baudin and Fleet, then noted blue and white aleurone segregation in their progenies.
"This result confirmed that there are other hidden genes in Australia's major barley varieties controlling blue aleurone expression," he says.
"As these varieties have been extensively used as breeding parents by breeding companies, the hidden genes represent a great risk for these companies of releasing a variety with blue aleurone."
Professor Li's Western Barley Genetics Alliance team is now in the process of tracking down these hidden blue genes to eliminate the risk.
GRDC Research Code UMU00038; GRDC postdoctoral fellow Dr Yong Jia UMU00046; barley genome research code DAW00233.
More information: Chengdao Li, c.li@murdoch.edu.au