A national survey shows the level of trust in Australia's food industries is strong and improving.
The 2021 survey of more than 5300 Australians by Voconiq – an Australian data science company built on a platform of research developed by CSIRO – showed most respondents see farmers as responsible stewards of the land.
Lead researcher and Voconiq chief executive officer Dr Kieren Moffat says the survey demonstrates grain growers are highly trusted (see Figure 1).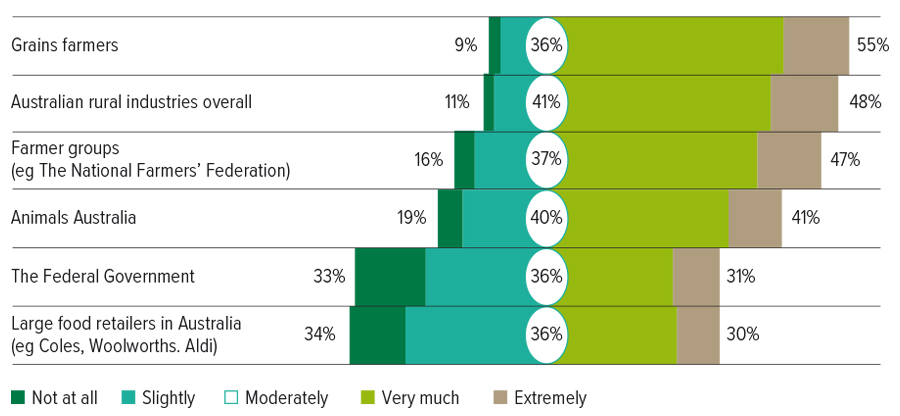 "Our 2021 national survey showed 90 per cent of respondents have a moderate to extremely high level of trust in Australian grain growers to act responsibly," Dr Moffat says.
The finding is just one of a range of insights to emerge from a collaboration of Australia's major rural industries over three years to collectively explore community trust.
Other 2021 findings include:
89 per cent of Australians trust rural industries, compared to 87 per cent in 2020;
almost two-thirds (61 per cent) say farmers, fishers and foresters are responsible stewards of the land and sea (up from 50 per cent in 2020);
85 per cent were confident in the capacity of Australia's rural industries to supply fresh food during the COVID-19 pandemic;
79 per cent said the pandemic had made them more aware of the importance of food security for Australia; and
61 per cent said economic sustainability of Australia's rural industries should not come at the expense of environmental management (29 per cent responded with neutral and 10 per cent disagreed).
The three-year research project has investment from 11 of Australia's rural research and development corporations, including GRDC, as well as the National Farmers' Federation and the NSW Department of Primary Industries.
To date, more than 14,000 Australians have shared their views on a range of issues focused on trust and acceptance of the nation's rural industries.
The 2021 survey shows a high level of trust is associated with environmental responsibility, responsiveness to community concerns, the importance of products produced by rural industries and distributional fairness (that the benefits of rural industries are shared fairly, especially with regional communities).
Innovation key
An interesting finding, Dr Moffat says, was that just over half of those surveyed viewed Australian rural industries as innovative compared to our global competitors.
"There is a real opportunity for all rural industries, including the grains sector, to explain how they are innovating, particularly in areas of concern such as pesticides and genetically modified plants," he says.
"Seventy-three per cent of those surveyed believe the future economic sustainability of Australia's rural industries depended on technological innovation."
Addressing concerns
Dr Moffat says findings from the 2021 survey show that listening to community concerns and responding to the issues raised is fundamental to building trust.
"Acknowledging when things go wrong and actively responding, rather than remaining silent on challenging issues, received strong endorsement," he says.
"What's going to be most powerful in improving trust among Australians is listening to consumers and taking action in response to concerns through, for example, technological innovation that addresses those concerns."
City-country divide
Also explored in the survey was whether attitudes towards Australia's rural industries differed according to where people live.
"People in metropolitan areas are generally less positive about rural industries than those in regional farming areas," Dr Moffat says.
"But attitudes towards rural industries were more positive among those who knew at least one person who worked in a rural industry – and that had much more influence than where the person lived.
"What this means is that somebody living in a rural area just has more opportunity to meet and form a relationship with somebody working in food or fibre production."
Building connection
The more community members feel personally connected to the land, Dr Moffat says, the greater their level of trust in the rural sector.
"Currently, Australians find this connection via the quality food and fibre products bought and used," he says.
"The products themselves are like a physical handshake and help to bridge the gap between people living in cities and those working within Australia's food and fibre industries.
"Feeling connected to grain growers through the exchange of a loaf of bread, for example, speaks to the power of a natural product as a transactional exchange that leads to a trusting relational outcome."
One way to build a higher level of trust in the grains industry, for example, might be to include QR codes on bread packaging, he says. This could allow a consumer who scans the code to meet, via video, one of the growers who grew the grain to make the bread.
A third survey will be carried out during 2022 as well as workshops and industry-specific focus groups to consolidate and further build community trust.
More information: Kieren Moffat, 0421 329 811, kieren.moffat@voconiq.com