True to its original Latin name Valentia meaning 'strength', the Spanish metropolis of Valencia is helping to reinforce the R&D capacity of the Australian grains industry.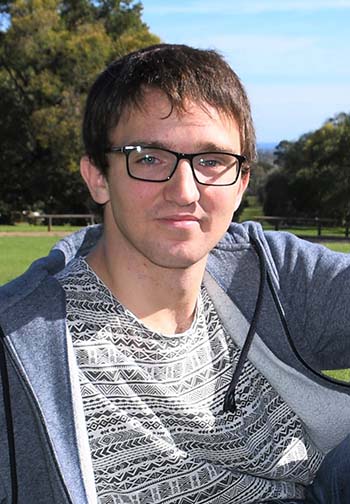 Spanish student Iker Monferrer adapted a software program by applying Bayesian statistics to wheat breeding data. Photo: Sharon Watt
There, on the banks of the Turia River beside the Mediterranean Sea, one of the oldest universities in Spain - the University of Valencia - is loaning its data science scholars to this country's grains research community.
Enabling the transfer of statistical science talent from the University of Valencia to the University of Adelaide, South Australia, is GRDC investment in a Master of Biostatistics Program.
GRDC investment in the southern region node of this program (SAGI South), led by the University of Adelaide, has engaged with the university's Master of Biostatistics program.
Under the program, the University of Adelaide's dedicated centre for statistical and computational methods used in the design and analysis of agricultural experiments – the Biometry Hub – hosted a University of Valencia master's-degree students in 2019.
This Master of Biostatistics student, Iker Monferrer, worked as part of the SAGI South research team based at the Biometry Hub, for eight weeks from March.
Biometry Hub leader Olena Kravchuk says the student placement, equivalent to a research assistant position, has already contributed to better efficiency and consistency in approaches to computation and statistics in wheat breeding.
For instance, Mr Monferrer applied new statistical software to the genetic analysis of a large, complicated data set from a wheat breeding program.
"Iker identified elements of the software that required further development," Dr Kravchuk says.
"His simulation study estimated the adapted software has the potential to fast-track computation in the genetic analysis of plant breeding data."
In other words, this computation component of the research could take a few days.
His work examining the software helped improve the "creation, simulation and implementation of computation" in wheat breeding research, Dr Kravchuk says.
Bayesian probabilities
To achieve this, Mr Monferrer adapted a software program by applying Bayesian statistics to data sets sourced from an industry wheat breeding program led by Australian Grain Technologies (AGT) breeders, Dr Haydn Kuchel and Dr Adam Norman.
Dr Kravchuk says the adapted software has potential to be used in pre-breeding programs. Photo: Clarisa Collis
His work was supervised by Dr Julian Taylor and Dr Beata Sznajder.
The Bayesian approach, in which probabilities are applied to statistical problems, and conculsuions are subjective and updated as additional data is collected, was used to determine the relative influence of a range of variables, both genetic and environmental, in the development of new wheat cultivars.
For example, working as a Bayesian data scientist at the Biometry Hub, Mr Monferrer first analysed a sample data set from the AGT wheat breeding program to inform subjective conclusions, or 'prior inference'.
He then analysed another sample data set from the same pre-breeding program to revise his conclusions, known as 'posterior inference.'
Drawing on this Bayesian logic, he used BayesVarSel software in genetic analysis to better understand the relative significance of different wheat genome regions linked to important crop traits, such as yield.
Dr Kravchuk says there is also potential for this approach to be used in selecting, and ultimately ranking, different environmental variables, such as soil composition, climate and agronomic practices in plant pre-breeding programs.
She says applying the new software to plant pre-breeding programs more generally could help lift the quality of the data science underpinning a range of research investments.
Program popularity
She says that following Mr Monferrer's research tenure, another three University of Valencia master's students, including a mathmetician, informatician and biostatistician, have applied for future work placements at the Biometry Hub.
The expertise of these students could be used to further develop Mr Monferrer's work and explore computational and statistical efficiency gains in other areas of grains research, such as agronomy and pest control, Dr Krachuk says.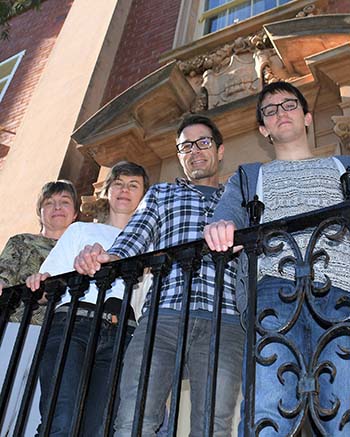 SAGI South's Dr Olena Kravchuk, left, Dr Beata Sznajder, Dr Julian Taylor and Iker Monferrer. Photo: Sharon Watt
"The work placement counts towards the training and qualification of a master's student and helps to create a global pool of statisticians with skills and knowledge specialised to the grains industry and the wider agricultural sector," she says.
Also supporting the Master of Biostatistics program was University of Valencia Department of Statistics and Operations Research leader Anabel Forte, who trained Mr Monferrer in the software used at the Biometry Hub in an effort to optimised the research outcomes and cost-efficiency of his placement.
GRDC support for the student program through investment in SAGI South covered visa, accommodation and airfares for Mr Monferrer.
Launched in 2017, phase three of SAGI is a five-year investment.
The Southern Node is led by the University of Adelaide, with co-investment from the university and the southern Australian Research and Development Institute (SARDI) division of Primary Industries and Regions SA (PIRSA).
SAGI South delivers statistical support to about 40 research projects and has a capacity-building program for statistical and data analysis skills.
More information: Olena Kravchuk, 08 8313 7252, olena.kravchuk@adelaide.edu.au