New research is road testing the potential for intercropping – the age-old backyard practice of growing two or more crops together – in broadacre cropping systems across the southern grains region.
Agriculture Victoria senior research scientist Garry O'Leary says the three-year study from April 2019, which he is leading, is examining the productivity and profitability of several approaches to intercropping compared with monoculture or single species cropping.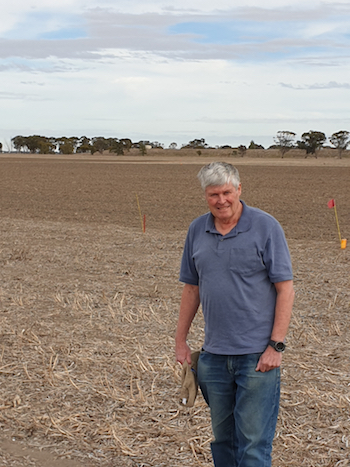 Garry O'Leary at the Horsham trial site, which is one of three main research sites established to test intercropping in the southern grains region. Photo: Joanna O'Leary
"Intercropping is the practice of growing different crops together in space or time," Dr O'Leary says. "It generally aims to optimise crop use of light, water and nutrients, and grower objectives for implementing the practice are diverse."
They range from soil amelioration and weed, pest and disease management to reduced reliance on synthetic fertiliser and chemical inputs, to name a few. Examples of intercropping are companion, relay and skip-row cropping.
These three types of intercropping are being examined through the research as part of the Victorian Grains Innovation Partnership with co-investment from GRDC and Agriculture Victoria.
Relay cropping is when the life cycles of two different crop species overlap. "One crop species is sown into another established crop species. This effectively squeezes another crop into the cycle before the first crop is harvested," Dr O'Leary says.
The study is also exploring skip-row cropping, in which two rows of one crop species are alternated with two rows of another crop species.
However, the main focus of the statewide Victorian study is companion cropping in which two or more crops are grown together.
"The central idea of companion cropping is that one or more crop species benefit from being grown together. The beneficial mechanism may be morphological, light, water or nutrient supply, pest control or pollination," Dr O'Leary says.
In particular, Agriculture Victoria researchers are examining two companion cropping approaches – twin and multi-species cropping.
Many southern growers have already implemented companion cropping programs on their farms. These typically comprise twin-crops partnering two different species, and multi-species or cocktail crops combining a mix of species.
Multi-species crops are often grown as cover, green manure and fodder crops in southern Australia.
But scientific evidence demonstrating the benefits of intercropping in Australia, especially in the southern growing region, is limited. And the findings of intercropping research from around the world are hugely variable.
Helping to bridge this knowledge gap, the research effort at Agriculture Victoria has established an extensive trial program in Victoria. It consists of three main trial sites at Horsham, Hamilton and Rutherglen, plus six satellite sites at Inverleigh, Willaura, Curyo, Netherby, Burramine South and Caniambo.
The satellite trial sites established in 2020 in south-western, north-western and north-eastern Victoria allow growers to observe how the experimental crops are performing in their local districts. New satellite sites are being established at different locations in 2021.
Trial focus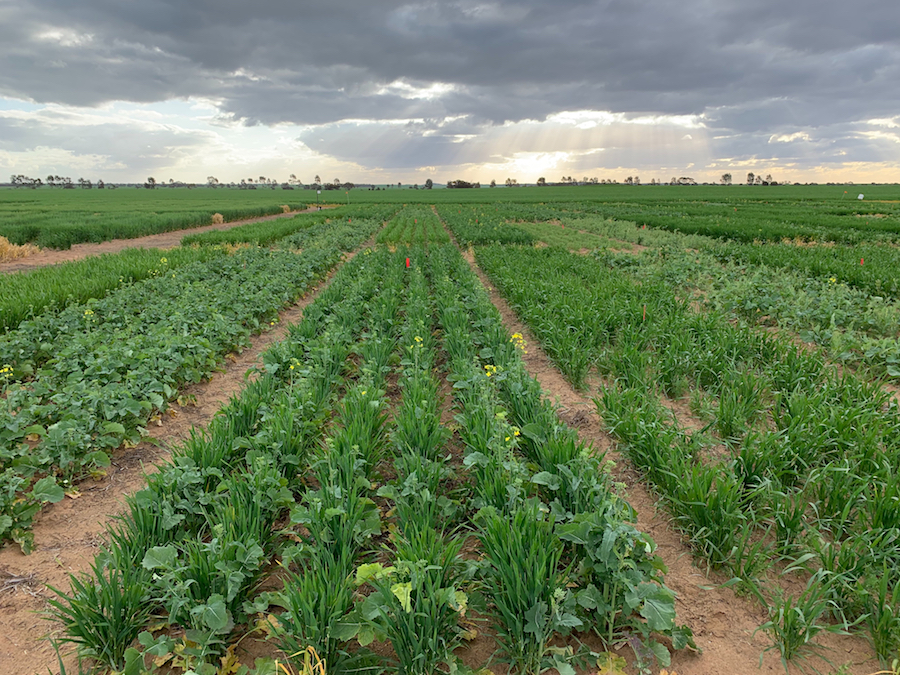 Dr O'Leary says the first year of trials in 2019 mainly assessed the productivity and profitability of four companion options, each combining two crop species: field pea/canola, faba bean/wheat, faba bean/canola and barley/canola.
These twin crops were sown at different relative seeding rates, including a 50:50 ratio where each crop species was sown at half its conventional seeding rate, and a 25:75 ratio where one species was sown at one-quarter of the usual seeding rate and its companion was sown at three-quarters of the usual rate.
The trials measured the performance of twin crops against monoculture crops sown at conventional rates and at the same rates used to sow the companion mixtures.
"Preliminary trial findings, to date, show intercropping has the potential to increase yield and profitability in some cropping regions of southern Australia," Dr O'Leary says.
For instance, 2019 trials found only some twin crops had a yield advantage over monoculture crops, but 2020 trials showed they provided large gains in both yield and profit.
"The largest yield responses were seen at Rutherglen, where 16 of 23 twin crops produced more profit than monoculture crops."
The research also showed twin crops had a yield advantage and were more profitable compared with monocultures in 10 of 23 experimental trials at Hamilton, and five of 15 trials at Horsham.
But twin cropping was less profitable in the drier Mallee region, he says. For instance, twin cropping was only found to be more profitable than monoculture cropping in one of 18 trials at Curyo, and three of 18 trials at Netherby.
"The profit gains ranged from $50 to $800 per hectare, with legume and oilseed mixtures showing the most consistent gains," Dr O'Leary says.
Yield responses observed in the trials are being tested with biophysical crop modelling, he says. The modelling, based on the past 60 years of weather patterns for different regions in Victoria, enables researchers to gauge the probability of producing a successful intercrop in different seasonal conditions.
Complementary performance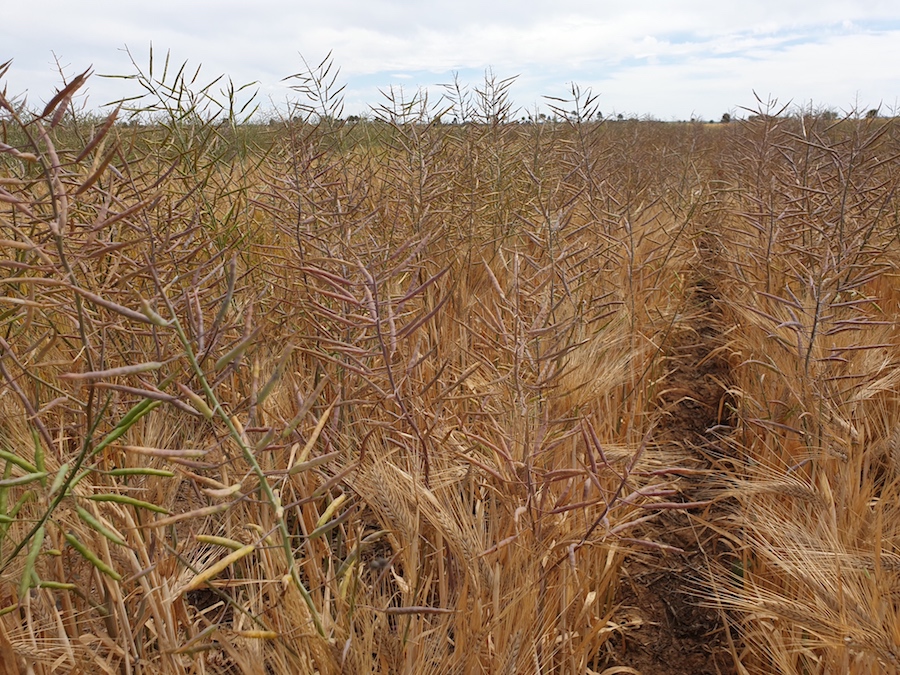 Dr O'Leary says twin crops assessed in the trials were strategically partnered to promote complementary use of light, water and nutrients between different crop types – legumes, oilseeds and cereals.
"This can be achieved via different root systems that access different spaces in the soil profile; different plant canopy structures that can maximise light capture and provide physical support; and use of nitrogen fixed in the soil by legumes."
Intercrops combining legume and oilseed species tended to perform better than those combining cereal and oilseed species, he says.
"Two main winter companion crops – field pea/canola and faba bean/canola – were identified as potentially profitable intercrops."
The trials also showed the yield response to intercropping was variable across Victoria. He says twin crops generally performed better than monocultures in higher-rainfall environments with higher yield potential.
"Understanding the regional environments where intercropping can provide consistent benefits is an important focal point that the team is examining."
Dr O'Leary says cost-benefit analysis of intercropping is another major focus of the study. To this end, the research team is using net profit together with risk and biophysical modelling to simulate crop yield and profit. The economic analysis covers profitable yield thresholds, expected net returns and risk-adjusted profits.
The trials examining multi-species crops, including mixtures of five pasture species and mixtures of three crop species – as well as relay and skip-row cropping – are continuing at some satellite trial sites this year.
More information: Garry O'Leary, 0428 896 656, garry.oleary@agriculture.vic.gov.au