When Armidale-based Sam Duncan started looking into opportunities for sequestering soil carbon in Australian agriculture, he was surprised to find that soil test results were not being digitised well.
In time, it led to the founding of FarmLab, an agronomy software company that has developed a mobile app to help agronomists easily geo-reference and record soil sample locations via a barcode. Once tested, laboratory results are uploaded and viewed on a map.
Mr Duncan founded FarmLab with former colleague and now chief technology officer Shahriar Jamshidi in 2016. At the time, soil sampling was still a largely paper-based process, requiring agronomists to have their own systems in place to remember where samples came from.
Sequestering soil carbon piqued Mr Duncan's interest after he saw the effects of climate change in Africa, where he spent time working with the United Nations. Combined with more than a decade of experience with large datasets while in the Royal Australian Air Force, he decided to explore what opportunities there were in Australia.
"There were already some fantastic companies like Back Paddock working on solutions for standardised interpretation," Mr Duncan says. "But these solutions were focused on giving growers simpler fertiliser recommendations, rather than improving the sampling process.
"One of the challenges we realised was that the sample collection and submission process with soil testing labs was very clunky. It required a soil sampler to manually record, usually with pen and paper, where they took a sample from, then match up the results to this."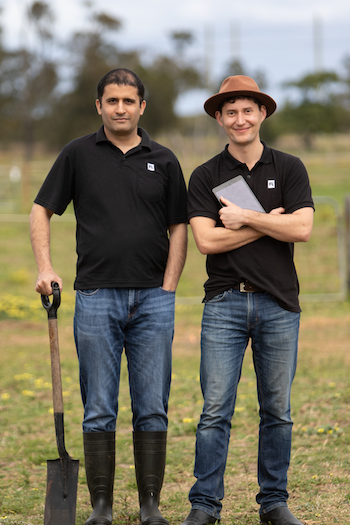 FarmLab CEO Sam Duncan (right) and chief technology officer Shahriar Jamshidi (left). The pair founded FarmLab to digitise soil test results. Photo: supplied by FarmLab
With Mr Jamshidi, who has experience building mobile apps, the aim was to make soil sampling more efficient and cost-effective. "We had worked together on another start-up in 2014, building a digital logbook for truck drivers. Our experience led us to look at how we could solve the sample collection and submission problem with existing mobile technology," Mr Duncan says.
Today, FarmLab is expanding its services, launching a new product called a Soil Performance Report. This gives growers a quick and cheap soil assessment, identifying where production issues might be and linking in with FarmLab's network of agronomists for further investigation. It uses normalised difference vegetation index (NDVI) data, elevation maps and CSIRO soil and landscape data to create a picture of what is driving productivity.
"This provides a great visual starting point. We believe that data management leads to better decision-making. The questions may come later as that initial data is built on." He cites one example where a grower started building data and six months later is now starting a soil carbon project with the Clean Energy Regulator.
FarmLab is also working with the regulator to digitise its regulations around soil carbon measurement. This should make it easier for agricultural producers to access and use.
A GRDC sponsored graduate of the SproutX accelerator program, the company received seed investment from the GrainInnovate venture capital fund, which is a partnership between GRDC and Artesian. Mr Duncan says the company is now raising follow-on funding after proving its technology in the market.
He says GRDC investment in this area is very important. "With the likes of NAB and other corporations starting to emphasise the importance of technology across agriculture, it's important that GRDC has taken a leadership position to further ag-tech across the industry.
"In the Air Force, I quickly learnt that to work alongside the likes of superpowers like the United States, who were much better resourced than ourselves, we had to work smarter because we didn't have the resources to work harder. I see the same in agriculture. As a country with high labour costs and a large land mass, particularly in broadacre cropping, we need to innovate to retain our competitive edge. Ag-tech start-ups play a key role in innovation because they rapidly iterate their ideas and technology to discover what works and what doesn't."
GRDC is supporting innovation investment through its Australian Grains Innovation Program. This includes the 'Growers as Innovators' and 'Accelerator' programs. In 2020/21, the programs were delivered in partnership with Farmers2Founders, SparkLabs Cultiv8 and Sprout X and provide support for innovation at different developmental stages.
See Agtech innovation initiatives.
More information: Sam Duncan, 0422 511 949, sam@farmlab.com.au