While faba beans are worth less than half of what buyers are paying for canola, Jock Binnie says nothing surpasses this valuable pulse when it comes to hyperdriving the yields of following wheat crops.
The 21-year-old farms with his family near Bungeet, Victoria, and Merriwagga, New South Wales. Faba beans have been an important part of the program at Bungeet for the past four years.
Jock, who works with his father Travis, grandfather Bruce and uncle Jason Dyer, says wheat grown after faba beans yields 0.5 to 1.0 tonnes a hectare more than wheat grown after canola.
However, with soil pH ranging from 4.8 to 5.5 (calcium chloride), not all of the family's landholding at Bungeet is suited to faba beans. Research shows faba beans are ideally grown on well-drained loam-clay soils with a pH of 5.5 to 8.0.
Although the Binnies' farms are limed regularly, Jock says some soils are too acidic for faba beans.
Acidic soils contain toxic levels of aluminium, leading to poor nodulation and reduced yields in faba beans.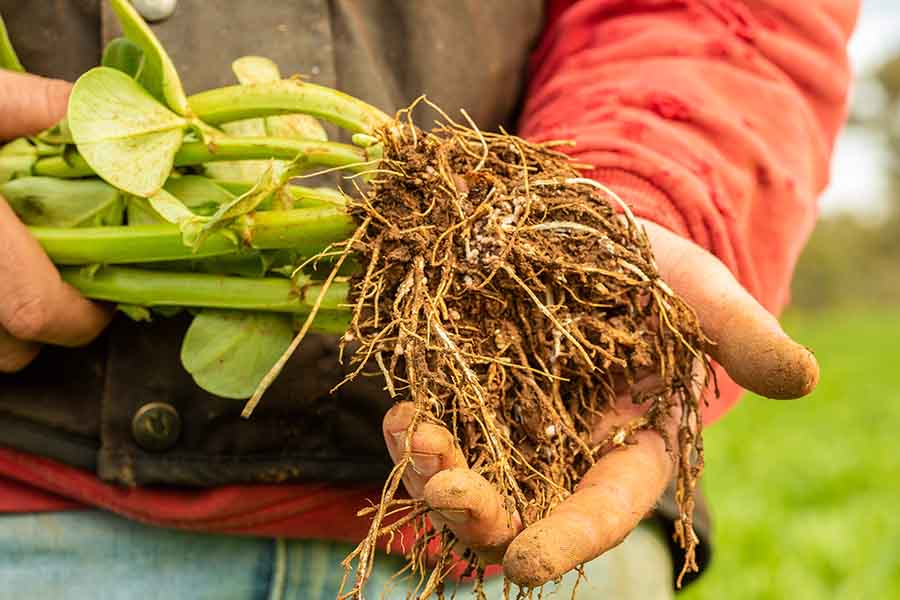 Accordingly, Jock is watching the progress of research exploring new strains of acid-tolerant rhizobia, with the hope of using new products containing these strains soon.
To build on the know-how garnered from his family, Jock recently took part in GRDC's Southern Pulse Extension project, facilitated in his area by independent farming systems group Riverine Plains.
Specifically, he joined GRDC's Dookie Pulse Check group to discuss with other growers and advisers ways of overcoming some of the practical challenges relating to pulse crop production, management and marketing.
"It was a great way to share experiences and improve how we grow pulse crops because the wheat/canola rotation isn't sustainable," he says. "I enjoyed meeting with others to discuss what's worked and what hasn't worked when growing pulses to improve what we do."
The Binnie's typical crop sequence is canola/wheat/pulse or canola/wheat/canola/wheat/pulse.
"We like to have as many pulses in our program as we can," Jock says. "But we don't go overboard because they're not the breadwinners of other crops."
Nonetheless, he says, faba beans outperform other pulses in their capacity to fix nitrogen and tolerate waterlogging, which is a key constraint across parts of the Binnies' Victorian farm.
When the Southern Pulse Extension project finished and GRDC's Hyper-Yielding Crops (HYC) initiative started, Jock says it was a natural progression to become involved.
In September 2020, he was one of 65 growers who entered one paddock of wheat into the HYC awards, a national agronomic benchmarking program.
The decision paid off, with Jock earning two awards, 'Highest Yield' and 'Highest Percentage of Yield Potential' in northern Victoria.
His Scepter wheat crop, which yielded 7.58t/ha, was the only crop among the 2020 cohort to exceed its biophysical potential.