Key points
The Future Peanut Breeding project will see new genetic tools used to accelerate the rate of genetic gain in peanuts
It will also see breeding research transition to the Peanut Company of Australia (PCA), a Bega company
GRDC will focus future investment on peanut agronomy and crop protection research
After 35 years working on peanut breeding, physiology and agronomy in Kingaroy Queensland, stalwart Dr Graeme Wright is slowly exiting, while his protege Daniel O'Connor, Bega peanut breeding and seed manager, steps up.
With the ability to manipulate light and temperature, a converted shipping container is playing a part in a new era for peanut breeding in Australia's peanut capital, Kingaroy.
The container, a speed-breeding facility, is another step in bringing peanut breeding into line with the likes of wheat and barley. Along with new genomic tools to speed up the rate of genetic gain, it forms a part of the Future Peanut Breeding project.
The GRDC-invested, three-year project began in July 2020 and marks a major shift in research. Breeding research is transitioning to the Peanut Company of Australia (PCA), a Bega Cheese Ltd company. GRDC will concentrate future investment on peanut agronomy and crop protection research.
The transition comes at a time when the breeding team is also undergoing a changing of the guard. Peanut breeding stalwart Dr Graeme Wright is slowly exiting after 35 years in Kingaroy, while his protege Daniel O'Connor, Bega's peanut breeding and seed manager, steps up, with support from Shona Wood as a research officer.
Dr Wright, who will continue as a consultant for another year, says after more than three decades of GRDC investment – with co-investment from the Queensland Government until 2015 – the breeding program is entering a new phase. "The goal has always been to bring this orphan crop in line with the other major field crops. We've done that, steadily introducing the best breeding technology to peanuts. It has taken a career to do it and see the benefits. Now I'm helping with the next transition."
Chris Murphy, GRDC's northern business development and commercialisation manager, says GRDC's relationship with peanut breeding is a great example of how supporting a small breeding program can lead to long-term benefits. "Now the time is right for PCA to take over the breeding component. Bega via PCA is keen to increase production and expand growing areas. It is a real positive for the industry."
Streamlined breeding approach
Mr O'Connor, who has worked with Dr Wright in Kingaroy since a university placement in 2008, says the aim is to streamline the breeding approach across all technologies.
"The speed-breeding facility will make breeding much more efficient. We can grow peanuts in the middle of winter and not be hampered by reduced daylength or cool winter temperatures."
University of Southern Queensland and PCA-supported PhD student and Bega research officer Shona Wood says the facility speeds up breeding by controlling daylength and temperature. This compares to the glasshouse, where temperatures can drop to minus 6°C in winter and where days are short. "The peanuts just shut down and we can't continue breeding. This new facility will allow us to breed all year round."
It will increase breeding capacity from just one generation annually to three to four generations and will reduce turnaround from 150 days in the glasshouse to about 110 days in the new facility. "We are hoping that with time we can get down to 100 days. And if no crossing is needed, we can be done in 80 days, which is about half the time it takes in the glasshouse."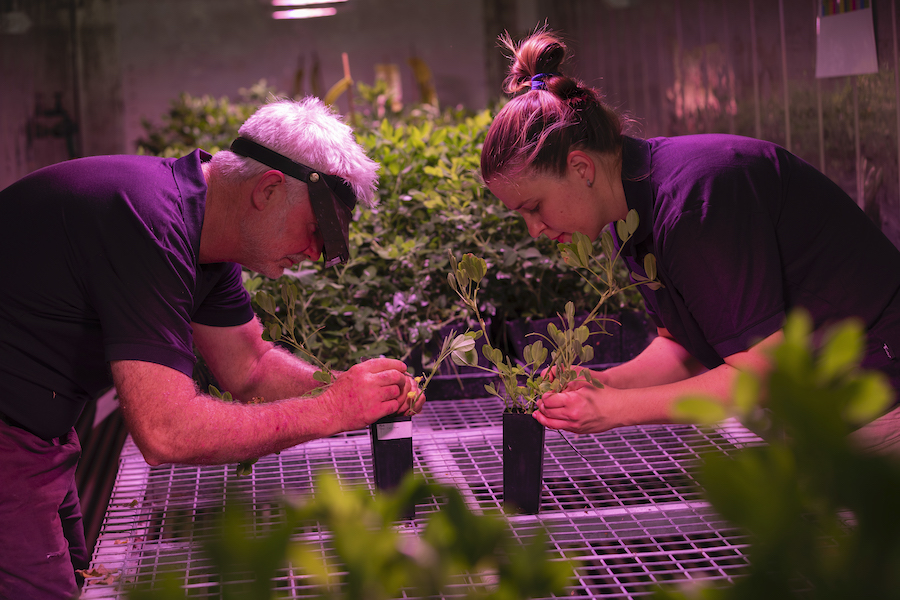 Breeding will also be improved through molecular marker technology use. Through her PhD, Ms Wood has identified molecular markers – genes that 'mark' certain traits – for web blotch resistance. Net blotch (Phoma arachidicola) can cause yield losses of up to 50 per cent in peanut crops and globally no markers exist that relate to resistance.
The work has been made easier and cheaper with a relatively new tool, the 50k single nucleotide polymorphism (SNP) chip. Developed by the International Peanut Genome Initiative at the University of Georgia in the US, the chip contains uniformly distributed markers across the peanut genome.
Ms Wood says markers identified so far are only just the beginning. "We are working on finding additional markers in peanuts to bring this crop more in line with the likes of wheat and barley."
Markers help select the right genetics earlier in the breeding process. "In the first generation of a new cross, we can look for these markers. If, for example, they are negative for a trait – such as disease resistance – we can say with 100 per cent certainty that the segregating lines from a cross do not have disease resistance and hence cull out susceptible types."
Without molecular marker technology, the team would sometimes have to wait until the fifth generation to screen crosses for a desirable trait.
Access to new markers for leaf spot, leaf rust, net blotch, high oleic oil and blanchability also means older, higher-yielding varieties are being reassessed via a marker-assisted backcrossing program.
As an example, Dr Wright says that the older variety Middleton (PBR) is drought-resistant, but it lacks foliar disease resistance. "While Holt (PBR) is a great variety but is susceptible to leaf spot and leaf rust. We now have the markers for resistance, so with two to three backcrosses, we can ensure these resistance genes are present, but it would still be 99.9 per cent Holt (PBR)."
Ms Wood adds that the population she has been using in her PhD work is now being grown out in the field. "When we get yield results, we can see if we can associate yield, seed size and other traits with any markers too."
More information: Daniel O'Connor, 0429 634 677, daniel.oconnor@bega.com.au