From David Cann's perspective as a researcher, understanding cropping and the Australian grains industry is like a complicated board game or puzzle. Crop management, breeding, biotic and abiotic stresses, whole-farm factors and market influences are just some of the components that need to come together to produce a profitable crop and a successful industry.
"I love the variety that comes with being a grains researcher and the problem-solving skills it requires," Mr Cann says.
He applied his problem-solving skills to a wheat adaptation problem through a GRDC capacity-building project and has completed a PhD at La Trobe University. Professor James Hunt (La Trobe University), Dr Felicity Harris (NSW Department of Primary Industries), Dr Kenton Porker (Field Applied Research Australia) and Dr Allan Rattey (InterGrain) supervised his studies.
His research project, 'Adaptation of fast winter wheat genotypes to the Mediterranean semi-arid cropping regions of southern Australia', focused on breeding and evaluating new winter wheat genotypes for growers in southern Australia.
Wheat adaptation puzzle
Early sowing of wheat can increase yield despite recent declines in growing season rainfall. However, this requires cultivars with suitable development patterns to ensure that flowering occurs during the optimal flowering period (OFP), during which the risks of flowering too early (low radiation, frost) and flowering too late (heat and drought) are balanced.
Winter wheat, which must experience sufficiently cool temperatures before beginning reproductive growth, has a stable flowering time across a range of sowing dates, making it suited to early sowing.
My project aims to identify the traits required for high yield in winter wheat and understand how they can be incorporated into breeding programs.
"As part of my PhD, I planted and assessed over 500 early generation spaced single winter wheat plants in a field experiment in north-western Victoria. Research indicated that selecting plants for high harvest index (grain yield as a proportion of biomass) resulted in higher-yielding progeny, compared to the 'no-selection' control.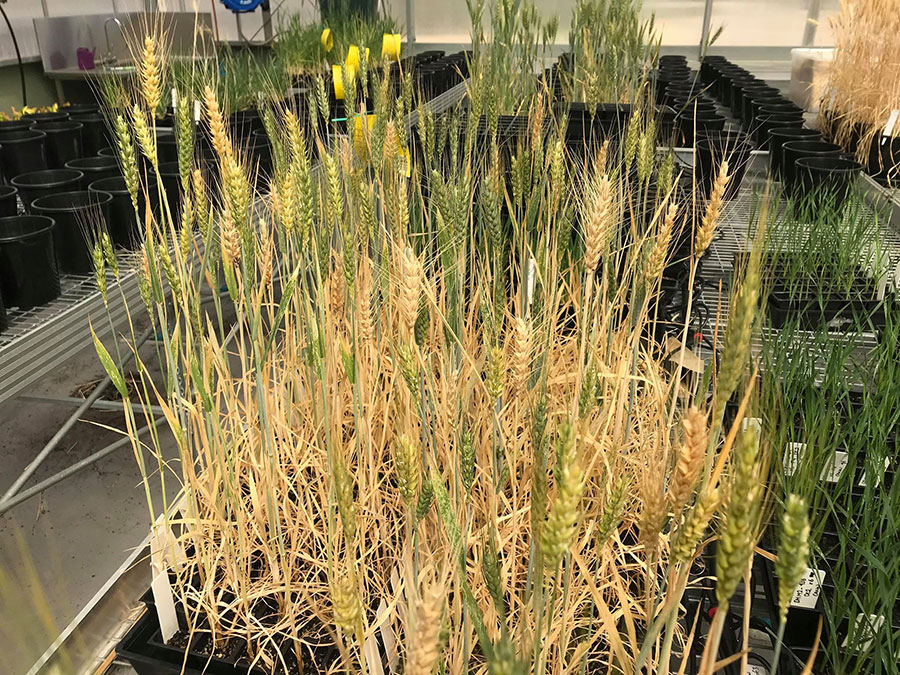 "Early generation selection for harvest index could therefore be a useful tool for breeders to improve yield gain and accelerate the release of winter wheat cultivars to Australian growers."
Field experiments were also conducted at eight sites with different OFPs across eastern South Australia, northern Victoria and southern NSW, using winter wheat lines with different development patterns. Results indicated that lines with a 'very quick' and 'quick' phenology – equivalent to or quicker in phenology than Illabo (PBR) and Longsword (PBR) – showed good yield adaptation across environments
These results are promising for Australian wheat breeders and growers, indicating that new releases of winter wheat will be suited to low and medium-rainfall zones right across southern Australia.
"The results also indicate that very quick winter wheat – which has a development pattern faster than any current commercial cultivars – has the right phenology to achieve high yields from early sowing dates in environments with an early OFP."
Mr Cann is concerned about the impacts of climate change in agriculture. "I find being able to work with growers to adapt management practices or with breeders to develop new cultivars in response to climatic changes really motivating," he says.
He came to agriculture through studying international development at La Trobe University. "I am very interested in the role that grain growers – both in Australia and in other regions – have in driving food security and feeding growing populations across the world.
"I also really enjoy learning new languages – so I guess I see myself working overseas at some point in the future, hopefully for a research non-government organisation. In the meantime, though, I feel like I have much more learning ahead of me, in both the crop agronomy and breeding domains."
More information: David Cann, 0433 594 093, d.cann@latrobe.edu.au, @the_ag_lab, @agronomeiste