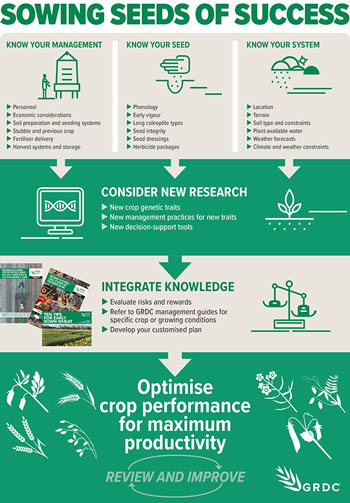 Reflecting on good decisions, or what did not work so well, is also important for improving whole farm performance, including being open to integrating appropriate new tools and techniques on a regular basis. Image: GRDC
Since the dawn of settled agriculture, growers have sought better crop types to match climatic and environmental conditions while also honing management practices and improving whole farm performance through increased productivity.
In more recent times, the advance of agricultural science has made the deeper understanding of the interaction of crop genetics and management practices essential knowledge for maximising crop production in different environments.
GRDC investment is critical to advancing this knowledge and, with research partners, GRDC continues to develop tools, techniques and recommendations offering growers choices and information to make decisions to maximise their overall profitability.
Making informed decisions about sowing involves:
having detailed knowledge of your system, management options, and crop and variety choices;
weighing up the risks and returns of options; and
making and implementing a clear plan.
Research and development
GRDC partners with many innovative research teams, delivering outcomes for Australian growers to assist in making informed sowing decisions now and in the future.
Timing of sowing, for example, will be better informed by SoilWaterNow, which will more accurately and easily predict plant-available water across and within paddocks, while fortified climate decision tools stands to boost grower confidence in the use of new weather forecasts and seasonal climate forecasts for sowing decisions.
An international scientific network is continually hunting down new phenology genetics to ensure crop varieties are well-suited and adapted to Australia's changing climate.
CSIRO researchers have been investigating long-coleoptile wheats to chase moisture at depth and enable earlier sowing. This adaptive trait is now being integrated into varieties by Australian breeding companies.
Heat and water stresses are driving a rethink of traditional sorghum sowing times by University of Queensland scientists, which may provide multiple benefits for growers including building profitability by increasing cropping intensity.
GRDC continues its drive for improved knowledge through a recent expression of interest (EOI) to develop prediction tools to quantify yield losses from frost and heat. This will advance the ability to define optimum flowering period for a given crop, variety and paddock.
Underpinning some of these robust investments are new statistical techniques being developed by Statistics for the Australian Grains Industry (SAGI), which can tease apart the environmental and genetic influences on yield.
Decision-makers
GRDC invests in research, development and extension on behalf of some 22,300 grain growers who possess a breadth of formal education and off-farm experience, which is drawn upon to inform decisions.
Anyone associated with cropping knows it is a risky business and one of the few industries where the main production driver is highly variable and unpredictable climate. Combine this production variability with volatile prices and input costs and it creates a challenging business environment.
The July-August 2021 GroundCover™ Supplement, 'Sowing seeds of success', provides an overview of GRDC investments that are working hard and fast to help growers sift through complexity and make decisions that result in success for their businesses' profitability and sustainability.
More information: Pip Wilson, pip.wilson@grdc.com.au; Liam Ryan, liam.ryan@grdc.com.au; Kaara Klepper, kaara.klepper@grdc.com.au