Key points
Capacity building within the grains industry can have a broad reach into higher education
Unravelling heat stress responses is fundamental to the adaptability of cereals and will guide future breeding efforts
As a keen traveller with an eye for training and research opportunities – underpinned by international accreditations and a fundamental interest in food crops – Dr Onoriode Coast is now in a position where he will teach Australian students agronomy and soil science.
Dr Coast honed his plant physiology skills working on two GRDC-invested projects that were collaborations between the University of Sydney, University of Newcastle, Australian Grain Technologies and the Australian National University (ANU), where he was based.
The projects were related to each other as they both had a focus on heat stress in wheat.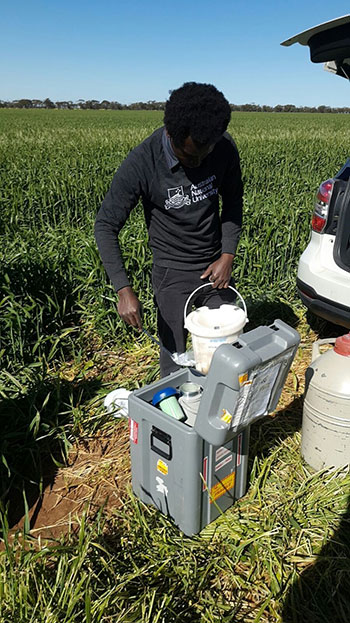 Dr Coast preparing wheat samples collected from a remote field site for cold storage and transport to the Australian National University for laboratory analysis. Photo: Dr Onoriode Coast
"The postdoctoral fellowship, which I led, was designed to examine Australian wheat for tolerance of heat for a key plant trait – photosynthesis – with an end goal of helping breeders select better-yielding lines under heat stress," Dr Coast says.
"Through this project we found a set of wheat germplasm with great diversity in photosynthetic heat tolerance. We also identified adjustments that some wheat cultivars employ to maintain and even improve photosynthetic performance, when we focused on high night temperatures.
"As part of the research, we have fine-tuned a tool for large-scale screening of wheat genotypes and are providing breeders with physiological information to inform wheat performance under Australian heat stress conditions.
"In addition, we have identified promising wheat breeding material with stable photosynthetic high-temperature tolerance for a wide range of the Australian grainbelt."
Adaptability
Dr Coast's career is also a testament to adaptability and flexibility. Having completed a bachelor's degree with honours in agriculture, specialising in crop science, in 2007 at the University of Benin, Nigeria, he then completed a PhD from the University of Reading, UK, in 2012, with about half his time spent on research at the International Rice Research Institute in the Philippines.
"It was while undertaking my PhD that I focused on plant physiological response to stress; in this case it was high-night-temperature tolerance in rice," Dr Coast says.
"After the GRDC Fellowship at ANU, I joined the Natural Resources Institute (NRI) at the University of Greenwich, UK, as a senior research fellow in crop physiology in 2020, to lead NRI's crop physiology research in cropping systems of developing countries, mostly in Africa. But the global pandemic necessitated a rethink of my career plans and move to the UK.
Fortunately, and excitingly, I am starting a new position as a lecturer in crop science at the University of New England (UNE) in Armidale, New South Wales.
"In this role I will be strengthening UNE's research in sustainable plant production and horticultural science with a focus on controlled environments, and contributing to teaching and supervision of students in agronomy and soil science."
More information: Onoriode Coast, 0416 700 852, onoriode.coast@anu.edu.au