Advanced new weed detection technology is changing the way growers attack green weeds in green crops, with trials showing savings of up to 80 per cent on chemical purchases are possible.
French start-up company Bilberry has developed an algorithm that allows cameras on the boom of a sprayer to identify green weeds in-season, potentially eliminating the need for blanket paddock sprays. The technology, particularly for weeds such as wild radish, is available now.
Guillaume Jourdain, one of the three founding engineers of Bilberry, spoke to growers, advisers and researchers at the recent GRDC Research Updates across Australia.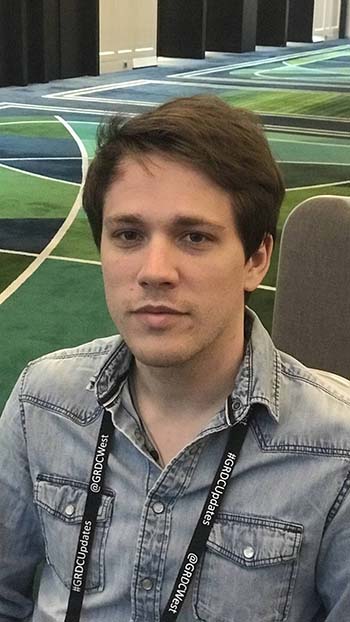 French engineer Guillaume Jourdain says green-on-green weed seeking technology is now available to growers. Photo: Jo Fulwood
Mr Jourdain told the Updates that after several years of data and image collection, the algorithm-based technology had been trialled last year in Wyalkatchem, in the Western Australian wheatbelt, targeting non-flowering and flowering wild radish, with 95 per cent accuracy.
He said corresponding trials in the Netherlands, targeting dockweed in pastures, achieved chemical savings of up to 98 per cent.
While he admits it is still early days for the artificial intelligence technology, Mr Jourdain said the results are speaking for themselves. "Green-on-green camera spraying is a reality today, and farmers are already benefiting from this technology," he said.
"Other companies are working on this technology too, but while the results in the laboratory have been great, the in-paddocks results haven't been accurate enough for grower uptake."
Data collection process
Mr Jourdain said the difference with the Bilberry product has been the process of data collection. "In-paddock conditions are real-life sometimes it is sunny, sometimes its cloudy, sometimes you have the shadow of the boom or sprayer over the crop, sometimes it is windy which bends the crop over," he said.
"Our first step in building this new algorithm was to collect images of every different type of paddock situation, including different soil types."
Once the thousands of images were collected and labelled, the next step was to train the algorithm to recognise the various images and isolate the specific weeds.
The process involved field testing many times to refine the algorithm and achieve 95 per cent accuracy in the paddock.
Cameras mounted on the spray boom use these algorithms to identify weeds in the paddock that are different to the architecture of the crop plant, and spray nozzles are then activated. Spraying machines using the technology can travel up to 25 kilometres per hour.
Reduced chemical use
Using green-on-green spraying technology has numerous benefits, not least of which is a reduction in chemical use. Likewise, growers are almost certain to see more effective weed control when compared to blanket paddock spraying.
"When you are blanket spraying you will more than likely go to the lower end of chemical rates to achieve savings, but if you are only spraying between 5 and 15 per cent of the paddock you can afford to use maximum label rates, which will mean more effective weed control," Mr Jourdain said.
"We also believe yield will improve, although there is no research on this fact at this point, but blanket spraying any plant with a selective herbicide may have an impact on the overall health of the crop," he said.
Other benefits include greater affordability of more expensive chemicals.
One of the downsides to using green-on-green technology is the potential for some paddocks to require more than one pass. "Just as with the green-on-brown technology, where sometimes you are required to go over the paddock more than once, it may be that you have to spray twice to achieve high accuracy levels, but the chemical savings and associated benefits will still far outweigh blanket spraying strategies," Mr Jourdain said.
"This is new technology, and as with any new technology, so you have to stay aware and vigilant while you are spraying to make sure it's all working."
Next season, Bilberry will be finalising the development of algorithms that will allow for spraying weeds in Australian pasture paddocks.