Key Points
Drought-breaking rain triggered the emergence of naturalised medics and other pasture legumes early last year
This allowed a build-up of aphids and a bean yellow mosaic virus epidemic ensued
Research in 2021 will investigate control options
This includes the seed dressing imidacloprid and the foliar application pirimicarb
Drought-breaking rain across north-western New South Wales in January and February last year had unexpected consequences for the region's faba bean growers.
The rains triggered the emergence of naturalised medics and other pasture legumes, allowing a build-up of aphids that led to a severe viral epidemic.
Speaking at a GRDC Research Update, NSW Department of Primary Industries (DPI) faba bean specialist Joop van Leur said research had confirmed that early, massive aphid flights of mainly cowpea aphid (Aphis craccivora) and pea aphid (Acyrthosiphon pisum) carried the bean yellow mosaic virus (BYMV), which caused the epidemic.
The senior plant pathologist said the virus was common, "but its severity last year was unexpected and directly related to how early it occurred. We are also investigating, in collaboration with colleagues from Queensland and Western Australia, whether different BYMV strains or virus species played a role in the severity of the epidemic."
With NSW DPI's Dr Zorica Duric, who researches aphid behaviour as virus vectors, they found the most likely explanation was that aphids acquired BYMV from medics. The virus is transmitted in medic seed.
"When aphid populations on the medics became too crowded, winged aphids moved to newly emerged faba bean crops," Dr Duric said. "So, even with low seed transmission rates, enough aphids could have picked up inoculum to establish infection foci in faba bean crops. Continuing mild temperatures allowed aphids to multiply in the faba bean crops and spread the virus from the initial infection foci."
Mr van Leur said the preceding drought also had indirect effects on the high level of virus infections. "Aphids tend to avoid crops sown in standing cereal stubble and with less cereal crops grown in 2019, more faba bean crops were sown into bare ground."
Where crops were also co-infected with the alfalfa mosaic virus (AMV), particularly severe symptoms, such as stem necrosis, occurred.
Control strategies
BYMV is a non-persistently transmitted virus. It requires only a short probing period by a viruliferous (or virus-containing) aphid to infect a plant.
Mr van Leur said this means slow-acting insecticides, such as the seed-applied imidacloprid, will not prevent infection. "However, they may help in slowing the multiplication of aphids in the crop and the subsequent spread of the virus by wingless aphids."
During 2021, along with the Northern Grower Alliance (NGA), the team will investigate how long imidacloprid remains active and what effect it has on aphids and virus spread. "These trials are difficult in small plots; by working with the NGA we can ensure plot sizes are large enough to research the product."
Research will also consider whether a foliar application of a pulse registered product, such as pirimicarb, applied after aphids are found in a crop is practical, economic or effective.
To date, the most effective control strategy, he said, is to minimise virus infection by promoting fast canopy closure and by following optimal agronomic practices, including sowing in standing cereal stubble.
It is also important to use high-quality seed with good seedling vigour.
"These strategies are based on preventing infection, particularly during the early growth stages of the crop. Poorly emerging crops or crops sown into bare ground are particularly vulnerable to infection."
Virus seed transmission plays an important role in crops such as field peas and narrow-leafed lupins, but, according to Mr van Leur, BYMV seed transmission in faba beans is not significant. However, concerned growers can send him seed to check, as a means of re-establishing confidence in faba bean production.
A balance is also needed on sowing time. Early sowing increases the risk of virus infection, because crops are exposed to autumn aphid flights when small and most vulnerable. However, later sowing may not be practical.
Other virus control strategies include avoiding inoculum sources. "Unlike most fungal pathogens, viruses don't survive in stubble or soil and will be brought into the crop by vectors from outside sources."
Keeping distance from known sources of infection such as lucerne is advisable, he said. "Weed and volunteer legume crops within or near crops are also key virus sources and should be controlled before the crop emerges."
Genetic resistance is also important and plays a role in Australian pulse breeding programs. "Unfortunately, the search for high levels of BYMV resistance in faba beans has not been successful so far," Mr van Leur said.
"There are differences among Australian faba bean varieties in symptom expression. Some of the older varieties and lines developed for the southern region react as 'very susceptible'. There were no indications that the current northern region varieties differed in their BYMV reaction during the 2020 epidemic, but a few breeding lines yielded well in different sites under severe BYMV pressure. These lines will be tested during the 2021 season in inoculated trials."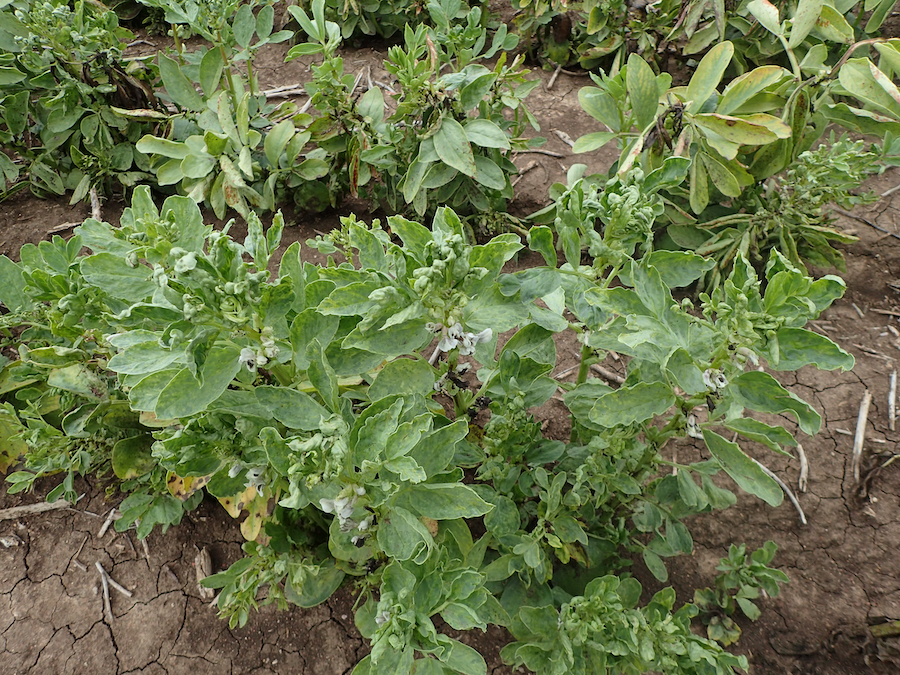 Future
With the recent rain and flooding across NSW and Queensland, new research opportunities also present themselves.
"As soon as the rain dries up, we will be out looking at medics to check on aphid populations and virus seed transmission," Mr van Leur said. "This year the rain has been longer, so there is a good chance that there has been a rise in natural enemies of aphids too, and we won't see massive aphid flights going into early sown pulse crops."
More information: Joop van Leur, 0427 928 018, joop.vanleur@dpi.nsw.gov.au; Dr Zorica Duric, 02 6763 1154, zorica.duric@dpi.nsw.gov.au