Key points
Fusarium wilt is becoming an increasing problem for mungbean growers
Last season it cost almost $5 million in lost yields
A combined research effort as part of the current mungbean breeding program has found good leads in new genetic material and in the recently released variety

Opal-AU

Dealing with Fusarium wilt will require efforts in breeding, pathology, extension and in learning from the cotton industry
Fusarium wilt damage cost mungbean growers almost $5 million in lost yields last season, evidence that it is becoming an increasing problem.
Caused by fungi within the F. oxysporum and F. solani species complexes, Fusarium can survive in soils for up to a decade and spread to new paddocks through the movement of infected crop debris and soil in machinery, irrigation and flood water movement.
A survey completed by Pulse Australia industry development agronomist Paul McIntosh earlier this year found that of the 125,000 hectares grown in 2021, about 20,000ha had some level of Fusarium affecting the crop. The estimated yield loss from that 20,000ha was 20 per cent, equating to $4.8 million in lost income.
GRDC crop protection manager (north) Vicki Green says the loss is significant. "It's been growing in incidence and severity over the past decade and we have found infected paddocks throughout the northern grain region – from central Queensland to the coastal Burnett and down to Forbes in New South Wales. It persists in the soil for a long period of time." (No Fusarium has been confirmed in the Burdekin).
As a result of rising incidences, the National Mungbean Improvement Program, which is a GRDC-Queensland Department of Agriculture and Fisheries (DAF) investment, has been endeavouring to learn more about this fungal disease and how best to deal with it.
Chief breeder Col Douglas and expert plant pathologist Lisa Kelly, both from DAF, say that a multiple disciplinary approach, including research in breeding, pathology and extension, will be important in addressing the issue.
Disease risk
DAF has run the mungbean breeding program since 2003. "In that time, we have concentrated on breeding for foliar diseases," Mr Douglas says.
That includes the varieties Crystal and the higher-yielding Jade-AU, which are the mainstay varieties for Australian growers.
However, glasshouse studies have found both varieties are susceptible to Fusarium.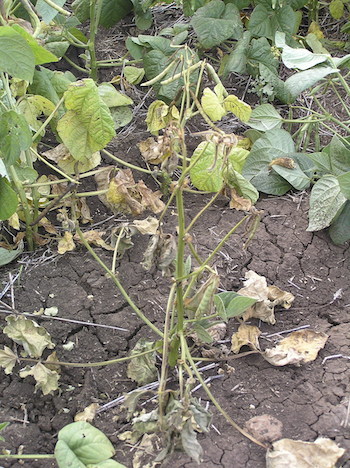 A stunted and wilting mungbean plant affected by Fusarium wilt. Photo: Queensland Department of Agriculture and Fisheries
In those experiments, Ms Kelly explored how a mini genetic diversity set of 25 lines, plus black gram (Vigna mungo), a close cousin of mungbeans, performed under pressure from the Fusarium pathogens.
Although the current varieties Crystal and Jade-AU are susceptible, she found that a parent of new variety Opal-AU performed well, as did black gram genotypes such as Onyx-AU.
Mr Douglas says these findings are important for future research. "Crystal and Jade-AU are broadly adapted and have historically accounted for the lion's share of production, but these two varieties are closely related and this puts the industry at risk.
"However, we have a good starting point with Opal-AU, which is showing it can cope well. This is the first year it has been commercially grown so it will be good to see how it goes. We also have other genetic material in the program, which Lisa has identified, that performs."
A more recent field trial at the Hermitage Research Station in Warwick echoed these glasshouse results. "One paddock in that trial used the same genetic set as Lisa did. Before the mungbeans had flowered they were stunted and wilted, badly affected by Fusarium in the soil," Mr Douglas says.
He says the trial was not designed to see how Fusarium went, "but by chance it gave us an opportunity to validate the glasshouse work and it showed Opal-AU (PBR) and the black gram varieties standing up against Fusarium wilt and yielding".
Fusarium wilt is a soil-borne vascular disease that enters the plant's water-conducting vessels and causes water blockages, essentially choking the plant. "About 10 years ago we did a trial at Hermitage Research Station and Fusarium had a catastrophic impact. It really made us sit up and take notice."
Since then, Ms Kelly says, its prevalence has increased. "I've been working with the department for 15 years and I have noticed that the disease is gradually getting worse, especially as more mungbeans are grown."
Its taxonomy is complicated, she says: "It is grouped into two species' complexes, but we don't yet have a great understanding. It is possible that these species complexes will behave differently and have different levels of virulence. The disease is more severe in stressed crops, so that interaction will be important to explore."
Cotton learnings
Earlier this year, in response to increased Fusarium wilt damage, GRDC's Vicki Green organised an industry meeting involving Linda Smith, a DAF pathologist specialising in cotton, and leading mungbean agronomists from across the Darling Downs.
"We involved Linda because cotton had a real problem with Fusarium a few years ago, but with breeding and pathology and extension work they are reducing its impact around Australia. So, the Australian mungbean industry can certainly learn from the cotton industry."
Ms Green says one lasting legacy has been the cotton industry's emphasis on hygiene with its 'Come clean, Go clean' campaign.
Both Mr Douglas and Ms Kelly believe it will be a similar story for mungbeans. "We know that breeding will be important and that's why it is great we already have Opal-AU and useful resistance to work with in our genetic material. But it will be important to also build in hygiene management and work out rotationally what is best," Mr Douglas says.
"Opal-AU is a huge step forward in protection from both halo blight and powdery mildew. It has really been proven this year, when there were perfect conditions for halo blight yet Opal-AU coped. The fact that it may already have a level of protection against Fusarium could a further benefit to growers."
Pulse Australia's Paul McIntosh says that with mungbean prices high, the work is important. "Growers want to continue to plant mungbeans. Any research and extension on tackling Fusarium will be important."
Mr Douglas agrees. "We want to produce 100,000 tonnes a year, every year. To get to that, we need reliable varieties with both foliar disease protection and Fusarium protection."
More information: Col Douglas, 07 4542 6713, col.douglas@daf.qld.gov.au; Lisa Kelly, 07 4529 4291, lisa.kelly@daf.qld.gov.au; Paul McIntosh, 0429 566 198, paul@pulseaus.com.au