Australia's approach to herbicide mode of action (MOA) classification is being updated to align with the new international system.
Katherine Delbridge, CropLife Australia director – corporate affairs, explained the shift in national herbicide classification at the 2021 GRDC Grains Research Update in Adelaide.
Ms Delbridge said Australian classification codes on herbicide labels would change from letters to numbers. "The science has not changed – just the classification codes on herbicide product labels and literature will change from a letter to a number," she said.
She urged growers to continue following their current integrated weed management (IWM) strategies and crop rotation plans. "The herbicide mix and rotation messages remain correct."
CropLife Australia is working with grains industry experts to identify any possible changes to how herbicide products fit into IWM programs under the new system, with guidelines to be released by mid-2021, she said.
In her Update presentation, Ms Delbridge said the move from an alphabetic to a numerical code in Australia was part of a worldwide shift in herbicide MOA classification.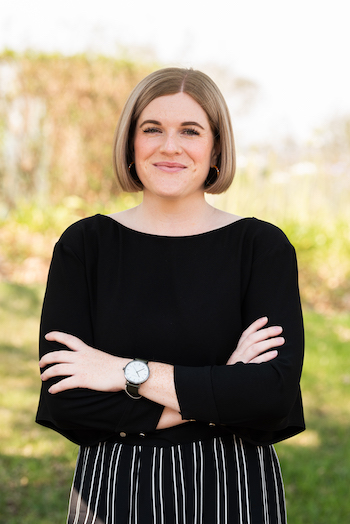 Katherine Delbridge said the Australian classification codes on herbicide product labels and literature will change from a letter to a number at the GRDC Grains Research Update. Photo: CropLife Australia
"Farming is becoming increasingly global. Farmers, agronomists and academics around the world are now – more than ever – sharing and accessing information to assist with growing crops, while managing sustainability issues such as herbicide resistant weeds," she said.
"It is important that the herbicide MOA classification system used in Australia is aligned with the global classification system."
Consistency in national and international classification aimed to "ensure Australian growers and advisers can access the most up-to-date global information for managing herbicide resistance", she said.
International change
The change in Australia follows the international move to a numerical system. The global Herbicide Resistance Action Committee (HRAC), supported by regional HRACs around the world, updated its MOA classification system in March 2020.
The global HRAC states that "a numerical code system is more globally relevant and sustainable compared to an alphabetic code based on English and Latin letters".
Echoing this finding at the Update, Ms Delbridge said: "MOA classifications have been updated internationally to capture new active constituents and ensure the MOA classification system is globally relevant."
For example, understanding of the letter-based code is limited in parts of the world where the English (Latin) alphabet is not used or literacy rates are low. The alphabet is also limited to 26 letters, but there are currently 25 recognised MOAs, including four new MOAs since the global classification system was revised in 2010.
In the next 10 years, the global HRAC anticipates the addition of another two to four new MOAs, which will exceed the alphabet's 26 letters.
"Numerical codes provide infinite capacity to accommodate new herbicide MOAs coming to market, unlike the alphabetical codes currently used in Australia," Ms Delbridge said.
She said the transition to a numerical system is being implemented gradually and growers can expect to start seeing herbicide labels showing numbers, instead of letters, representing the new MOA classification system from early 2022.
CropLife Australia is working with GRDC and the Australian Pesticides and Veterinary Medicines Authority, as well as herbicide resistance management experts, to inform growers of planned changes.
Ms Delbridge said the transition period would see herbicide product labels in the supply chain feature either letters or numbers. In this phase, "some labels will show the legacy alphabetical MOA classifications and others the global numerical system".
A free mobile 'Global HRAC' app compatible with Android and Apple operating systems is available via the HRAC website.
The app cross-references the herbicide active ingredient with its former MOA letter and new MOA number. Printed materials that enable growers to cross-reference the changes will be available via the app later this year.
Australia's numerical system is expected to be fully implemented by the end of 2024.
More information: Gregory Sekulic, 02 6273 2733, gregory.sekulic@croplife.org.au