Key points
Central Queensland grain grower Tim Gersbach has been using a precision planter for the past five years
It has allowed him to plant sorghum on uniform one-metre rows, suiting the region's drier summer conditions
Reducing planting rates has also saved more than $10 a hectare in seed
In late June, while Tim Gersbach was harvesting some of his best sorghum yet, he was reflecting on the unprecedented times his central Queensland grain enterprise had faced.
Last year's exceptional rainfall saw falls of up to one metre, almost double the annual average of 600 millimetres. It led to a downgrade in wheat delivered, heavy wheat stubble, and a need to be flexible in both cereal harvesting and summer planting technology.
Tim farms 4000 hectares at Capella, north of Emerald, with his wife Courtney, their two young children and his parents Garry and Kathy. He says the rain was "extremely out of the ordinary".
Unfortunately, 160mm of it fell when the wheat harvest had just started. "We'd only just got 800ha off," Tim says. "And a lot of the wheat just fell over."
It meant that all the wheat was downgraded from APH2 grade to SFW1 grade.
Although Tim says it was a "bit of a disaster", he counts himself lucky because he was able to harvest wheat that had fallen over.
"We've got normal draper fronts on our two headers plus two flex-front headers that we use for chickpeas. So, we took the cereal drapers off and put the flex ones on. We were able to pick up wheat from the ground and it was still going over four tonnes to the hectare."
After having to increase storage, via a bunker tarp and the farm's machinery shed, all the wheat was sold at SFW1 grade. The unusually wet season and the thick wheat stubble also had another consequence – a change in how sorghum was planted.
Five years ago, Tim bought a precision planter. However, to get sorghum crops planted on heavy stubble, a flexible approach was needed so his older airseeder and tyne planter were also called upon. "This past season was just so out of the ordinary we had to be flexible in our approach."
Precision planting
Seeing a precision planter in action through on-farm collaborations with Pacific Seeds and the Queensland Department of Agriculture and Fisheries (DAF) helped Tim to decide on purchasing a John Deere 27-metre DB90 precision planter.
It allows Tim him to plant sorghum on one-metre rows, use the offset banders to place urea in the inter-rows, and place a granular starter next to the seed. This all occurs in one pass.
Precision planting on uniform rows also suits the region's drier summer conditions.
"To get a uniform plant stand with the airseeder meant we generally had to plant at a rate too thick for our conditions. We really wanted to plant a bit thinner because we generally have a drier run."
Reduced seeding rates have led to using 17,000 fewer seeds per hectare, saving $12/ha.
Precision-planted sorghum seems also to have less lodging, he says. "Each plant has its own area of dirt. Whereas, with an airseeder, you have six plants in a metre and then a metre gap, so it's not uniform. It can be a bit crammed together and may fall over."
The new planter also means less soil disturbance. "The disc just slices through the ground; there is very minimal soil disturbance."
Tim says he was initially surprised at how well the planter performed. "I don't know everything about it yet and I'm sure there are better ones out there, but it does a great job."
Not relying on his airseeder all the time means it can be towed behind the planter and used for fertilising. "It means that if it blocks up, we can continue to plant, unlike with the airseeder."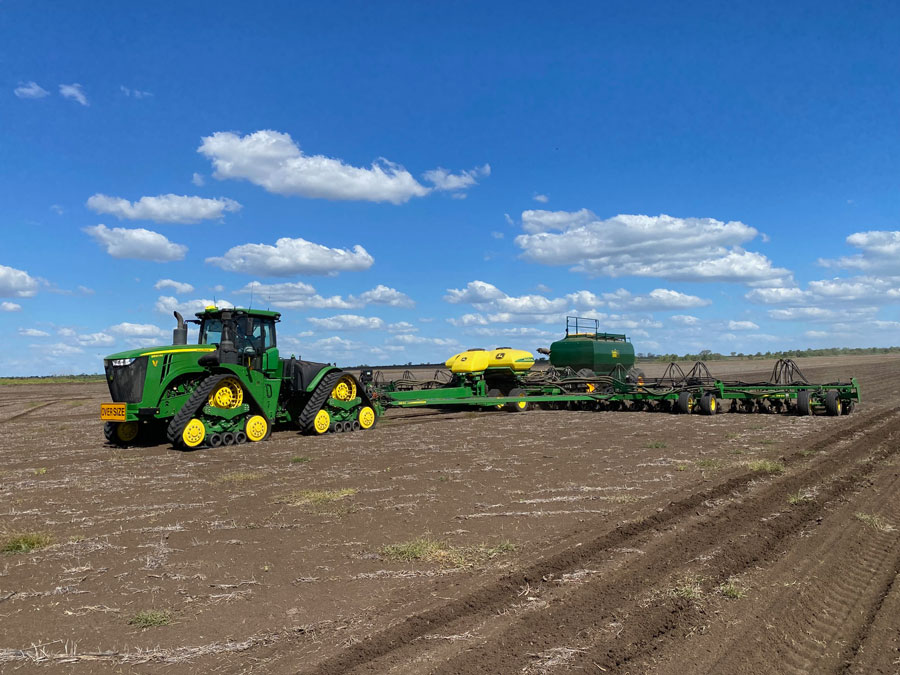 Like any new technology, Tim is still learning the ropes while thinking ahead about his next moves.
That might include investigating prescription seeding maps. "It has a hydraulic drive so at the moment I change the seeding rate on the run. But, in time, I reckon we will look into maps."
With neighbours using SwarmFarm robots to run optical spot sprayers, Tim is also watching these with a keen eye.
"We already have a WEED-IT and I don't know what we'd do without it. It is great. We run a self-propelled John Deere rig over fallow paddocks now, and then run the WEED-IT over them five to seven days later, double-knocking and then maintaining that.
"If we didn't have the WEED-IT for the maintenance phase, we would be wasting so much chemical. I like SwarmFarm's options for leasing. It is something we'd consider in the future."
As the Gersbach family considers new technology and continues to learn about their new planter, the overriding theme is the need to be future-looking but flexible. "There will continue to be scenarios that are out of the ordinary," Tim says.
It is an approach that also applies to their rotation. Currently, it includes wheat, chickpeas and, occasionally, mungbeans. Sorghum is the dominant summer crop, with sunflower plantings drastically reduced.
Tim says this is due to marketing options and available varieties.
"Tobacco streak virus is a major problem for sunflowers for us and the region. As a grower, you have to choose between a tolerant variety and yields. It's one or the other.
"When you have such vibrant and well-performing sorghum varieties, you do have to question why you would plant sunflowers. It's funny because my grandfather paid off the property on the back of sunflowers."
This season's wheat and chickpeas, planted in late April and early May on the back of good soil moisture, are doing well.
"They've got a lovely strike on them," he says.
And the sorghum planted on the back of all that wheat stubble has yielded well, with some paddocks averaging more than 5t/ha, benefiting from 2022's heavy wheat stubble and wet conditions.
More information: Tim Gersbach, [email protected]