Key points
DNA detective work by a US team studying wild peanut lineages has found that a wild Bolivian peanut collected more than 50 years ago has had a huge legacy
Its genetics have conferred important pest and leaf disease resistance in Australian and international varieties and improved food security
It highlights the importance of wild type varieties and the value of sharing genetic material.
DNA detective work has found that a wild Bolivian peanut, collected by researchers in 1959, is behind the leaf disease resistance found in Australian peanut varieties and in many cultivated varieties around the world.
Genes from this single wild species have had a profound legacy, providing food security and pest and disease resistance around the world. Peanut Company of Australia (PCA) breeding consultant Dr Graeme Wright says the story is fascinating and highlights not only the importance of wild type varieties, but also the value of sharing genetic material.
GRDC has invested in genetics for the current PCA peanut breeding program, which has benefited from this early research.
Investigation
The hunt for the peanut responsible for these important disease resistance traits began a few years ago with work conducted by US researchers from the University of Georgia, Professor David Bertioli and Dr Soraya Bertioli.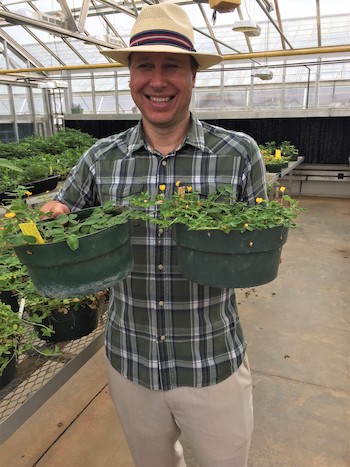 Professor David Bertioli from the University of Georgia has played a key role in the search for peanut disease resistance traits. Photo: Courtesy Graeme Wright
They had begun to wonder if a highly disease-resistant peanut line they had worked on in Brazil owed its exceptional disease resistance to a wild species. Previous thinking was that the line was developed from crosses involving normal cultivated peanut pedigrees. Their suspicions were right.
The Bertiolis and their team studied wild peanut lineages and found the genetic lineage of diploid type Arachis cardenasii GKP 10017 had been collected from Bolivia in 1959 and was subsequently bred, via interspecific crossing, to produce a hybridised peanut cultivar.
From the 1960s onwards, this new cultivar was freely propagated and shared between seed banks, crop research institutes and breeding programs around the world.
Wanting to know more, the research team used genetic and genome analyses, communicated with peanut breeders and searched records, reports and published papers to see how far the A. cardenasii GKP 10017 had travelled.
Dr Wright, who was also involved in the study, says the team found that the original wild genetics are present in more than 250 peanut varieties in 30 countries, from Sudan, China, the US, Indonesia, South Africa and Australia.
For the Australian industry, it was Queensland Department of Agriculture and Fisheries peanut breeder Alan Cruickshank who originally accessed the genetics.
"Fortunately, Alan was able to access the A. cardenasii disease resistance genes via the importation of a line called CS-22 from the International Crops Research Institute for the Semi-Arid Tropics (ICRISAT) in the early 1990s," Dr Wright says.
"From this, he made a significant breakthrough by developing very good leaf disease resistant lines with high yield potential."
This included Sutherland, the first release with enhanced resistance, which became the main parent used in the development of new varieties in the more-recent PCA-GRDC peanut breeding program.
Although Dr Wright knew Sutherland was an elite disease resistant line, he was pleasantly surprised by the DNA results. "When I showed the pedigree of Sutherland to the Bertiolis and the peanut genomics group, it was a 'hey presto' moment. The CS-22 line was known to possess the A. cardenasii genetics, and this was later confirmed by DNA analysis."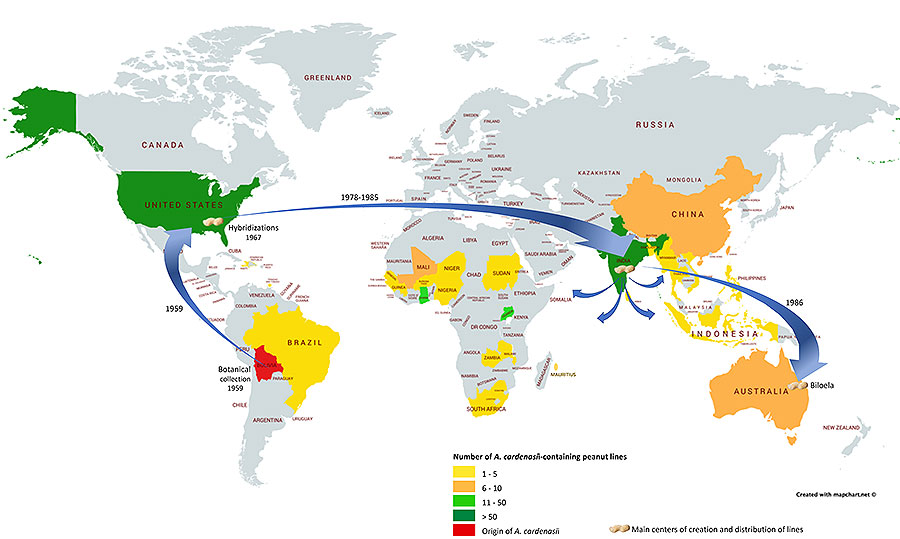 Germplasm exchange
Dr Wright says sharing genetic material has unfortunately become harder to do, yet it is increasingly needed to combat the abiotic and biotic stresses that are becoming more severe in many global production areas.
"That original wild peanut cultivar has boosted food security in many countries by providing protein-rich legumes. All this derived from one breeding experiment and a lot of international collaboration involving free germplasm exchange among international breeders."
This free germplasm exchange is becoming a dying tradition, he says. "In the 1990s, laws and treaties were put in place to protect nations' biodiversity and to stop some countries exploiting and capitalising on the biodiversity of others. A consequence of these restrictions is that they have also made it much harder to collect and share seeds for research purposes.
"We can't get any peanut genetics from India, China or Brazil, which is a country very close to the centre of origin of peanuts. The US and ICRISAT house the world peanut collections, but there are restrictions on using and breeding from many wild germplasm lines.
"Overall, these changes have stymied the international culture of sharing and collaboration that enabled those wild peanut disease resistance genes to spread."
Many staple food crops have extremely limited genetic diversity and, in some species, that diversity is also declining, he says. "Crop wild species, like that original A. cardenasii cultivar, contain a vast genetic repository and being able to find and share these discoveries is crucial to the future of food security.
"We need this genetic insurance, especially in the evolving and unpredictable face of climate change."
Dr Wright and the other researchers involved are hoping that the story of this one wild, well-travelled peanut's impact can be seen as an example of what can be achieved. "We are calling for more openness and seed sharing going forward."
The work has been published in the Proceedings of the National Academy of Sciences of the United States of America: Legacy genetics of Arachis cardenasii in the peanut crop shows the profound benefits of international seed exchange
More information: Graeme Wright, graeme.wright@bega.com.au