A spate of incidents with electric powerlines has led to increased work health and safety vigilance on Phillip Crocker's property at Muckadilla in southern Queensland.
In the town known to locals as "Mucka", about 40 kilometres west of Roma, Phil recounts four hazardous incidents on and adjacent to his 2700-hectare cropping operation.
Each incident originated from the overhead electric power transmission lines supported by power poles that run along the boundary and through the centre of the Crockers' farm where they grow wheat, barley, chickpeas, sorghum and oats.
In 2010, Phil hit a powerline that had fallen from a power pole while driving his ute in the rain on a public road beside his farm's boundary. Luckily, the powerline was not live. Then, in 2013, a fallen powerline burnt down a power pole in a paddock about 300 metres from the farmhouse and shed. In 2015, an employee driving a self-propelled spraying machine in one of the Crockers' paddocks found a powerline had detached from a burnt power pole.
But Phil says it was the most recent incident in a cropping paddock on a summer night in late 2018 that could have been the most serious accident. At that time, in the darkness at about 9pm, Phil hit a low-hanging live powerline while spraying fallow weeds in his self-propelled spraying machine. That powerline had also become detached and burnt down a power pole.
"I looked down at the sprayer boom to check its levels and when I looked back up again saw an intense flash of light directly ahead," Phil says.
The light flash resulted when the powerline momentarily touched the front of his Goldacres G4 sprayer, triggering an electric arc onto the machine's cabin.
"In a matter of seconds, I slammed on the brakes."
The powerline hanging at eye-height bounced off the sprayer and swung away, giving Phil just enough time to reverse the machine before it swung back.
"I felt a hot rush of blood realising that I could have been seriously injured or stranded on an electrically charged machine in the paddock."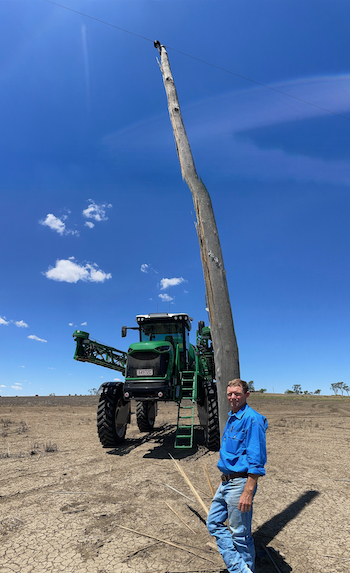 Phil Crocker hit a low-hanging live powerline while spraying fallow weeds in his Goldacres G4 self-propelled sprayer. Photo: Shannon Crocker
Phil's electricity provider remotely deactivated the powerline when he called them by mobile phone from the sprayer. The burnt power pole was also promptly replaced with a temporary pole.
The powerlines that run in two directions over about 10km of the family farm are part of a network of single-wire earth return (SWER) distribution lines that supply single-phase electricity from a grid to remote areas at low cost.
Phil says the only damage immediately visible on the sprayer was a "paint mark" where the electrical arc touched the front of the machine.
"That arc mark in the paint was about a metre from where I was sitting in the sprayer. I was very, very lucky," Phil says.
Although the sprayer initially appeared unscathed, machinery damage totalling about $20,000 emerged in the weeks following the accident. Split tyres were replaced, as well as sensors for automatic boom levelling that failed soon after the incident.
Machinery damage aside, however, Phil says the 2018 accident and the three previous incidents have left an indelible impression on the family's mindset that has prompted some risk-management steps to help minimise the potential for future accidents.
"There are safety risks that the electricity provider can mitigate and there is also risk-reduction that we can help with through vigilance."
On-farm risk-management
The Crockers now regularly inspect the power poles and overhead powerlines across the farm's paddocks and along its boundaries for signs of deterioration and possible faults.
"It's in our best interest to routinely check the SWER line network on our property. We find it prudent to check the powerlines and poles in paddocks as we're driving past on the tractor or sprayer, and we notify our electricity provider if we have any concerns."
This risk-management approach saw a power pole replaced on the farm just before summer planting last year, and they recently reported a lightning strike on another pole about 400m from the house, he says.
The Crockers have also removed two small areas, each about 50m wide, from cultivation as a health and safety precaution. Phil says the area, totalling 0.2ha, was taken from their cropping area due to the low clearance height between machinery and overhead powerlines. Operating the large self-propelled sprayer with a wide 36m spray boom on elevated 'farm-over' contour banks has increased the risk of hitting powerlines, he says.
To minimise this safety risk, the family relocated a contour bank to the end of a paddock along a fenceline. This adjustment means the sprayer does not have to travel over a contour bank when it turns on the headland beneath powerlines.
Phil has also applied for powerline markers (rotamarka™) for high traffic areas on the family's farm. When attached to powerlines, these colourful, spinning markers provide a visual warning that can be seen from about a kilometre away.
Powerline safety plan
Energy Queensland community safety specialist Glen Cook urges growers to develop a safety plan and use powerline markers to keep the powerline hazard front of mind when operating machinery, cranes or aircraft.
Mr Cook says power utility companies can provide free safety advice and guidance for planning works around powerlines and poles on growers' properties.
He says lack of awareness and planning are the main factors contributing to powerline safety incidents.
"Energy Queensland has 1.7 million power poles and more than 225,000 kilometres of powerlines across Queensland," says Mr Cook, who was Health and Safety Professional of the Year at the 2020 Australian Health and Safety Awards.
"Unfortunately, workers accidentally contact powerlines every year, which can result in severe and sometimes fatal injuries."
A new powerline safety app, which Mr Cook helped develop, aims to improve powerline safety and reduce the risk of hazardous incidents.
The app, called Look up and Live, is an online tool that pinpoints the location of overhead powerlines in Queensland, New South Wales and South Australia.
"The app is a free and practical mapping tool that can help growers identify nearby powerlines and develop a plan, such as maintaining exclusion zones and use of a safety observer when required," he says.
The app is available via app stores or lookupandlive.com.au
Mr Cook urges growers to contact their local electricity distribution company for more advice on powerline safety.
More information: Phillip Crocker, 0429 841 819, pscrocker@hotmail.com; Glen Cook, 0418 443 944, glen.cook@energyq.com.au