Kevin Fiamingo, a sugarcane grower from Clare, south of Townsville, started growing soybeans about four years ago, and has since incorporated more of them into his rotation.
"We started off growing one crop in the fallow," he says. "We'd harvest the cane in November, plant the soybeans in December and be back into cane in April."
Kevin, who farms 350 hectares, says the crop fits so well with his sugarcane rotation that he now plants two soybean crops in a longer sugarcane fallow. "With a longer break, we find that cane is a lot better yielding and we get two nice cash inflows during that time."
With this new crop and the possibility of other break crops, Kevin has invested in on-farm storage. This consists of two 165-tonne silos with automatically controlled fans and cooling, a truck to cart grain and a chaser bin.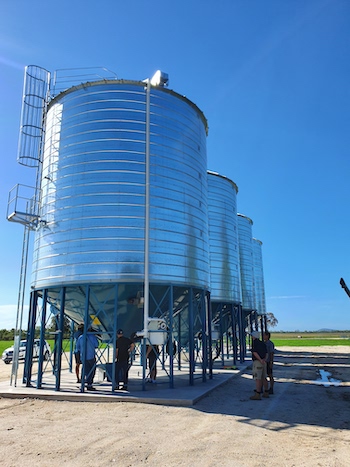 With DAF storage specialist Philip Burrill and Burdekin coastal farming team extension officer Brock Dembowski (right), traditional sugarcane growers learnt about grain storage at recent workshops. Photo: Brock Dembowski
"We figured it was worth it for soybeans and other crops like sorghum. We're keen to give alternative crops a go."
Russell Hall, who also farms at Clare growing sugarcane and soybeans on his 340ha, has incorporated more soybean plantings into his fallow too. He finds cane yields have also improved after growing soybeans. However, he has taken a different approach to on-farm storage.
With an existing 145t mother bin, he has decided to engage a haulage contractor to deliver his soybeans. "I give them a call and they pick up the grain 24 hours later. It will cost me an extra $25/t on normal backload rates, which I'm happy to pay for the convenience of shifting my crop quickly. For me, it is the right decision for now and one I can always revisit."
Russell says growing soybeans is improving soil health. "This not only increases yield but reduces the costs of buying products that improve soil health. I'm two years in and three years away from soybeans being in the whole crop rotation. I'm expecting at least a 10 per cent increase in yield while reducing growing costs. I hope I'm right."
Strategic GRDC investments in research, development and extension are helping innovative sugarcane growers try soybeans, improving continuity of supply for local processors. Read: Soybean supply sweetened by coastal plantings
Queensland Department of Agriculture and Fisheries (DAF) has held workshops to help storage decisions. The first series of workshops was held in late 2019. A third series has just been held. Read: Storage options explained for 'new' grain growers
More information: Brock Dembowski, 0467 819 592, brock.dembowski@daf.qld.gov.au; Andrew McDonald, 0438 196 917, amcdonald@pbagrifood.com.au; Philip Burrill, 0427 696 500, philip.burrill@daf.qld.gov.au