Key points
Upper canopy blackleg infection in canola can reduce yield by up to 30 per cent.
The symptoms are not always obvious and may be highly variable.
If you see symptoms but are confused, CSIRO Agriculture and Food senior research scientist Dr Susie Sprague is happy to receive a text message with a few photos to assist identification.
Control strategies include delaying flowering in high-risk situations and choosing varieties with effective major gene resistance; for example, varieties with Group D or H resistance in southern New South Wales.
No fungicides are registered for the control of upper canopy blackleg infection, but the fungicides used to manage sclerotinia at 30 per cent bloom Prosaro

®

or Aviator

®

Xpro) are effective in reducing levels of infection.
Yield losses to upper canopy blackleg infection can be exacerbated by frost, hail, drought and heat stress.
A senior CSIRO research scientist says yield losses of up to 30 per cent in canola caused by upper canopy blackleg infection can be managed with careful planning.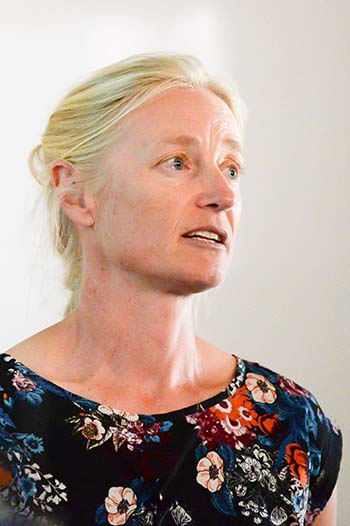 Dr Susie Sprague, from CSIRO Agriculture and Food, explained to growers and advisers at the Wagga Wagga GRDC Research Updates that until now the main focus for blackleg control in canola had been at the seedling stage.
Canola seedlings infected with blackleg before the six-leaf stage are likely to develop high levels of crown canker, she said at the Updates.
But we are now seeing symptoms and yield losses of up to 30 per cent caused by upper canopy blackleg infection.
According to Dr Sprague, blackleg can infect all parts of the canola plant.
It causes symptoms on the upper main stem, branches, flowers, stalks and pods, with varying effects on grain yields.
Upper canopy infection has become more prevalent in recent years," she says.
"Even in the dry 2018, we saw upper canopy blackleg symptoms.
There was browning of branches and stem lesions, and when we opened the stems they were black and thats the fungus growing inside the plant.
In addition, Dr Sprague says, frost in 2018 allowed blackleg to enter plants and cause significant yield losses.
Upper canopy infection can be difficult to identify and what may look like small and insignificant lesions can develop into larger and more damaging lesions in five to nine days, she says.
We suspect this is why we have measured high yield responses to fungicides, when symptoms might not indicate a need for fungicide treatment.
Infection drivers
Dr Sprague says there is a link between upper canopy blackleg infection and early flowering.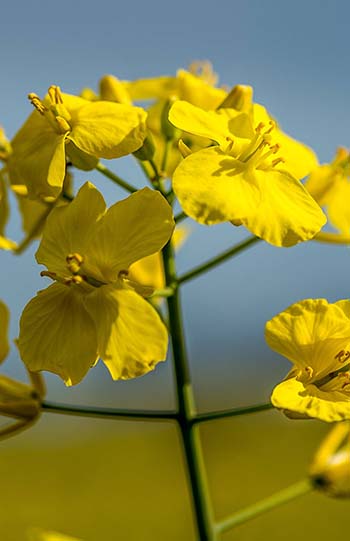 Over three years, we explored the hypothesis that early flowering crops were more exposed to upper canopy infection and higher yield losses, Dr Sprague says.
In 2018, dry seasonal conditions meant blackleg spores were not released until September and October.
"Therefore, upper canopy infection occurred late in the season, with no yield response to fungicide applications even in earlier-flowering crops.
However, in 2016 and 2017, Dr Sprague and her colleagues saw up to 30 per cent yield loss associated with upper canopy infection.
In the wet 2016 we only saw upper canopy infection and yield losses in crops that flowered very early and outside of the optimum start of the flowering window," she says.
Dr Sprague says in 2017, earlier flowering was again associated with yield loss. But upper canopy blackleg infection was also found in crops that flowered at the start of the optimal flowering window.
During 2016 and 2017, canola was equally exposed to infection, she says, but season 2016 was wetter, which allowed crops to access moisture despite being diseased.
In 2017, Dr Sprague says, the seasonal finish was drier, canola plants were stressed and, as a consequence, upper canopy blackleg infection resulted in yield losses.
Where disease risk is high, you could aim to have canola flower later in the optimum flowering window, but this may push the crop into conditions that wont be conducive for maximising yield, she says.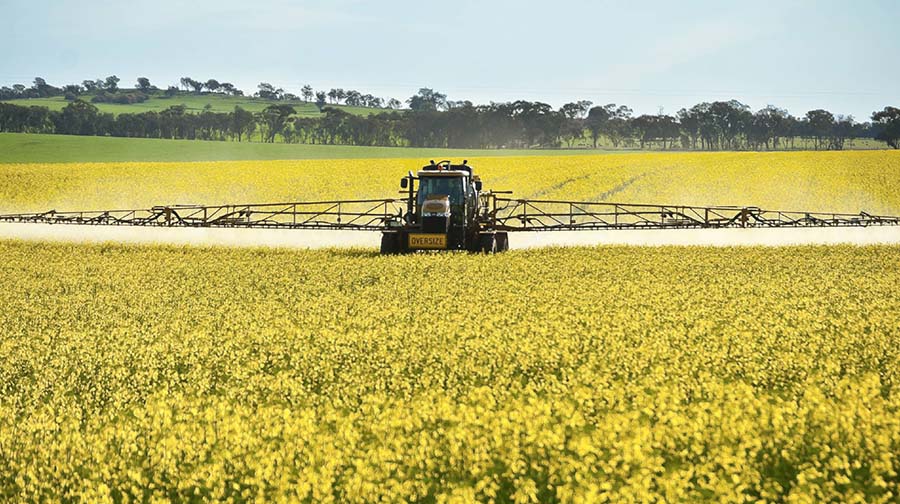 Alternatively, you can look at fungicide control; however, no fungicides are registered for upper canopy blackleg infection.
As a consequence, Dr Sprague tested whether the fungicides registered to control sclerotinia at 30 per cent bloom (Prosaro® and Aviator® Xpro) also had efficacy on upper canopy blackleg infection.
Prosaro® or Aviator® Xpro for sclerotinia control at 30 per cent bloom may reduce the severity of upper canopy blackleg infection on flowers, stems and branches but is unlikely to provide pod protection, she says.
High levels of pod infection tend to occur in seasons with frequent late rainfall events, such as 2016, or when there is physical damage to pods such as hail in 2018.
Genetic defence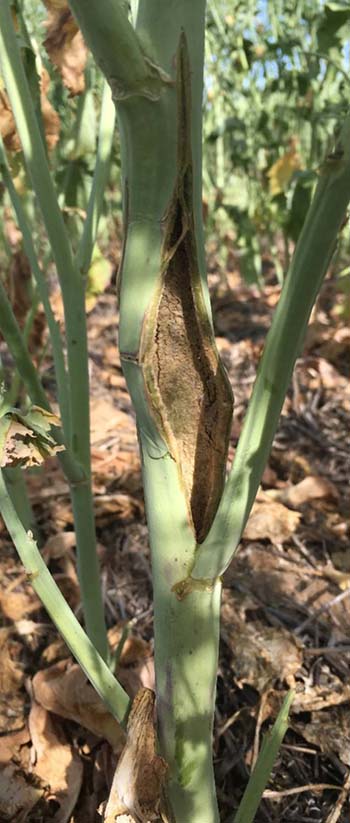 The other control strategy, Dr Sprague says, is to choose to grow varieties with effective genetic resistance to the blackleg pathogen.
We know major genes control upper canopy blackleg infection, but if you dont have those major genes or they have been overcome by the fungus, your crop will be susceptible, she says.
Dr Sprague explained to the Updates that major gene resistance in canola was represented by resistance groups such as A, B, C etc.
Those groups tell you which major resistance genes are present in a variety, she says.
"These genes provide complete protection against fungal infection and mean the variety will not be susceptible to cotyledon, leaf, stem, branch, flower or pod lesions or upper canopy infection.
Unfortunately, she says, most major genes present in current canola varieties have been overcome by the blackleg pathogen across many canola producing areas.
It is therefore crucial to identify which major genes are effective, or have been overcome, in each growing region and to understand the implications for all aspects of blackleg disease, she says.
"The other form of blackleg resistance is quantitative, which involves multiple genes that have an additive effect, which dont stop plants from becoming infected, but stop crown canker from developing.
Fungicide tolerance
Preliminary results were also presented from trials by Dr Angela Van de Wouw, of Marcroft Pathology and the University of Melbourne, with investment from the Australian Research Council, Syngenta, Bayer and Adama, on the level of fungicide tolerance in blackleg populations.
To date, 200 blackleg samples have been screened against all the current and soon-to-be-released fungicides for blackleg control in a glasshouse under high disease pressure.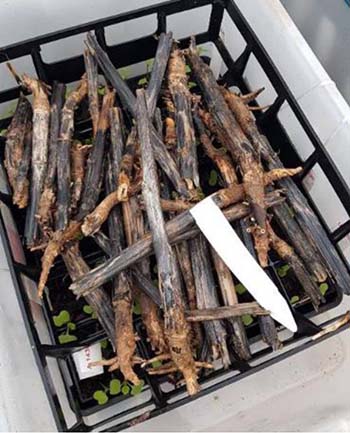 After inoculation with blackleg spores, the cotyledons were scored for disease.
The results showed 22 per cent and 28 per cent of populations tested were highly resistant to the fluquinconazole and flutriafol fungicides respectively, compared to seven per cent of populations screened against the tebuconazole-priothioconazole mixture.
Pleasingly, Dr Sprague says, there was no resistance to the newer SDHI and quinine-outside inhibitor (Qol) fungicides.
The screening will continue in 2019 and 2020 and all growers encouraged to submit samples for testing.
If you would like to be involved in the free fungicide resistance screen, please email Angela Van de Wouw (angela@grainspathology.com.au) for a stubble collection protocol.
GRDC Research Codes: UM00051, CSP00187
More information: Susie Sprague, 0466 643 227, susan.sprague@csiro.au