Key points:
Two PhD students are exploring how phosphorus placement interacts with soil properties, crops and water
This will help improve the understanding of the benefits of deep or dual-placed phosphorus
Optimising phosphorus placement can improve its efficiency of use and reduce fertiliser costs
Although dual-placed phosphorus fertiliser application has the potential to substantially improve the nutrient's availability to crops and its uptake, certain factors can counteract application benefits. Some subsoils can be too hostile for deep-placed phosphorus, while certain crops might not be able to access it, counteracting any application benefits.
To better understand the potential positives and negatives of deep or dual-placed phosphorus, two PhD students are exploring how it interacts with soil properties, crops and water. Will Tucker and Olivia Brunton's research forms part of the GRDC project 'Maximising uptake of phosphorus by crops to optimise profit in central and southern New South Wales, Victoria and South Australia'.
Chemical interactions
Based at the University of Adelaide and CSIRO at Waite, SA, Mr Tucker is focusing on the soil chemical factors that affect, and are changed by, deep phosphorus placement.
He says phosphorus can irreversibly react with aluminium, iron and calcium, forming less-plant-available phosphorus forms. Other soil properties such as pH, salinity, organic carbon content, texture and water retention will also be investigated.
"It may be that certain subsoils are too hostile for deep placement, preventing good fertiliser phosphorus availability to roots. This would counteract the benefit of placing fertiliser deeper, where soil moisture is potentially more consistent. This project is aiming to fill in this gap, so growers can justify their decision for or against deep placement," Mr Tucker says.
Plant and soil factors
Based at CSIRO Black Mountain, Ms Brunton is undertaking her PhD through Charles Sturt University. She is investigating the plant and soil factors that affect how plants access deep-placed phosphorus and how efficiently they acquire and use it.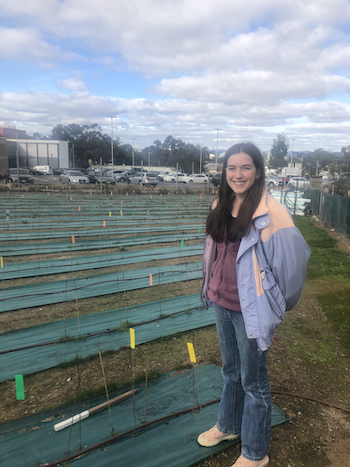 Olivia Brunton, pictured here with a CSIRO colleague's field trial, is based at Black Mountain. She is undertaking her PhD through Charles Sturt University investigating the factors that affect how plants access deep-placed phosphorus. Photo: supplied by Olivia Brunton
Part of her work will look at how crops with contrasting root traits – such as length, root hair number and length, and associations with mycorrhizal fungi – respond to deep or dual-placed phosphorus.
"For example, cereal crops that have long, deep root systems may have root morphological strategies that are more conducive to effectively using deep-placed phosphorus, compared to pulses or oilseeds," Ms Brunton says.
She plans to compare how wheat, canola, lentils and/or chickpeas respond to deep phosphorus bands.
"In response to phosphorus bands, plants can alter their roots traits. For example, many plant species increase root length to exploit a nutrient-rich zone. But not all species respond in the same way, and this might mean they have different abilities to utilise deep phosphorus. This is what I'll be investigating."
By developing a better understanding of how plants gain a benefit from deep phosphorus, she says, its placement can be optimised for different crop species. "The phosphorus use efficiency of farming systems is often very low in Australia. Optimising phosphorus placement can potentially improve efficiency and reduce fertiliser costs."
Water interactions
Project leader, NSW Department of Primary Industries' Dr Stephanie Watts-Fawkes, says the students' research is important because phosphorus is a key – yet limiting – nutrient in Australian agricultural production. "Crop phosphorus use efficiency is frequently low, with just three to 30 per cent fertiliser phosphorus recovery in the application year."
Low phosphorus use efficiencies can be attributed to the nutrient's immobile nature, stratification close to the soil surface and reduced mixing due to no-till systems.
Additionally, phosphorus is unavailable for uptake if soil moisture is low, even in phosphorus-rich surface soil. To understand this better, the students are investigating how deep-placed phosphorus interacts with water availability. Mr Tucker is exploring this from a chemical perspective and Ms Brunton from a biological one.
Mr Tucker will help determine the soil water content at which phosphorus diffusion is limited in fertilised soils. Once Ms Brunton has developed an understanding of how different species respond to phosphorus placement, she plans to explore how water availability affects this response. "Under dry conditions, phosphorus supply to the root is reduced. By placing the phosphorus further down the soil profile, it may remain in moist soil for longer."
This work links in with research by CSIRO's Dr Kirsten Verburg, who is also part of the broader project. She has been using soil moisture modelling to predict the number of phosphorus stress days that different sites and soils might encounter.