On the Queensland New South Wales border, grain growers understand too well the constraints that challenge their cropping systems, but are also increasing aware of practical information that can help guide their decision-making.
For Mungindi adviser Mick Brosnan, data created via the National Variety Trials (NVT) invaluable. "I can't overestimate how important the data is. There are so many varieties out there, so it is valuable to be able to drill down to the information we need," he says.
Mr Brosnan, from B&W Rural, services an area in a 60-kilometre radius around the little township that straddles the border of Queensland and New South Wales. Here winter wheat, barley and chickpeas are grown. Common constraints include crown rot, nematodes and – like many other regions – water.
"NVT data shows what copes well in our system. If we have, for example, bad nematodes and a variety that yields well, that's great. It shows that variety can handle the constraint."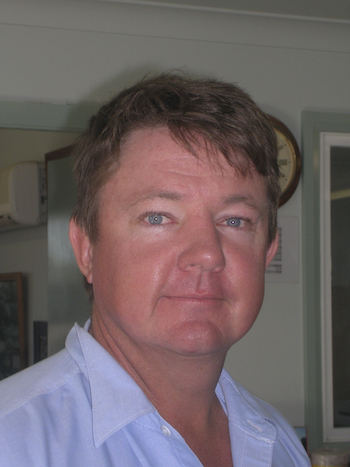 B&W Rural agronomist Mick Brosnan says data provided by the Mungindi NVT results is extremely valuable to growers across the north west. Photo: B&W Rural
Mr Brosnan says the north-west data is very useful and helps him and his clients decide between varieties and between crops.
For example, growers were keen to see how the new Sunblade CL Plus, released last year as the first Clearfield® variety with Australian Prime Hard (APH) quality, was performing.
Results showed that yields were just as good or better than the locally used variety Suntop. "This is great news for those keen to move to the new one, which has the advantage of Clearfield®, helpful in dealing with problem weeds in wheat. This information can really help weigh up our options."
Another example is how well the Kyabra variety of desi chickpeas had been yielding. Yield results showed it had performed eight to 10 per cent better than PBA HatTrick. "This was really interesting information because Kyabra is susceptible to Ascochyta and, as an industry, we have lost a lot of money on Ascochyta in the past.
"However, we are in a lower-risk area and have proven we can control the disease. The NVT results helped us decide to go with Kyabra. If we had used a different variety to manage this disease risk, we would have lost a lot of money. It would have been a huge mistake. NVT results allowed us to stick to our guns and be safe in the independent trial data."
Ahead of his winter crop update with clients, Mr Brosnan says he accesses the latest NVT results from the website and prepares reports on the Mungindi trials. "This data is really important when it comes to assisting growers make decisions in our region."
More information: Mick Brosnan, 0428 532 143, mbrosnan@elders.com.au