South Australian grain growers have been advised to watch vulnerable and emerging crops, as unusual caterpillar and moth activity was reported across the state early in the season.
The combination of early season rainfall and warm autumn temperatures is likely to have triggered widespread insect emergence and migrations during June.
Entomologists at the South Australian Research and Development Institute (SARDI), the research division of Primary Industries and Regions SA (PIRSA), received significant reports of different caterpillar species being detected in - and impacting on - crops.
Caterpillar pests in the paddocks
Weed web moth caterpillars were reported last month on the west coast - at Streaky Bay and across the northern Eyre Peninsula at Cleve, Buckleboo, Kimba and Waddikke - according to SARDI entomologist Rebecca Hamdorf, who co-ordinates the PestFacts SA newsletter through a GRDC investment.
"Native budworm was reported on volunteer peas, cereal and canola on EP at Wudinna, Minnipa and Streaky Bay, and on medic at Kimba," Ms Hamdorf says.
"Cutworm caterpillars were detected in canola at Wudinna and Kimba."
Ms Hamdorf says notable flights of multiple moth species had occurred at Streaky Bay, as well as Bordertown, Naracoorte and Sherlock in the South-East.
"It is possible that caterpillars and other pests, such as aphids, transferred from a green bridge of weeds, volunteer cereals and native vegetation into emerging crops," she says.
Ms Hamdorf says it can be challenging to correctly identify caterpillars due to their similarities in appearance.
To support growers and advisers with identification of these pests, PestFacts SA provides free identification to subscribers.
Hoppers
Meanwhile, leafhoppers have been reported on canola at Whyte Yarcowie and Eudunda in the Mid North.
Numbers in both areas are described as high, and they are visibly jumping off plants when disturbed.
The movement and colour can look similar to lucerne flea, but they are more elongated and larger.
"Some small feeding damage from the leafhoppers has been recorded as whitish necrotic spots on the cotyledons," says SARDI entomologist Maarten van Helden.
"Warm condition favour leafhoppers, so cooling temperatures means they are unlikely to persist for much longer."
Russian wheat aphids
In June, PestFacts SA had also received reports of Russian wheat aphid (RWA) activity at or near:
Loxton East (Murraylands)
southern and upper EP
Kadina on Yorke Peninsula
at various locations in the Mid North -including Whyte Yarcowie, east of Eudunda and Everard Central
Padthaway in the South-East
at Myponga Hill (Fleurieu Peninsula).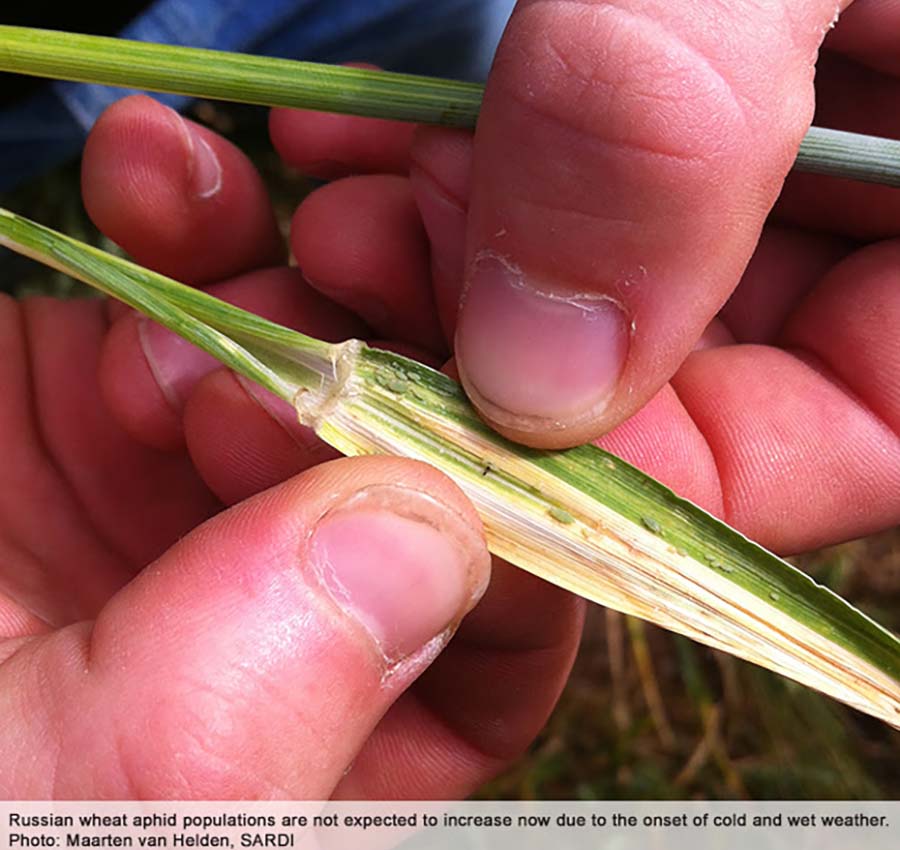 Dr van Helden says treatment of RWA should only be considered if infestations are at potentially damaging levels.
"Australian intervention threshold recommendations are currently based on overseas research, which recommends a spray application when more than 20 per cent of all seedlings are infested with aphids up to growth stage 30 and more than 10 per cent of tillers are infested with aphids from growth stage 30," Dr van Helden says.
He says while growers may observe a lot of tillers with symptoms (the cold weather enhances symptom expression), very few of these tillers are likely to have aphids present.
"It is important to make the distinction between tillers with symptoms and tillers with aphids," Dr van Helden says.
Aphid populations are not expected to increase now due to the onset of cold and wet weather.
Through research investments by the GRDC, being led by SARDI and research organisation cesar, a biological and ecological profile of RWA is being developed to provide Australian grain growers with scientifically robust management tactics for the future, including economic thresholds for Australian farming systems.
A RWA resource portal - which includes updates on current research efforts and the latest RWA management advice, hosted by cesar - is now available.
In the meantime, SA growers and advisers are encouraged to report to PestFacts SA any detections of invertebrates (pest/beneficial/unknown) in crops and pastures.
More Information: SARDI-PIRSA Communications, PIRSA.Media@sa.gov.au; the latest PestFacts SA newsletter; or visit the Useful resources for pest identification and management.