Key points
Australia saw a marked increase in khapra beetle (Trogoderma granarium) border interceptions in 2020
About two-thirds of those were suspected to have been caused by contaminated sea containers
Khapra was also detected in imported goods in Canberra, resulting in immediate containment and treatment operations
The quick actions demonstrate how Australia's biosecurity system is working for the grains industry
This is being further strengthened with additional import conditions on high-risk goods and sea containers and a $14.5 million investment.
About one year ago, a highly invasive grains pest was found in the packaging of a new fridge. A few months later, in October 2020, the khapra beetle (Trogoderma granarium) was again found in packaging, this time of a new highchair.
The quick-thinking response by the recipient of the new fridge, a Canberra resident, was critical in the success of the containment and treatment operation, with their contribution later acknowledged with a community biosecurity award.
The Canberra incident started tracing activities that found other affected fridges and highchairs across the nation. This led to initial treatment and site assessments undertaken by the Australian Government Department of Agriculture, Water and the Environment (DAWE) to destroy the pest. As part of a national program, state governments are conducting follow-up surveillance.
The pest
The resident's response was important because khapra beetle is the Australian grains industry's number-one exotic priority plant pest and Australia's number-two national priority plant pest.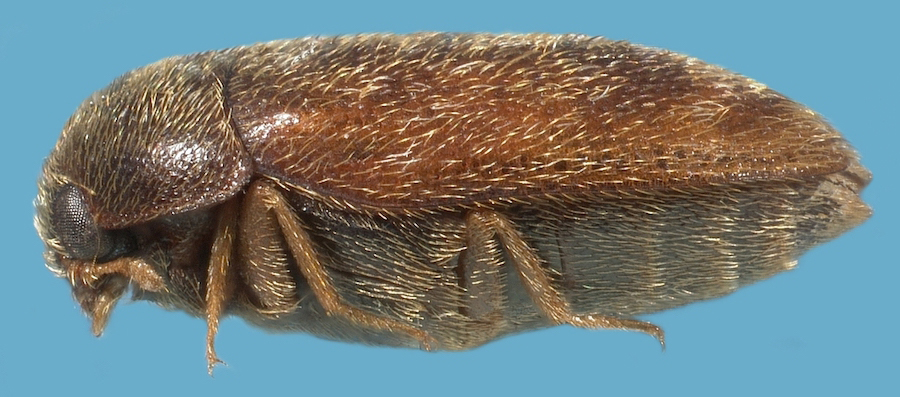 It is a highly invasive pest that poses a major threat to the grains industry. It destroys grain quality, leaving it unfit for human or animal consumption.
A number of countries, including Australia, have seen a recent increase in khapra interceptions. It is being detected in:
imported plant products;
goods that it previously had no association with;
imports from countries not known to have khapra beetle; and
importantly, in sea containers as a hitchhiker pest.
Last year saw a marked increase in interceptions, with about two-thirds (67 per cent) of those suspected to have been caused by contaminated sea containers.
Through container history tracing, DAWE has identified that contamination most likely occurs when containers previously carried high-risk goods from countries known to have khapra beetle, sometimes years before the detection.
Sea container risk
The khapra beetle is adept at hitchhiking. Due to its small size, its ability to survive for extended periods without food, and its preference for inhabiting crevices, it can remain undetected under floors and in cracks and crevices in shipping containers for years. When conditions are favourable, beetle populations can quickly increase in size, contaminating goods held within the container.
Managing the risk of sea containers is a complex, global problem. Australia receives approximately three million containers each year, making it impossible to inspect each one.
However, contaminated containers are not the only pathway for the khapra beetle to enter Australia. It can also enter via contaminated goods from countries known to have the pest.
It has been recorded infesting more than 100 commodities, including most dried plant products, such as wheat, maize, barley, rice, millet, sorghum, pulses, cotton, sunflower, sesame and spice seeds, and some animal products.
Urgent actions are being implemented to address the risks of khapra beetle entering both on plant products, which are known hosts, and as a hitchhiker pest in sea containers.
Analysis has shown that changes to the management of sea containers to address hitchhiker risk is Australia's most urgent priority and presents the newest challenge for the biosecurity system.
Urgent Actions
The incident has also prompted the government to implement additional import conditions on high-risk goods and sea containers, as well as an additional $14.5 million investment to tackle the changing threat.
More urgent actions are planned and explained in full, see urgent actions to protect against khapra beetle.
The $14.5 million investment will strengthen biosecurity measures at the border; speed up containerised cargo inspections and increase surveillance; and improve sample collection, diagnostic resources and equipment and treatment.
Late last year, when Minister for Agriculture David Littleproud announced the investment, he said an outbreak could conservatively cost Australia $15.5 billion over 20 years. "It is a devastating pest of stored grains and dried foods and has increasingly been found hitchhiking outside these food sources in containers and packaging. As a trading nation, Australia cannot simply close its borders. Our biosecurity system must evolve and respond to changing risks."
Report your find
Australia has a robust biosecurity system, which everyone has a role in. If you find a khapra beetle or signs of infestation in imported goods, secure the goods immediately. Stop all movement of goods and immediately report it to the DAWE. Phone the "See. Secure. Report" hotline on 1800 798 636.
More information: urgent actions to protect against khapra beetle; GRDC biosecurity manager, Dr Jeevan Khurana, 0428 104 946, jeevan.khurana@grdc.com.au