Key points
The Online Farm Trials website provides an easy-to-use, customisable search to help growers find the field trials relevant to their needs
Original trial results are supplemented with additional climate and soil information to assist with interpretation.
Getting research into the hands of the grower or agronomist is just one part of the process - getting them the right information at the right time is the true definition of success.
Over the past 20 years there has been a substantial increase in the amount of research led by local grower groups.
With the vast majority of this work funded by growers, the real challenge is making it easy for them to find the results they need.
The frustrating task of wading through hard-copy annual trial booklets and searching the internet is time-consuming and can yield some less-than-helpful results.
Thankfully for Australian growers, there is one place they can rely on to find high-quality curated information from across the country.
Easy access
The Online Farm Trials (OFT) website provides a valuable resource for growers, agronomists and researchers, drawing from more than 4700 trial projects from 80 different contributors.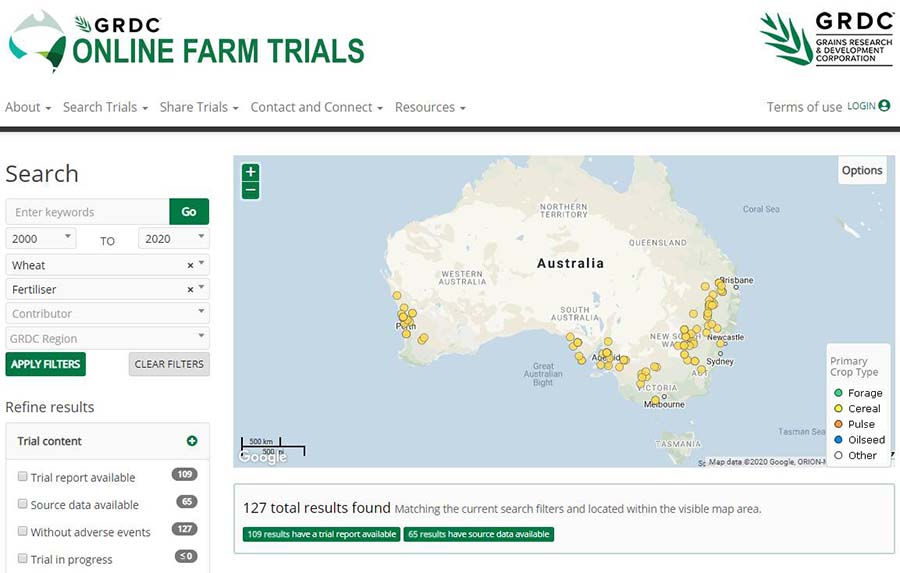 The site provides easy-to-use public access to the research conducted by grower groups, farming system groups and researchers.
The web-based searchable database was created by the Centre for eResearch and Digital Innovation (CeRDI) at Federation University - with GRDC investment.
Users can access trial data and reports from across Australia using a search for:
GRDC programs;
grower groups;
crop type;
or keywords.
They can then compare results from multiple trials to identify trends. There is also a handy interactive map and each trial page includes the original trial report for those who want to explore in further detail.
Value adding
One of the innovative improvements is data that was not part of the original trial report, such as publicly available climate and soil data, can automatically be displayed as part of the trial results.
Data is sourced from reputable resources including the Bureau of Meteorology's weather station observations and the Soil and Landscape Grid of Australia's soil attribute datasets.
The OFT team also creates useful hot-topic information that is gleaned from data analysis.
Examples have included trial information about weed management, dry sowing, winter sowing and precision agriculture, to name a few.
The Online Farm Trials website provides access to trial data and reports from more than 4700 trial projects from 80 different contributors. - Federation University Associate Professor Helen Thompson
Valuable insights
Research contributors have found the portal invaluable for uploading complex trial data including multiple trial years, crop types and trial sites.
One portal user, Dr Nathan Craig of the West Midlands Group, commented that he could see the value in having OFT as a platform that pulls all the data together and was looking forward to exploring how OFT could contribute to emerging areas of digital agriculture - such as:
interoperable data;
machine learning; and
artificial intelligence.
Another advantage of the system is that researchers are able to access legacy data from trials conducted over many years, reducing unnecessary duplication of farm trials and improving the productivity and efficiency of resources for grains research.
Other than providing valuable insight for growers, OFT data can be analysed to look at trends over time.
A great example of this is the initial analysis by CeRDI researcher Kate Light into canola trends, which is showing an earlier start to sowing across the board.
Further analysis needs to be completed in order to present the full findings of this and its implications for industry use.
The OFT team is available to help and can be contacted via the website, twitter or email. Subscribe to the OFT enewsletter to stay up to date with the latest news.
GRDC Research Code UB00006
More information: Associate Professor Helen Thompson, h.thompson@federation.edu.au, oft@farmtrials.com.au; www.farmtrials.com.au