The Agricultural Biotechnology Council of Australia (ABCA) is an industry initiative established to increase public awareness of, and encourage informed debate and decision-making about, gene technology. Here we provide a summary of updates from the Council.
South Australian GM crop bill welcomed
A bill to lift the moratorium on genetically modified (GM) crops and allow them to be grown on mainland South Australia in time for the 2021 season has passed through the State's Parliament - after a long wait for the state's grain growers.
"Now the legislation has passed Parliament, our grain growers have the certainty they need to invest in GM seed and plant GM crops in time for the 2021 grain growing season," Primary Industries and Regional Development Minister, Tim Whetstone, says.
"It is a historic day for farmers in this state, who can look forward to the choice in what they want to grow."
Grain Producers SA (GPSA) welcomed the change, after years of work behind the scenes with various governments, ministers and inquiries.
"This bill establishes a level playing field for SA growers with their mainland interstate counterparts," GPSA chief executive, Caroline Rhodes, says.
"GPSA has been steadfast in its advocacy for freedom of choice, and has worked tirelessly behind the scenes to reach this outcome - and to support the political deliberations of both the government and opposition," she says.
CropLife Australia chief executive, Matthew Cossey, says the industry is 'delighted' that science had prevailed on the GM cropping issue in SA.
Mr Cossey commended: the SA Government for its commitment to SA farmers; the opposition for its support for modern, sustainable farming; and GPSA for strongly representing its members.
"GM crops have been enabling farmers in other states and around the world to improve yields, reduce carbon emissions, use natural resources and pesticides more sustainably and protect the soil through no-till farming for decades," he says.
"GM crops are beneficial for farmers and the environment.
"Now farmers on mainland SA will have access to this crucial agricultural technology.
"With challenging weather conditions and a changing climate only going to make farming harder, SA growers need access to every available safe and effective technology that can assist them to farm in a more environmentally sustainable way.
"GM crops being trialled and developed - including by teams working at the Waite Campus in Adelaide - could help SA farmers combat environmental stresses - such as drought, acidic soils, salinity and frost - and provide health benefits to consumers with products such as fortified cereals, healthier starches and oils modified to be lower in saturated fats and with improved cooking qualities."
Under agreed amendments to the Genetically Modified Crops Management (Designated Area) Amendment Bill 2019, local councils will have a time-limited period to apply to the Minister for Primary Industries and Regional Development to be a GM crop cultivation-free area.
The moratorium will remain on Kangaroo Island.
There has been a moratorium on GM crop production in - and transportation of GM crop products through - SA since 2003.
Following an independent review of the moratorium in 2019, there has been widespread support for an end to the ban and for SA to fall into line with other mainland Australian states - and more than 23 countries across the world growing GM crops.
Discovery could lead to Fusarium head blight resistant wheat
Researchers from Shandong Agricultural University in China and their colleagues from the US Department of Agricultural Research Service have discovered a gene that can be used in the development of wheat varieties with more resistance to Fusarium head blight (FHB), a disease that is a major threat to wheat crops worldwide.
FHB shrivels grain and can significantly reduce harvests of wheat and barley.
The gene, known as Fhb7, was originally identified in a wild wheat grass relative of wheat (Thinopyrum sp), which was previously used to develop varieties of wheat with beneficial traits - such as rust resistance and drought tolerance.
Field trials of seven wheat cultivars with the introduced gene showed that the gene not only conferred resistance to FHB in the new plants, but it also had no negative effects on yield or other significant traits.
According to the US Agricultural Research Service, the prevalence and severity of FHB outbreaks could be exacerbated by climate change and varying weather conditions - and by an increasing trend towards more corn production and no-till farming, which both may be increasing the prevalence of the pathogen in paddocks.
GM Camelina offers an alternative omega-3 source
Field trials of Camelina sativa, a relative of oilseed rape that has been modified to produce omega-3 typically sourced from fish oil, have shown that the plants can be successfully grown in the UK, Canada and the US.
The GM Camelina sativa was developed at the Rothamsted Institute by adding genes that enable it to produce omega-3 long-chain polyunsaturated fatty acids - EPA and DHA.
Researchers say the trials showed the stability and robust nature of the GM trait for omega-3 acids in camelina, with trials planted in Canada, the UK and the US.
Unlike GM canola varieties that have been developed to accumulate long-chain polyunsaturated fatty acids, the GM camelina plants can produce both EPA and DHA - while the GM canolas so far predominantly produce one or the other.
The researchers involved in the tri-nation trials concluded that the GM camelina showed great promise in accumulating EPA and DHA as an economically viable replacement for fish oils.
Drought-tolerant GM chickpea developed in India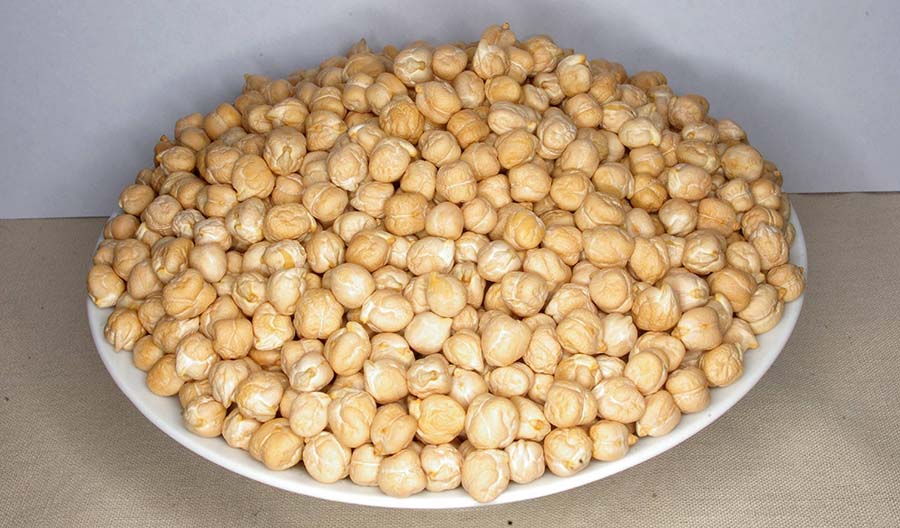 A group of scientists from New Delhi's Institute of Plant Genome Research, the University of Hyderabad and the Indian Institute of Pulses Research has developed a GM chickpea variety that shows high drought tolerance and high iron and zinc content in the seeds.
These results were achieved by reducing the level of a plant growth substance called cytokinin in the root.
Reduced cytokinin levels led to increased root length and branching, enabling the plant to acquire water and nutrients from deep in the soil during drought.
Furthermore, as the plants were able to acquire more resources from soil, they lived longer and produced more seeds.
Chickpeas are a major source of protein for the people in India.
They are grown mainly in semi-arid regions during the post-monsoon season and face drought during flowering, leading to huge drops in yield.