Snapshot
Growers: Brad, Phil and Matt Jackson. Their partners Jenna, Ashlee and Cass (respectively) are also involved in the family enterprise. Among them, there are 12 children, seven dogs and five puppies
Property: four farms near Gurley, New South Wales
Farm size: 2200 hectares
Average annual rainfall: about 600 millimetres, depending on the farm
Soil types: self-mulching black soil
Cropping program: wheat, barley, chickpeas, canola and linseed. Organic wheat is grown on the new development block. Cotton is grown in summer.
When dry years slowed down cropping operations for the Jackson family, they decided to take a sideways step into earthmoving, buying a Caterpillar D11 bulldozer.
For this northern New South Wales-based farming family, it was a way to stay busy and keep cash flowing until the drought lifted. It is a decision that has since led to significant expansion with another bulldozer and associated equipment, a thriving contracting business, a way for them to develop newly purchased land, and a degree of fame on YouTube.
The Jackson brothers are Brad, Phil and Matt. Brad and Phil are business partners, taking on the family farm from their parents Peter and Janice in 2019. They farm 2200 hectares across four properties near Gurley with their wives Jenna and Ashlee. Younger brother Matt and his wife Cass are also involved in the farming operations, the earthmoving business and redeveloping the new block.
The new 1000ha block had been changed from cropping to running cattle several years ago. It needs work to bring it back into cropping country. The plan is to undertake 100ha annually, rock picking, contouring and working on waterways.
The new block and the success of the earthmoving business have recently led to a rethink, with the Jacksons reducing the amount of contracting they do. "This side of the business really took off in 2017 and we've been clearing a backlog of work since then. With our own country to do, we need to step back a bit," Brad says.
"There's definitely earthmoving work out there and that work really saved us through the drought. We had cash flow. We didn't thrive, but we didn't die. And the bank had confidence that we were trying things."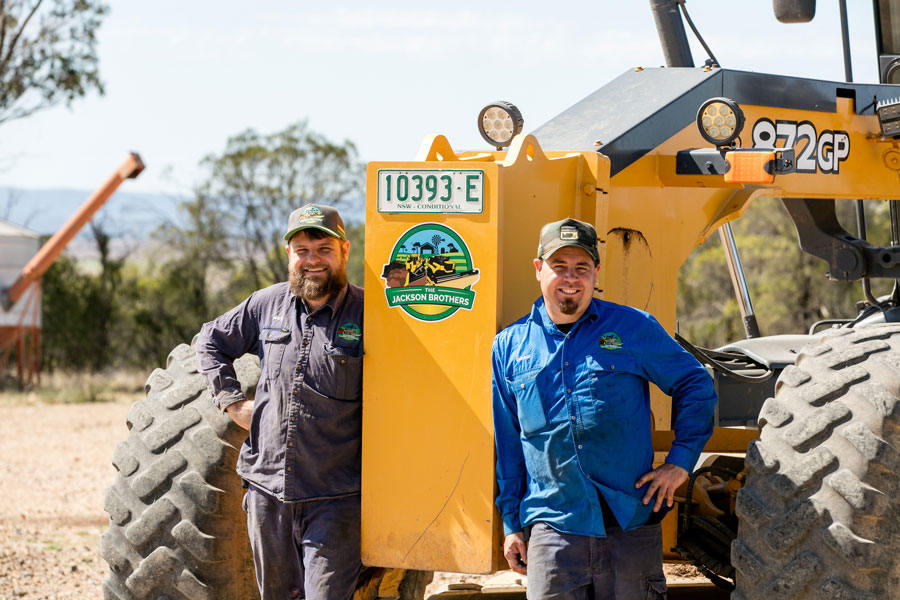 Brad says that business, along with contract spraying and harvesting work, fit in with their ethos of being both diverse and proactive.
"I think diversity is the key, but it is hard to manage. When you have good years, you're very busy with your own farming. But if you have another business on top of that, it can be tricky to manage. And, to be honest, it did catch us out a bit.
"There's a bit of stress. And because you know what the other farmers want and the timing they need, that can be really hard to manage."
While there was often a feeling of never having enough time for everything, on-farm staff certainly helped. "We are very over-laboured. We have six staff at the moment for 2200ha. But we are earthmoving and developing our new land too. So, there is a lot going on.
"Plus, I think, in the drought a lot of farmers had to get rid of people. In effect, they had to shut up shop. It means that when good years come, which they did, you're just not ready to act.
"We tried to keep the doors open, so to speak, to keep everything going. So, when the season changed, we were able to jump on it and really take advantage of it."
When the season did change, and La Ninas came, Brad says the farm had more upside than downside. "Exceptional yields came from some crops and other crops failed because it was just too wet.
"We had a great result with our canola, averaging 2.5 tonnes a hectare. And the price was pretty good too. We kicked a goal there." On the downside, linseed failed, again highlighting the need for variety.
On Brad's home farm, water rose to its highest level in 100 years. "It wasn't the rain that got us. It all came from upstream. At first, we were thinking: 'This isn't too bad' but then it just kept coming."
Like many, it led to a slight change in cropping plans, with chickpeas dropped for canola – a fortunate move given canola yields. Wheat and barley plans were kept, with the usual rotation being wheat/barley/chickpeas/canola/linseed.
Weed pressure
Rising floodwater led to more weeds, a topic Brad discussed during a recent WeedSmart webinar. "You'll see where the water level went and there'll be a big line of ryegrass."
That said, he feels that particular weed is under control for now. "If and when ryegrass becomes an issue, it may be that we need a shift mentally from thinking we need to eliminate it to instead living with it.
"If you look to the south and the west, they have a 'live with it' mentality and manage it. I think we'd be foolish to assume that we're going to be able to eliminate it forever. But certainly at the moment we're still in that stage. We will chip it, burn it or spray it – all sorts of things to get rid of it."
Brad recently discussed the increase in ryegrass weeds due to flooding at a WeedSmart webinar. Photo: Mel Jensen
For the Jacksons, barnyard grass has been a bigger issue. "We're getting results now because we've been using the WeedIt system. So now we really don't have the big patches where it just knocks all the yield out. It's just some scattered ones."
If and when new weeds become a problem, Brad believes the industry can cope. "Ten years ago everyone was talking about fleabane. And we all found ways to control and manage it and now it's all over. Now no one really talks about it."
That said, contract harvesting and spraying further south has given him an insight into an emerging problem in the northern region – resistant ryegrass. "I saw first-hand the carnage that it can cause. But I also saw what they were doing down south and that gave me hope. I think once it hits us wholeheartedly, we'll be implementing a lot of strategies they do in the south and west."
Contract harvesting also brought ryegrass weed home. "We brought our header back in and had ryegrass issues, giving ourselves a big headache." Now the fire hose is used to thoroughly clean machinery.
If and when ryegrass becomes more of an issue, Brad says they would consider a Harrington Seed Destructor. "I would really like to get one, but to be honest our levels are so low I can't justify it just now.
"Once we get to that stage where we've got to learn to live with it, I think that's where it will really take off. As a contractor, though, it would mean you were not so worried about bringing it back, but looking purely at our farming operation, we're not there yet."
This summer, the Jacksons are going to try their hand at growing cotton to give them access to different chemicals to help with the weed wild phalaris. "For 20 years we've really been winter croppers. But we're finding a few issues with phalaris and growing cotton will give us other options."
YouTube shows off the NSW Jackson brothers
The Jackson brothers' YouTube channel, which features bulldozers, excavators and dump trucks, has more than 48,000 subscribers. Some videos have been watched more than three million times.
The youngest of the Jackson brothers, Matt, says the idea for uploading videos to YouTube came from their father Peter.
"It was Dad's idea to get a drone, film the dozer and put it on YouTube. I thought: 'Ok, I'll give it a go', but I didn't really expect it to take off. I think our first videos had one million views in a month and 4000 subscribers."
With that success, Matt started thinking about how he could integrate the farming side of the business into YouTube, and with a degree of trepidation, "decided to have a crack". Those vlogs – or video blogs – have also been successful. They have released nearly 200 and give an everyday insight into farming in northern NSW.
Matt and the family see it as a way to bridge the gap between the country and the city, showing how food is grown. "I think the other thing that appeals is that we are a family farm, not a corporate, and people like watching how we work together."
More information: Brad Jackson, [email protected], The Jackson Brothers YouTube channel