Farm business management consultant Chris Minehan says whole farm planning, a systems approach and a low-cost business model enable farm organisations to ride out the tough periods.
Mr Minehan, a director of farm business consultancy Rural Management Strategies in New South Wales, says resilient farms are those that can avoid, mitigate or cope with external shocks and stresses.
"Some of these external shocks and stresses may include droughts, flood, fire, frost, low commodity prices or the injury or death of one of the farm business's decision-makers," he says.
"We have found some farm businesses seem to be able to ride through external shocks and stresses better than others, so it is interesting to explore what sets them apart."
Mr Minehan says a resilient farm business comprises a carefully planned, sustainable and low-cost production system.
"It has fertile soil, water when required, a low weed and disease burden, plus diversity."
Soil fertility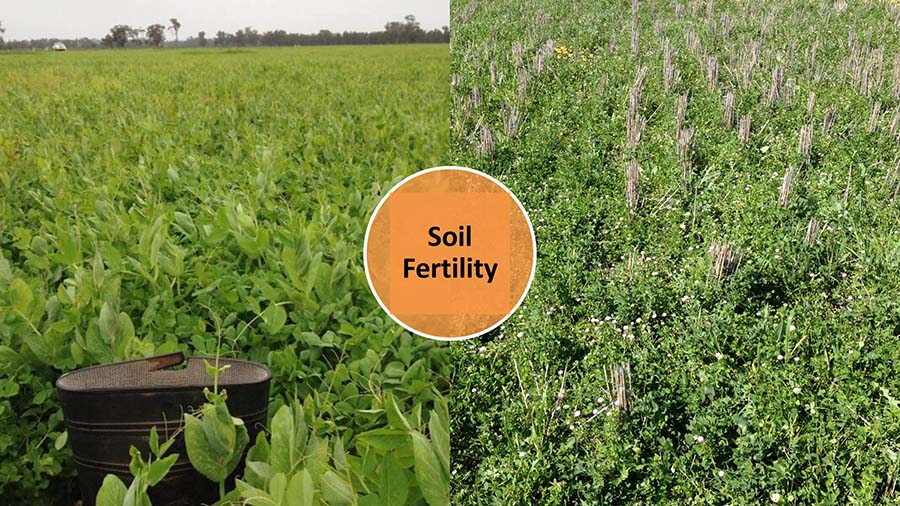 Fertile soil has adequate organic carbon levels, effectively cycles nutrients and can break down plant and chemical residues, he says.
In a resilient farming system, subsoil constraints are understood and managed. If the constraints cannot be managed, yield expectations are managed instead.
"It's important to develop and maintain a soil's capacity to mineralise nitrogen, so when it rains in spring, nitrogen is supplied to crops for free," he says.
Free nitrogen
"Mixed farmers have the capacity to source nitrogen for free through high-quality, well-managed pastures."
For example, in southern NSW, Mr Minehan says, four years of high-quality, legume-based pasture will provide enough nitrogen for two to three productive crops.
"For those with 60 per cent crop and 40 per cent pasture, nitrogen should be only required in the last third of the rotation. You should not need urea on every crop every year," he says.
"I'm not talking about a clapped-out pasture full of silver grass, barley grass and capeweed; that's not a pasture. I mean a dense, well-nodulated, competitive and well-managed pasture."
He adds that productive pastures result from careful management and planning.
"Well-planned and managed pastures become the engine room for driving the profitability of your entire farming system," he says.
"Aside from providing high-quality livestock feed, a productive pasture allows weeds to be controlled and soil nitrogen to be boosted relatively cheaply, so your cropping phase can be low-cost and profitable, without having to put your hand in your pocket every year for expensive grass herbicides or high urea rates."
However, he says, many mixed farmers miss out on these benefits because they do not spend enough time planning.
"Paddocks left in pasture for too long end up sparse, weedy and unproductive, while paddocks cropped for too long have rundown fertility, grass weeds and disease that are costly and unprofitable," he says.
"Instead, cycle paddocks in and out of pasture by planning over several years, not several months. In a crop-only farming system, a pasture can be replaced, to an extent, with pulse and brown manure crops."
Soil moisture
Mr Minehan says a resilient farm maintains ground cover and controls summer weeds to preserve available soil water.
"Having water at critical times during the season allows crops to mitigate the effects of frost and heat shock," he says.
"But, for some areas last year, 12 months' rainfall simply wasn't enough to grow a decent crop."
If predictions are accurate, he says, more dry seasons are likely going forward.
"As such, those in marginal areas need to consider incorporating long fallows or brown manure crops to use two years' rainfall to grow one profitable crop instead of two unprofitable crops."
There is nothing new in saying a resilient system is one with low levels of weeds and disease, but this can be approached in different ways, Mr Minehan says.
"Effective planning and attention to detail allows weeds and diseases to be kept low for a relatively low cost, using crop rotation, narrow row spacing and crop competition."
Without planning, he says, businesses become locked into a high-cost system reliant on expensive herbicides and fungicides to manage problems that can be dealt with by the system.
Diversity
In nature, he says, the most resilient systems are the most diverse; and the same is true in farm businesses.
A complex mixed farm with enterprise diversity has more cogs turning and requires more sophisticated management and planning, he says.
However, those with simple systems need to consider the risks associated with a lack of diversity.
For instance, Mr Minehan says, consider a cropping-only enterprise where three or four different crop types all flower in the same six-to-eight week window.
"If you have been whacked by frost in three of the past four years, and that frost window is predicted to not only become wider but more intense, it might be time to think about how you can introduce some diversity into your system to lessen the impact of that risk," he says.
Mr Minehan says many growers are starting to think outside the square.
He points to the commercialisation of super-high eloic safflower, developed by CSIRO through a GRDC joint venture called the 'Crop Biofactories Initiative', as an example of a new crop and industry with the potential to inject agronomic and income diversity.
Another strategy that ticks the boxes of soil fertility, plant available water, weed and disease control, plus diversity is a brown manure crop.
"A brown mature crop involves sowing a legume or pulse crop early to maximise biomass production, out-compete weeds and fix large amounts of nitrogen," he says.
"It is then terminated in September before weeds set seed, so complete weed control is achieved, nitrogen is left in the paddock and plenty of ground cover is left over summer to capture any available rainfall."
The next step, he says, is to sow a second break crop such as canola to take advantage of the nitrogen, soil water and mop up any remaining weeds, instead of expecting the one break crop to deal with a huge weed burden, which puts further pressure on selective herbicides such as Clethodim. This is known as a double break.
Double break
"While some people think a brown manure is just for those who are not reliant on the income from those paddocks, it is actually not the case," he says.
"Often, back-of-the-envelope gross margin calculations overestimate the income, underestimate the costs and do not account for the flow-on cost savings achievable from growing one brown manured crop."
Also, when considering a brown manure crop, he says it is worth calculating the benefits of the tactic based on figures from the farm's worst-performing paddock, not average farm yields.
"Think about how it would make you feel if you could turn that paddock into one of your best-performing paddocks," he says.
"In 2016 one of our clients had a block where all but two paddocks were sown to barley. We decided the two worst paddocks, the ones with the most weeds, the lowest fertility and the lowest profitability, were to be planted to field peas and then brown manured."
A key consideration, he says, was the long-term impacts of the crop rotation. The aim was to reduce the business's cost structure, reduce risk and the reliance on expensive herbicides, fungicides and fertiliser to increase profit.
Yield benefits
"In 2017, the average yield of canola planted into paddocks where barley had been sown in 2016 was 0.8 tonnes per hectare," he says.
"By contrast, the average canola yield planted into paddocks that had been sown to field peas and brown manured was 1.9t/ha, which paid for the cost of brown manuring in just one year."
In 2018, the yields were similar, however the costs were lower on the brown-manured paddocks because there were no grass weeds.
In 2019, he says, deep-soil nitrogen tests from the 2016 barley paddocks had just 50 kilograms/ha of available nitrogen at a depth of 60 centimetres.
"By contrast, the average available nitrogen on the brown-manured paddocks at 60cm was 100kg/ha and the grower has not had to apply urea to either paddock brown-manured during 2016," he says.
"Although this may not happen every time, it shows what is possible using a brown manure crop."
Mr Minehan says analysing the profitability of brown manuring using simple gross margins over one season will never show the long-term benefits.
"You need to analyse brown manure crops over the whole farm and across a number of years," he says.
"We have enough clients who have been doing this for long enough to give us confidence that this approach works well, when planned and executed properly."
The lifeblood
Cash flow, Mr Minehan says, is the lifeblood of all businesses.
"Every manager needs to know where cash is coming from and going to, particularly when businesses are coming out of tough periods with low income," he says.
"Bank managers are supportive during dry periods, but they do not like surprises, so if more money is needed in October, have those conversations in February or March."
Cost structure is a critical part of developing a resilient business, he says, and is influenced by scale, production system and financial discipline.
"Scale plays a major role in diluting overhead costs across a larger productive area; however, scale is not a magic wand," he says.
"Without a sustainable, productive and low-cost production system, plus suitable business processes, increasing scale simply takes a small unprofitable business and turns it into a big unprofitable business."
Resilient people
More importantly, resilient businesses are run by people who have a plan and know where they are going, Mr Minehan says.
"I'm no wellness blogger, but I know that it is important to give yourself permission to look after yourself. Nourishing food, exercise, sleep and relaxation are critical for physical and mental health," he says.
"Take time out. If we work ourselves in to the ground, we cannot make good decisions. Plan well in advance, so you're not making big decisions in the heat of difficult situations."
Mr Minehan says planning involves setting a long-term vision.
He says this is not only for the business, but where individuals and families want to be in two, five, 10 and 20 years' time.
"Create a team of experts and advisers who understand your business and who are willing to work as part of a team of people committed to helping you achieve your goals," he says.
"Holidays are important and should not be put off because finances are tight. Everyone needs time away from their business to relax, recharge and regain perspective."
More information: Chris Minehan, 0427 213 660, [email protected]