In 2018 the NVT systems database was brought in line with the latest available technologies when it underwent a significant rebuild. While the database had been expanded since being built in 2004, the underlying architecture needed upgrading to keep up with evolving technology.
The rebuild was undertaken to minimise disruptions to users while also retaining its familiarity. This allowed users to continue to manage trials, input data or extract information in a familiar interface.
Data security and system stability were greatly improved with the rebuild, which also made possible the use of application programming interface (API) technology to securely send live data to other related systems, programs or initiatives.
Processing power was increased to handle the ever-expanding dataset, and reporting systems will continue to be optimised to meet the increasing demands of mobile users.
Using API connectivity technology, the NVT database can now live-feed data to the NVT Communications website, the Long Term Multi Environment Trial (MET) Yield Reporter tool, and the NVT Crop Disease Au app. This means all NVT-related reporting tools have live access to data feeds and are automatically updated whenever data is entered, changed or modified in the NVT database. For example, this means that trial results can be published simultaneously across multiple systems.
Additionally, with live feeds from the NVT database, variety information will always be up to date and information on newly released varieties will become instantly available.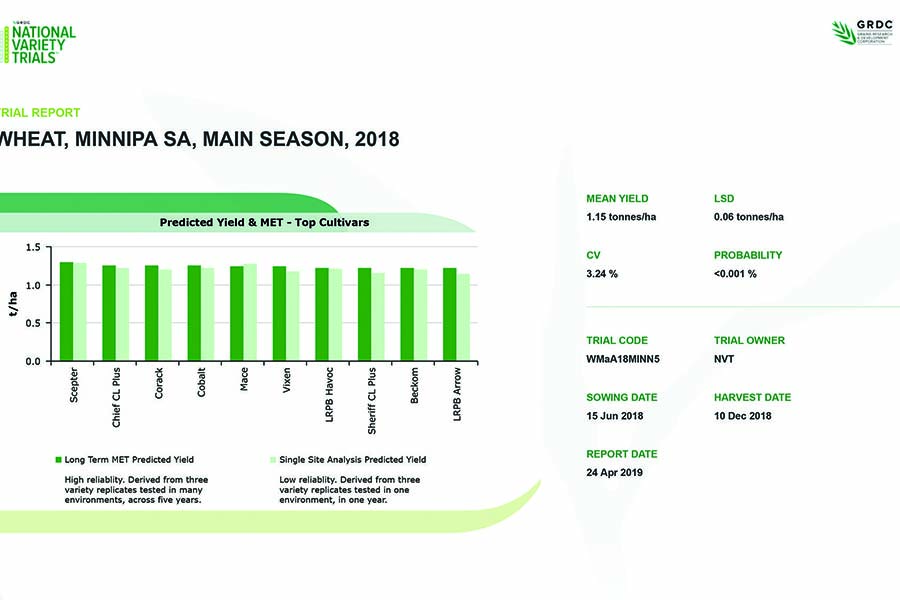 NVT Apps and tools
The NVT continues to improve and enhance the functionality of the Long Term MET Yield Reporter. This tool, available on all browsers and devices at NVT Online, is the premier reporting system for communicating NVT yield and grain quality results.
The NVT generates two types of yield data. The first is the 'single-site' results that are published shortly after harvest each year (Figure 1). Single-site data is the analysed yield results from the three replicates of each variety, at a single location, in a single year. It is particularly useful for growers as it can be published shortly after a trial is harvested, but it lacks robustness, accuracy and the reliability of the second data type - the Long Term MET Yield Reporter results.
The NVT Crop Disease app provides quick access to disease resistance ratings, disease information and an extensive disease image library.
Users can compare the resistance ratings of varieties for all 11 crop species for a range of different diseases. Descriptions of disease symptoms including photographs, together with management methods, are also available.
Other updates in brief
TruFlex® canola
China has lifted the ban on the latest TruFlex® glyphosate-tolerant canola varieties, which paves the way for expansion of the NVT canola program to include this material.
Chickpeas move north
Chickpea production has significantly increased in the northern region. To meet grower interest for variety data, a new trial has been established in the Kilcummin/Clermont region of Central Queensland.
Early sown wheat trials
An increasing trend to earlier sowing of wheat, including dry sowing, has created a need for NVT to evaluate varieties suitable for sowing during April in many areas of southern and western Australia. Consequently, since 2017, a series of opportunistic 'early break' trials have been introduced and managed to ensure establishment during April.
Sorghum
In 2018, sorghum was added to the NVT in the northern region to ensure growers and advisers could obtain independent performance data for this species.
NVT goes social
Follow us on Twitter @NVT_Online to ensure you never miss an update, trial pictures, latest results or other announcements.
More information: Neale Sutton, 03 9889 4212,
Neale.Sutton@grdc.com.au