Bernard and Simone Lindsay farm at Lah, in Victoria's northern Wimmera. They grow wheat, barley, canola, lentils, faba beans and vetch for hay, and run 600 Merino ewes.
We're so fortunate - we're in good shape. We're a bit behind our annual growing season rainfall of 240 millimetres off a pretty lean spring, but we had rain at the right time and subsoil moisture from last December so we had a good profile. Last summer we killed any weeds that would use that moisture, so we kept the paddock clean. It's just standard practice nowadays, but it's paying dividends.
Frost and heat are our biggest issues. We had a bit of frost damage but because our crops weren't under stress thanks to that subsoil moisture we got through okay.
We finished off the fungicides on wheat and barley in September and cut vetch and a couple of patches of cereal for hay where the ryegrass had got through. That went to a Maffra dairy farm. I also put a shed up in October so we can store our hay on farm. I've needed one for years and we've bitten the bullet because it's such a good year.
We'll start harvest the third week of November all going well, with barley probably first. We'll windrow canola in early November and probably use a spray bar under the windrow to kill any ryegrass escapes. My contractors have fitted chaff decks to the headers as part of our weed management program so the weed seeds get collected and put on the wheel tracks in more of a hostile environment than being spread all over the paddock.
I didn't go as hard as I could have with nitrogen, but I've still got really good crops. The cereals are set up for 4 to 5t/ha and they're certainly looking like that - while keeping a lid on it.
Simon Burgess farms at Conara in Tasmania's northern midlands as an operating partner in a private equity business. He crops wheat, canola, poppies, barley and faba beans. He also runs Angus breeders, backgrounds and agists steers, trades lambs and has a breeding flock of 2500 ewes.
We've got a bit going on. We did some soil moisture and deep nitrogen tests in September that showed if we wanted our target yield of four tonnes per hectare we needed more urea. So we went for the second round of top-dressing but that was it because we just didn't have the confidence in the season finish. We're about 30 per cent behind long-term average rainfall, which is not necessarily a bad thing in winter but if it continued to the end of spring we'd be in a world of pain.
Our spring crops - 350-plus hectares of barley and 660ha of poppies - were in by mid-September and we've had great establishment. In October we planted potatoes.
October/November is basically all about the herbicide, fungicide, nutrient and irrigation program on the spring crop.
With a good spring we'll be windrowing canola in the third week of December and harvesting dryland crops after that. With a hard finish it will come forward a week or two.
The livestock have been incredible. And having a drier-than-normal winter has helped because it's been good for the soil structure. We've done extremely well out of lamb trading, the agistment has really added value to the whole operation and we are already starting to see some benefits in the spring crop where we've had tillage radish and livestock.
We have some pretty problematic soils - some fairly shallow and gravelly soil types - so it's been helping build soil health. It's almost like a natural deep ripping and we're getting more organic matter into the soil profile, more biological activity, for want of a better word, so we're really excited to see how that's going to play out.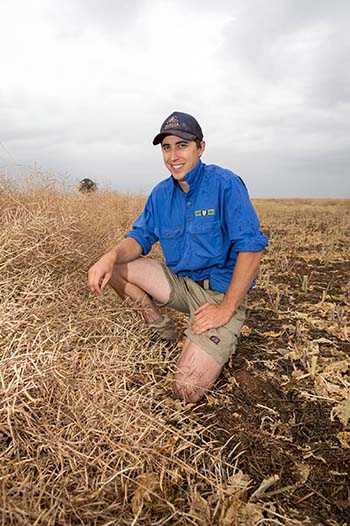 Mirrool, NSW, grower Evan Lord has been impressed with how well some crops have performed with stored soil moisture. Photo: Nicole Baxter
Evan and Katrina Lord farm at Mirrool, south-western NSW, as part of the DB Group with Matt and Sam Dart and Richard and Trudi West. They grow wheat, barley, canola, lupins, vetch for brown manure and oats for feed, and run 1800 Dohne ewes.
It's been disappointing with not much spring rain after a really good start. We average around 30 to 35mm per month and we've been under half that. When the days are cooler and shorter, the crops can live off that but it's a problem as it gets warmer and crops mature to peak water use.
The crops that were well-established and healthy and heavy at the start have hurt the most because they used up their moisture before they were able to push out a head.
But it's still amazing what the crops are doing on lack of rainfall. Anything that was on brown manure or fallow from the previous year is really shining out with access to extra stored moisture. So it's really coming back to the previous crop type.
Wheat's holding up but canola has probably been the hardest-hit, with a lot cut for hay in the district. We have ridden it out and will harvest in early November but are only expecting 0.2 to 0.5t/ha for canola on wheat stubble and 0.8t/ha on fallow. Wheat yields could be about 1.2t/ha on fallow country.
One benefit has been our sheep enterprise. It will beat all our cropping no matter what the grain price gets to, and the sheep also certainly help our crops.They graze our brown manure and chemical fallow and allow us to sow a bigger area of non-harvestable crop with a legume base that we terminate in September. This gives us a hit on weeds and extra stored moisture for the following crop and we generate an income off it. We sold the last of our autumn lambs in September just before joining the ewes. Over the last couple of years when the cropping hasn't really been holding its own, the sheep side has.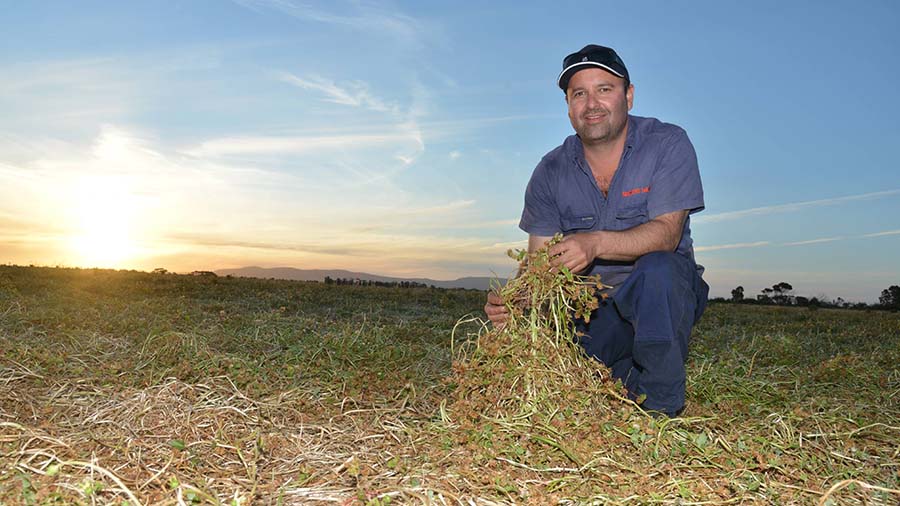 David Giddings and partner Kerri farm at Wanilla on the Lower Eyre Peninsula. They grow wheat, barley, canola and lupins and run 3500 Merino ewes, of which 1500 are mated to Merinos and 2000 mated to Dorsets.
After 190mm in May and June we dried up big time in the second half of the year. Our soils (sandy loan with a bit of clay on top from spading) dry out really quickly - in about a month pretty much - especially when you've got a fair bit of crop on.
Plus we had a really bad frost and 20 per cent of my wheat was affected so I cut it for hay in September. The wheat was by far the worst affected and, while the lupins, canola and barley are going okay, I think we'll make below-average yields. So it will be a tight year and if I could break even I'd be happy.
I crop-topped the barley and canola in early October and began harvesting later that month - as early as I have ever harvested. The livestock operation should still make quite good money but the edge has been taken off the whole show because it got too dry.
I've learnt a bit this year though, the two major take-outs being the importance of getting crops in dry and not to apply too much nitrogen. I've worked out there's a level of nitrogen that I should just never exceed because you never know what's going to happen with the season.
And dry sowing is so important to our operation we need systems that get the crop in dry, rapidly. We went through four sets of discs this year, all of which had to be changed through seeding. There was a lot of stopping and starting so we're replacing the disc seeder with a Canadian-built pillar opener. A few have come into the district and they seem to be extremely simple and working well, needing way less maintenance and mucking around.
Tim and Victoria Harrington farm at Darkan in Western Australia's high-rainfall zone in the south-west. They mainly crop barley and canola and run 5500 ewes and 800 wethers.
We'll be into harvest earlier rather than later. It's been a low-rainfall year - decile 3 up to the end of September - which means that in seven out of 10 years you could expect more rainfall. But that's the way it goes.
The Department of Primary Industries has put a heap of rain stations out and we can access rainfall-to-date reports along with decile readings online. It's another tool and it's working with 'knowns' a bit more than forecasting. For example I was putting out nitrogen, but pulled the pin because, at those rainfall levels, the chance of getting a return on investment wasn't high.
Our canola, barley and Beaufort (PBR) wheat has gone okay, but the long-season wheat is the worry. We windrowed canola in October, and will harvest it at the start of November, then barley, then wheat. The crops are all there, it's just that when we hit crunch time we had no rain so the cream's been taken off the top. But I'm content given the season.
Pasture production was down so we decided to wean lambs in September and rebuild the ewes for mating. I went to a field day with my grower group, looking at weaning lambs into high-protein crops like lupins and vetch. We mainly wean into oats but we could build frame and size more quickly with protein and sell the lambs around Christmas - three or four months earlier than usual.
So effectively we'd be growing lupins like a typical crop, but instead of harvesting and selling the seeds, we'd be harvesting it by putting meat on lambs and selling the lambs. Then there would be a cash crop like canola or wheat on it the following year. So that's the theory. It's just a different mindset.
Stephen Gibson farms with his parents Brian and Kaylene and sister Ann-Maree at Dulacca on Queensland's Western Downs. They crop wheat, barley, chickpeas, sorghum and mungbeans.
It's business as usual. Dry. We had a touch over 150mm to the end of September compared to an average of 600mm so we were down on rain a lot. But it fell at probably the right time to make use of it.
We began harvest earlier than we've ever done, starting with Bourlaug (PBR) wheat in early September - about three weeks before normal - but we were happy. It went at 2.2t/ha, which we were extremely pleased with.
Our Spartacus (PBR) barley looked terrible but yielded better than I thought - about 1t/ha. We bought air reels to harvest the chickpeas so we used them in the barley because it was so short. It's equipment you put in front of a header that blows air and the crop over the cutting knife into the front. Our agronomist did some seed counts last year with them and the difference in yield was significant. They paid for themselves essentially in one season.
Our chickpeas were short and there was a lot of insect pressure but we looked after them and they flowered really well so we're looking at about 1t/ha.
We harvested the rest of the crop through October and, compared to how it was looking, I was very surprised at the yields we've been getting.
We only ended up with 15 to 30mm of in-crop rain but probably what saved us was we didn't have a lot of heat towards the finish. The crops also didn't grow a lot of bulk because the season was pretty light-on. And stubble cover paid for itself this year. Wherever there was cover it was really good. I'd much prefer it to be 4t/ha rather than 1.5t/ha but we'll be around for another try next year anyway.