An innovative graduate trainee program is helping to support careers in grains research to ensure the industry has vital science support for the future.
NSW Department of Primary Industries (DPI) southern cropping systems director Deb Slinger says the initiative was developed to put early career scientists through a graduate trainee program and hone their capacity for grains industry research.
"The Grains Agronomy and Pathology Partnership (GAPP) between NSW DPI and GRDC recently supported two graduates, Jessica Simpson and Reuben Burrough, through an intensive research and training program," Ms Slinger says.
"Ms Simpson and Mr Burrough have been mentored by leading researchers and collaborate with a wider network of scientists across Australia."
Wheat quality risk
Ms Simpson is based at the Wagga Wagga Agricultural Institute and started the graduate trainee program in August 2019 after completing her honours research project on the effect of plant growth regulators on barley root development.
"While COVID-19 restrictions during 2020 provided limited opportunities to attend events and travel, I have embraced online platforms, such as Zoom and Microsoft Teams, to collaborate and develop networks with researchers from across Australia," Ms Simpson says.
"Using these platforms, I've been able to participate in meetings and fit them around field work."
Ms Simpson, under the supervision of NSW DPI's Dr Felicity Harris, is helping manage the NSW node of the GRDC National Late Maturity Alpha-Amylase (LMA) Project C: An Improved Model of LMA Field Risk in Australian Wheat.
LMA is a quality defect that causes grain to receive a low falling number, even when pre-harvest sprouting has not occurred. LMA is expressed during late maturity and is genetically controlled, but it is strongly influenced by environmental triggers.
The project aims to verify the conditions that may result in LMA expression in the field. This collaborative project beings together researchers from the:
University of Queensland,
NSW DPI,
the South Australian Research and Development Institute (SARDI),
the Western Australian Department of Primary Industries and Regional Development,
Birchip Cropping Group.
It seeks to link detailed field evaluation with simulation modelling to better quantify the environmental conditions that are associated with LMA expression in the field.
Glasshouse study
As part of her graduate project, Ms Simpson will run a controlled environment study in 2021, investigating temperature triggers for LMA expression. This will work to complement field experiments and better understand what prompts LMA expression under field conditions.
The work will provide her with the opportunity to apply skills acquired during 2020 in designing and conducting her own experiment. It also allows Ms Simpson to engage with other researchers, including NSW DPI's Dr Harris, Charles Sturt University's Dr Sergio Moroni and the leaders of the national LMA Project C (Dr Robert Armstrong and Dr Andries Potgieter, both from the University of Queensland).
As a graduate trainee, Ms Simpson says it is critical to have a knowledgeable support network. For example, she says if a disease is found in the paddock, being able to talk to a member of NSW DPI's pathology team is essential.
"There is so much I am yet to learn, but I love this job and I think being eager and open to learning from others is the best attitude to have," she says.
"I have learned so much from Felicity on how to run effective experiments relevant to the industry."
Policy to agriculture
Mr Burrough started with NSW DPI's graduate training program in April 2019 after developing a passion for agriculture following several years of working in agricultural policy in Brisbane.
During the graduate trainee program, he was based at the Yanco Agricultural Institute – under the supervision of NSW DPI research and development agronomist Tony Napier – and worked on a pulse agronomy and physiology project.
"I come from a pure science background and had never worked in agricultural research," Mr Burrough says.
"Agricultural research is different to ecology research, which is my background."
A large part of the trainee program, he says, involved learning by helping the researchers responsible for running field trials across a whole year from sowing to harvest.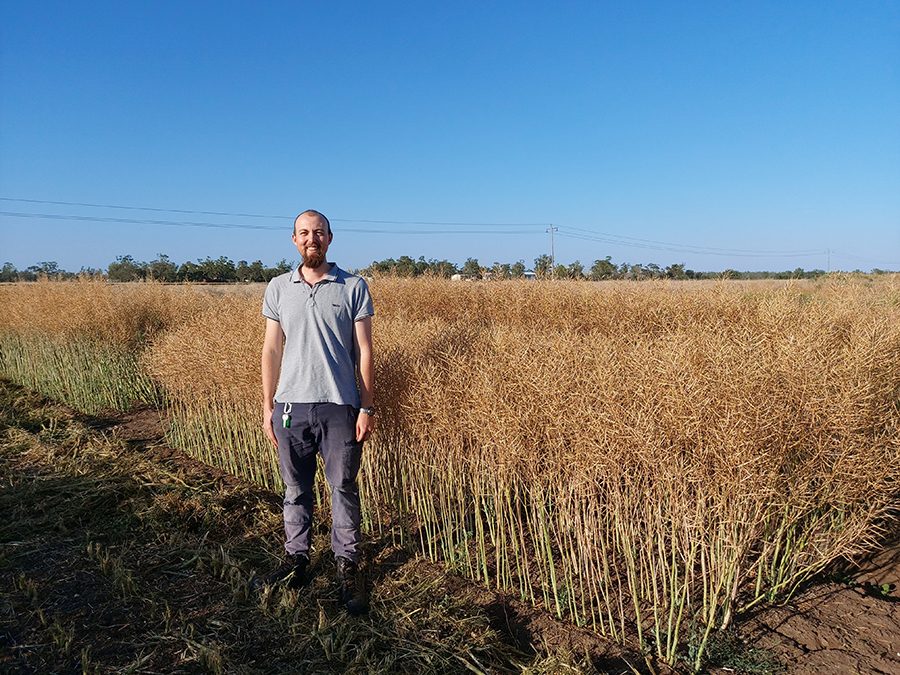 "I learned a lot, but the key one was understanding how to run field experiments," he says.
"There's lots of talented scientists who work in laboratories but running a field trial is completely different in terms of preparation and management."
He says the steps involved in managing a crop require knowledge that is not provided through a pure science degree.
After working at Yanco, Mr Burrough moved to the Condobolin Agricultural Research and Advisory Station to manage the Condobolin node of a number of research trials in pulse agronomy and physiology, and pulse rhizobia.
"A big benefit to this, particularly in a year like 2020 with travel restrictions, was the opportunity to collaborate with excellent scientists right around the country," he says.
"I was involved with projects that included scientists from CSIRO in NSW and Queensland, SARDI and Murdoch University in Western Australia.
"One example was working with NSW DPI's Belinda Hackney and Murdoch University to trial new strains of chickpea rhizobia in eastern Australian conditions, which show real promise in the development of improved inoculants for growers in low-rainfall areas like the NSW central west."
Narrabri research
Although the graduate trainee program was for two years, Mr Burrough was keen to find permanent employment, and a position came up 18 months after he started the capacity-building initiative. He has since moved to Narrabri to join NSW DPI's northern cropping systems research group working on three GRDC research programs.
"My main work will be on a mungbean agronomy project, but I'm also doing some work on canola heat tolerance," he says.
"The other project is northern farming systems research, which is a collaboration between CSIRO, Queensland Department of Agriculture and Fisheries, GRDC and NSW DPI."
Mr Burrough says he never thought about entering the grains industry as a student, but the opportunities available because of its size and GRDC's research investments mean it is well-equipped to accept early career researchers and help them "learn the ropes".
"I did my honours research in populations genetics and ecology, looking at the endangered native Swamp Tea-tree species," he says.
"But I'm glad I've moved into the grains industry. There is a lot of passion among growers, researchers and agronomists and it is motivating when people care about the work."
More information: Deb Slinger, 0427 026 207, deb.slinger@dpi.nsw.gov.au; Jessica Simpson, 0409 048 080, jess.simpson@dpi.nsw.gov.au; Reuben Burrough, 0417 580 987, reuben.burrough@dpi.nsw.gov.au